Styling the CLASSIC CAPSULE 2021

Styling the Classic Capsule 2021 is getting my life back on track!
Over the last year there's been nowhere to go and no-one to see; the only knock at the door has been a delivery driver. It's very easy to stop bothering about how you look. I've pulled on jeans and a t-shirt, often with little to no makeup, I'm sure you know the scenario.
But, it's time to get it together! This CLASSIC wardrobe is perfect for work, the retired lady or anyone who works from home; in fact anyone who doesn't want to live in shorts, skinny jeans or denim jackets!
Perfect for my lifestyle and my wardrobe!
In fact it's perfect for my LIFESTYLE and my WARDROBE because it allows me to interpret the idea of the 'Outfit Formulas' my way! 
The plan comes with an easy shopping list to create 70 days of mix and match outfit ideas for every season; 30 for Spring/Summer, 30 for Fall/Winter and even 10 outfits for Casual Friday. 
BUT initially I would really encourage you to SHOP YOUR CLOSET as I've done and interpret the 'Outfit Formulas' for your day ahead and your weather! 
Make the most of a limited closet - you'll never again wonder what to wear! 
3 simple steps
Purchase the CLASSIC/WORKWEAR capsule, download the shopping list and your outfit calendar. Discover what you need to work this capsule. 
Shop your closet first and check off anything on that list that you already have. If you don't have the exact item you can substitute something similar.
You don't have to follow the days in order, you can interpret any outfit to fit your day and your weather. 
Style the Classic Capsule with me!
I will be styling 7 or 8 outfits from this capsule to show you how easily you can interpet it for your own lifestyle.  
And I'm loving it! Making an effort in the morning raises the self esteem and the odd compliment; I'm wearing more makeup and assembling outfits I would never have thought of. Delving deep encourages me to try and drop a few pounds too! 
Day 1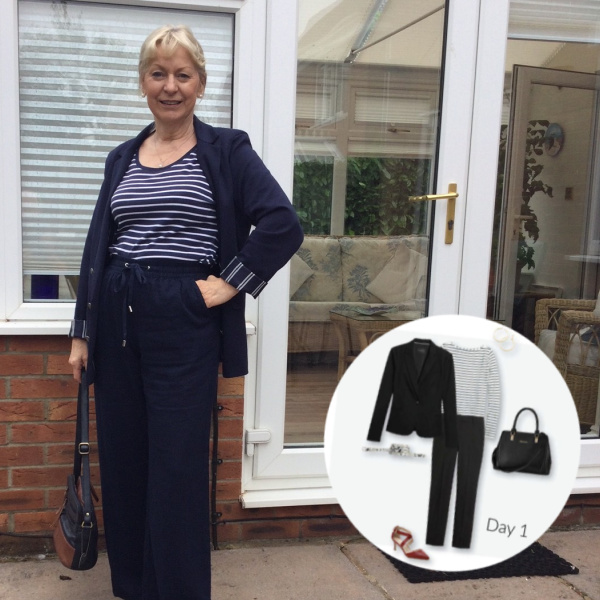 Kicking off with a classic outfit of black jacket and pants with a striped top, black bag and bright colored shoes.
My interpretation: It's Summer and for me this works best with navy! 
Day 3
Probably my favorite kind of outfit formula. I've turned the colors around to have light at the top deeper color at the bottom which works best for my pear shape.
Day 29
I'm jumping to Day 29 because it's turned quite chilly and I need sleeves around the house. That's the nicest thing about a capsule plan, you wear what suits you! 
I find buttondown shirts too stiff but this ivory version is soft and drapey, worn with jersey wide legged pants in black with white/ivory spots. I'm not sure I would ever have thought to put these two together! (I've worn the pants before here)
Day 11
Back to Day 11, the weather has turned warmer again and lighter wear is needed.
This is a comfortable outfit formula for most smart casual office situations as well as home casual. I can easily add a jacket into the mix if I needed to be more formal or the weather demanded it. 
Other Capsule Wardrobe plans available here
Come and join the Style Yourself Confident Group Board on Pinterest?

To be included just Contact Me with your email address...


Return to Top of Page
Homepage >> Styling the Classic Capsule