Universal Colors for your special day!

Find it difficult to choose a color for your special occasion? The Universal Colors provide exactly the support you need with a balance of colors that suit just about everyone and add a touch of class!  
We're approaching a season of celebrations so whether you're Mother of the Bride or celebrating a special anniversary; it might be an upmarket garden party or a Summer ball; it's time to search out that very special dress.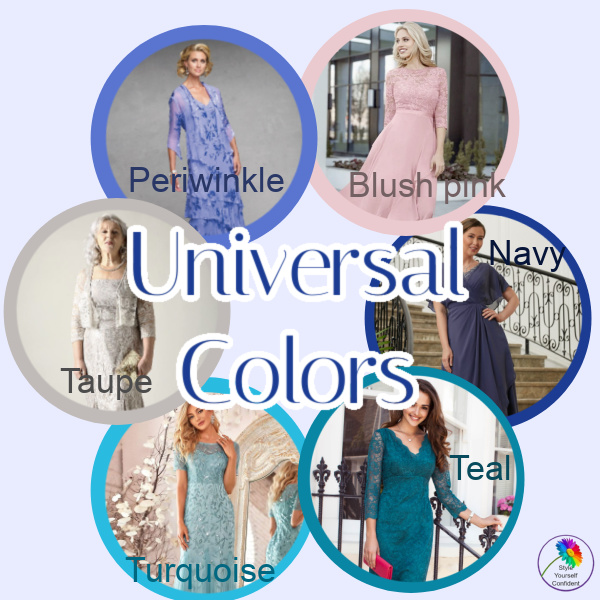 Why Universal colors? 

Each of the Universal colors sits midway between Warm and Cool, a perfect balance of undertone, so no matter your complexion these colors will be flattering.  
And because the Universal colors appear in every color palette you will have no problem finding accessories to tone.    
Perhaps you're going to be Mother of the Bride or Groom, you've got a bevy of beautiful bridesmaids to keep happy, or a Christmas function looming - there's a dress for every occasion.

You can see how they all sit happily next to all the 4 Seasons (below) so whatever the color scheme, you can always be part of the picture!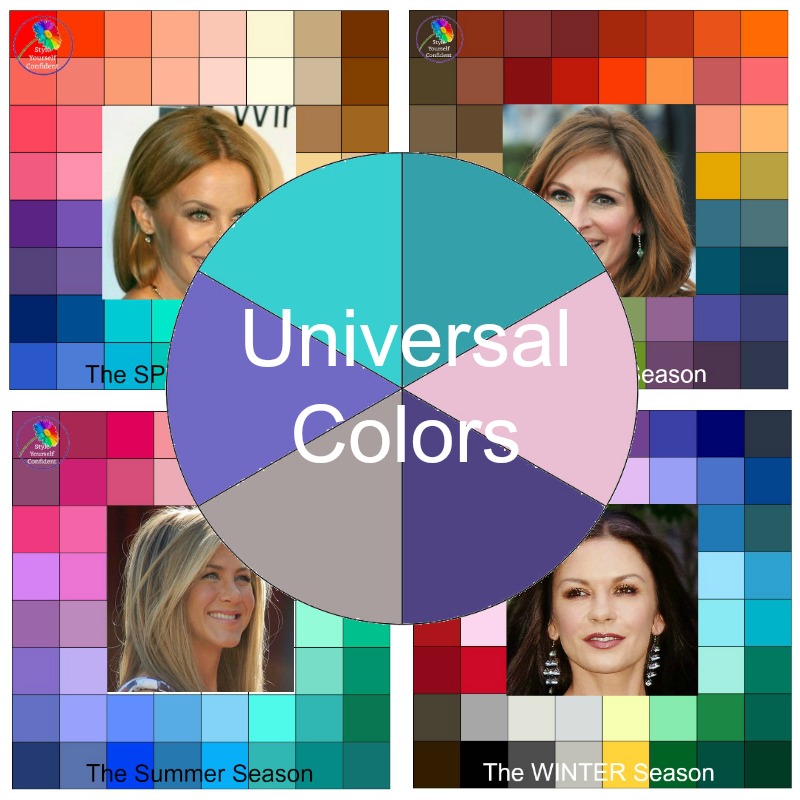 6 Universal Colors to choose

Periwinkle and Pastel Pink
Always experiment! 

Whilst the Universal Colors can be guaranteed to never be unflattering I cannot guarantee that every one will be your BEST! There are many different shades of turquoise and pastel pink for example, so be prepared to experiment with various strengths of color to find the most flattering to suit your skin tone.
Each of the bridesmaids above have chosen their own favorite shade and style in the Universal Color Blush Pink - it shows that this shade has something for everyone and creates a charming tableau!       

Even better, for a special occasion, it's worth the investment of Color Analysis so you have a whole color palette of colors to give you confidence in your choice. 
Allow 'Your Style' to visit you!
The latest features on Color Analysis, Body Shape and Style to your Inbox, twice monthly.
Plus a Free copy of my book 'Shortcut to Style', it works for you, whatever your age shape or size! 
Pamela x
Sitemap or locate all features relating to...