About Me...

Hi - I'm Pamela Graham
Thank you so much for visiting my website. I'll tell you a bit about me, so you know I'm a 'real' person, what I'm all about and how I came to be here building a website.
I'm the most reluctant Image Consultant you'll ever meet! Why? Because let's face it, it's such a pretentious title and most of the advice we see on makeover shows is really patronizing and nothing at all to do with everyday life!
I also find that resistance to the idea of color and image etc. is mainly because the industry as a whole is so 'smug' and knows it all. Well, I certainly don't, but I would like to take away the resistance and put back the fun, the flexibility and the common sense.
I never expected to be here building a website, but it allows me to use my experience in a positive way. The traffic is building and I'm loving it.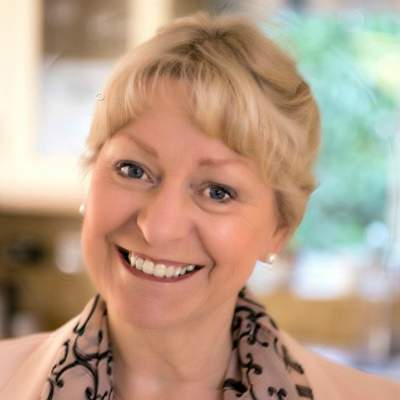 My working life began...
in public relations...  the world of confidence personified! However, like many women, 3 children and several years later, life had changed and confidence was not at an all-time high.
I was somewhat involved with the fashion industry and clothes weren't difficult to come by, although finding something to fit was always a problem. I was often laughed at and told I needed stretching. I was 5ft 2", slim, a bit pear shaped but if others apparently found things to fit, what was the matter with me?
I taught myself to sew a little, made a few alterations but if a special occasion was looming it was more of a worry than a pleasure to find something that I felt happy in. 
How I found Color and Style...
I really can't remember how I found a course for Color and Style - must have been a magazine ad somewhere that promised me the world - but I jumped in feet first and in no time at all I was a qualified Image Consultant!! Crazy - I was a wreck! The course was very dictatorial and much of the time was spent telling me what was wrong with me.
After pulling myself together...
however, I realized that I had all the answers at my fingertips, it just took a long time for the penny to drop. There wasn't anything the matter with me, it was just that I hadn't been confident enough to choose what was right and what was wrong. Most of the clothes available to me weren't cut for my shape and I thought it was my fault. How silly is that?

In a very roundabout way I had discovered myself. The magic and logic of COLOR, SHAPE and STYLE allowed me to be myself with a renewed confidence. OK, from thereon I had a lot less to wear, but I didn't need a vast or expensive wardrobe I just needed to feel like ME!
More than that…  I went forward into teaching so I could share that knowledge with others, playing down the Image Consultant title and gravitating very naturally into adult education. You see...
"I found most women were like me, we don't want to look like fashion models, just want a bit more confidence...!"
Few women appreciate themselves
The majority of women will tell you their shortcomings but very few appreciate their good points. We all have challenges but it's important to feel good about who and what we are – because that's where we can start to build.

A little knowledge - the feeling of being 'in control' - is often all that's needed to increase self confidence and raise self esteem. There are no rules here - you are a UNIQUE individual so go with your instincts. Take what works for you and reject what doesn't as you see how easy it is to...
STYLE YOURSELF CONFIDENT!
Thank you for visiting, enjoy the information I'm privileged to share with you and I invite you to share your news and views with me too. Let me inspire you to value yourself and to use some of my (our) tips and techniques to LOOK GOOD, FEEL GOOD and....  STYLE YOURSELF CONFIDENT!
Bye for now

Pamela
"Shape and Style has nothing to do with fashion, a wardrobe can work on a budget and finding COLOR is magic!"
How this website was born...
The very idea of me designing a website - I've always been a complete technophobe!

But during the last few years winding down from work and newly married (life has changed for the better), I knew I needed something to occupy my mind to keep the brain cells ticking and, more importantly, to generate some kind of income. It was only by chance that I met up with an old friend and admired her website - my introduction to SBI.

Always intrigued by something new, I did some research and was impressed to say the least. SBI stands for Site Build It a company who provides the tools, tuition and encouragement to build a website and turn it into an income stream. And although it sounded too good to be true, the small investment required actually came with a 90 day money back guarantee!

But "what on earth could I create a website about?"
It doesn't matter where you are in the world, whether you know anything about websites or not, or even initially what you'd like to write about. What did I know or what was I interested in? What might other people be interested in too? It took a while for the penny to drop (again!) and Style-Yourself-Confident was born.
So that's me in a nutshell!
I've got the best of both worlds, sharing experience that people actually want to hear about but from the comfort of my own home. And I'm building a business for the future.

I love what I'm doing, it's compulsive (too much my husband would say) and I delight in the contact with visitors from all over the world. Believe me, if I can do this anyone can.
Take a look at some of the other folks who have quit their day jobs by building an Online Business with Solo Build It...
Please leave me any feedback, questions or comments about Style Yourself Confident
Be assured that your e.mail address is completely secure - I never share your information with anyone.

Homepage >> About Me.. Pamela Graham...