How to flatter a large bust

Heavy or large bust? Do you want to camouflage or flaunt it? 
The very feminine attribute of breasts cause oh so many worries - too big or too small? One woman's assets are another woman's problem.
Although support and comfort are the major problems, it can also be difficult to dress attractively without appearing to be overtly sexy.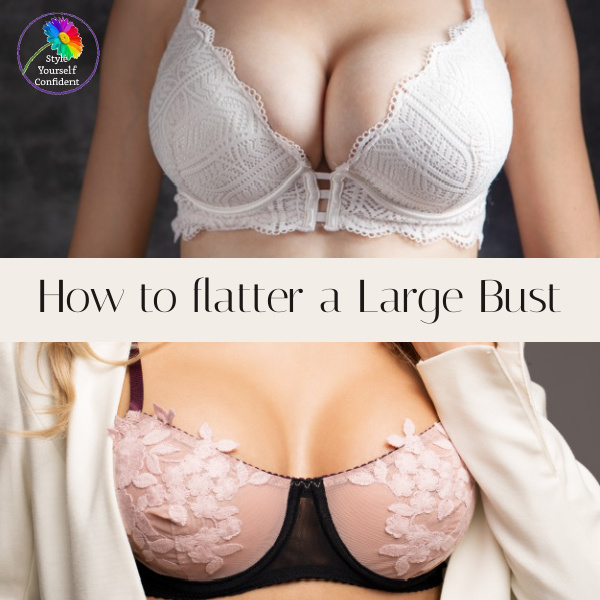 Camouflage or flaunt a large bust?

So whether you want to enhance or camouflage your generous top half, the first step has to be a good supportive bra. This provides comfort and muscle support for all women but is especially important for those with a heavier bust. 

A professionally fitted bra will provide the perfect foundation because your breasts will be lifted, separated and give you an instantly more youthful figure.
Yes or no to Minimizer bras?
Minimizer bras have long been offered to large busted women but, beware, and make sure you choose a quality product.
A high quality minimizer bra will make your breasts appear smaller by redistributing the breast tissue helping it to look more even and balanced.
However, some versions will just squash the breasts to minimize the appearance of size, so avoid any bra without well separated cups. The excessive pressure inflicted on the bust gets extremely uncomfortable as it pushes breast tissue to the side and, over time, it can cause permanent damage.
Lift and separate...
It's more generally accepted these days that if you need a large cup size, a bra with good construction and fit will lift and separate the breasts. Consequently, the breasts look smaller, far more attractive and your body looks slimmer.
A clear distinction between the bustline and the waist creates an overall better shape - allowing you to look younger and slimmer with the additional benefit of better posture.
So choose the type of bra that is most comfortable for YOU!
Wear wider straps

Wider shoulder straps on your bra will allow for more comfort and give more support. Choose wider shoulders on your outfit too as shoe string straps will make the bust look larger pro rata.
A heavy bust can go hand in hand with sloping shoulders which make the breasts look even larger. In this case, add emphasis to the shoulder line so garments hang from the shoulders rather like a coat hanger and not hang from the bust.
Sports bras

Whether it's Wimbledon or a workout, comfort, flexibility and support are the vital elements which enable you to being totally prepared for exercise.
The Independent has recently reviewed the best sports bras on the market that do the job without breaking the bank.
Avoid fastenings that pull

Front fastenings create vertical detail which is great but ensure that there is sufficient fabric and movement to move your arms comfortably and so avoid straining the fastenings.
Not only is this unattractive but potentially a disaster waiting to happen!

Choose V-necks and vertical detail

V-necklines are flattering as they pull the eye towards the center of the body and then down.
Aim to keep the eye moving - vertical detail, diagonal stripes, a soft line of ruffles all break up a solid line and minimize the top heavy figure.
Long dresses give a larger expanse of material and take away the emphasis at the top of the body.
The dress and jacket below is from a large range at Bravissimo who have created a range of bras and clothing specially designed for a large bust.
Avoid sleeves finishing at bust level

Be aware of sleeve lengths, a short sleeve that finishes on the same line as your bosom will create a horizontal line and emphasize the area. Choose shorter, 3/4 length or long. The perfect choice is 3/4 length sleeves with an open or V neck.

Use shoulder pads

Shoulder pads will firm up the shoulders and take attention away from a large bust. 
Even a small pad will allow clothes to hang from the shoulders rather than the breasts.  
In fact, in many cases it makes it possible to actually be able to wear something as simple as  a tee shirt which can be all revealing. Make sure you have a generous fit without it being baggy. Movement around the tummy area also takes the emphasis away from the bust. 
Allow 'Your Style' to visit you!
The latest features on Color Analysis, Body Shape and Style to your Inbox, twice monthly.
Plus a Free copy of my book 'Shortcut to Style', it works for you, whatever your age shape or size! 
Pamela x
Sitemap or locate all features relating to...
Homepage >> Dress your OWN Body Shape >> Flatter a Large bust