My Mini Chanel Capsule!

I had no idea that a new swimsuit would give me a mini Chanel Capsule! 
The Marks & Spencer swimsuits with tummy control fit really well and give me figure confidence but I was disappointed to find no coverup dress - only a pair of wide legged pants.
I love a matching set and 'beggars can't be choosers' so I took them.  

Once I got them home, however, I realized just what a clever and stylish outfit it created.
I adore wide legged pants - they're soft and fluid,  hide a multitude of sins on the hips and thighs, and they're flattering whatever your height. 
These tick every box and more. The side slits give an elegant and feminine drape but they can also be rolled up and tied for a different look altogether.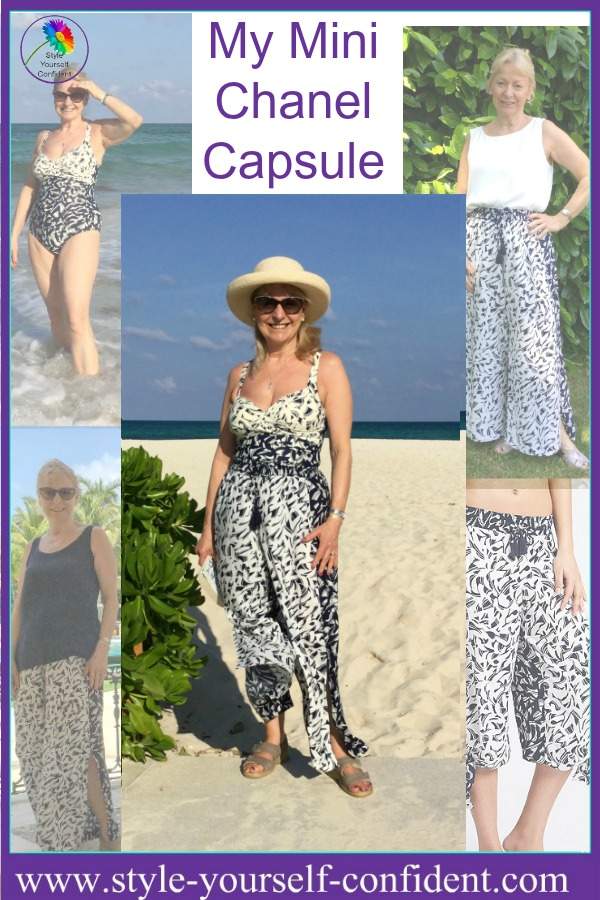 Why a mini Chanel Capsule?
Now it might sound fanciful, but the outfit suddenly reminded me of vintage photos I'd seen of Chanel in the fashionable resorts of Deauville and Biarritz during the 1920's. 
Loose fitting pants are widely attributed to Coco Chanel and were usually teamed with a close fitting top. This was a completely new feminine silhouette during the post war period which still works today. 
On my holidays, however casual the venue, I would never eat in just a swimsuit. But adding the matching pants meant that this swimsuit became a stylish and ladylike outfit.
Just in case I ever got my swimsuit wet (!) I popped undies and a suntop into my beach bag.
Hardly Chanel - but oh so versatile!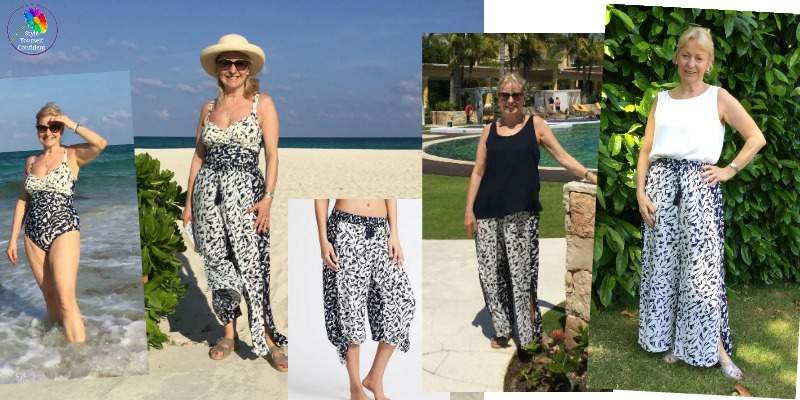 You can never have too many little tops so, although I'd already got some in ivory, I picked up a couple of inexpensive tanks in navy and cream that I could just pop into a beach bag. Suddenly my poolside outfit was versatile enough to take me from the beach, to lunch, to drinks and even to dinner.
The term 'capsule' refers to items of clothing that are versatile and can be interchanged to maximize the number of outfits created - so that there's something suitable for any occasion.  
This little set certainly earned it's place in my suitcase but the same fresh print is also available as a bikini and tankini if that's more your style. 

Shop my Mini Chanel Capsule

And Coco's story...
During World War I Coco Chanel honed her design skills in the smart 'neutral' French resort of Biarritz, the playground of the rich and famous escaping the hostilities. 
She swiftly climbed the ranks of society (mostly through romantic encounters) and by 1919 she was considered an established 'couturière' with her own property in Paris.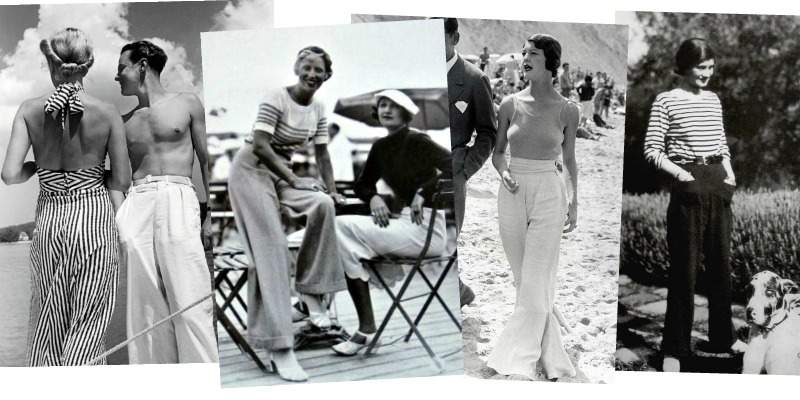 Apologies but I've been unable to find the origin of these vintage photos
High society flocked to the lavish resort of Deauville in Northern France in the early 1920's, and when the famous Promenade des Planches, the wooden boardwalk next to the beach was completed in 1923, it was the place to see and be seen.
Women of this era, constrained by uncomfortable narrow corseted dresses, were ready to rebel and enthralled by the avant-garde designs of a young Coco Chanel. She is credited with liberating women from the 'corseted silhouette' as she introduced a new sporty and casual chic.   
The look was unconventional but practical. Women cut their hair and discovered a simple but stylish look, more often than not wearing WIDE LEGGED PANTS, so they could move easily and actually enjoy their leisure and nautical pursuits.

The famous CC logo also originated during this time.
Like this Website?
Please share your Comments...
Homepage >> My Mini Chanel Capsule