Natural Style Personality 
Your look
A Natural style personality looks approachable, unpretentious and comfortable.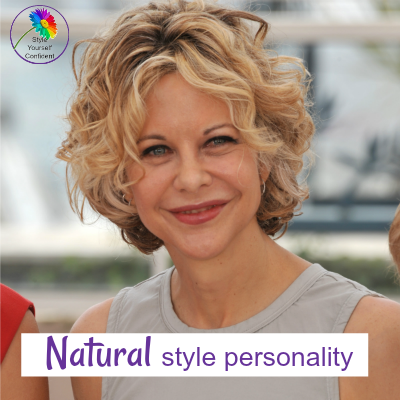 The impression you give
The impression you give is of a woman who's comfortable and happy in her own skin. This comfort promotes confidence. 
A relaxed way of dressing, without fuss, allows you to look friendly and approachable.  
Your priorities
Simple, easy-to-wear outfits with smooth lines that give you the freedom of movement that you need.
You love the feel of quality natural fabrics - leather, suede, wool and cotton - and are instinctively drawn to gentle and natural colors, soft pastels, denim blues, autumn tones - natural colors taken from the earth and countryside.
Your makeup, hair and grooming program will be minimal so make it work for you. This is not due to a lack of interest in maintaining a good appearance but because you place comfort above high fashion. 
A makeup routine with versatile natural looking products and a good haircut that's easy to style are essential for you. A little planning goes a long way.  
Two of the world's greatest actress showing their relaxed and natural style. 
Your shopping priorities
You may have a 'natural style personality' but you're not a natural shopper!
You like quality items but they must offer comfort over style. You expect your clothes to last but they must be easy-care, low maintenance and hard wearing. 

You need clothes that you can put on and forget, life is far too important to spend bothering over fussy details. 
Dame Judi Dench has adopted her own inimitable fuss-free style by teaming unstructured neutrals with a stunning array of wraps to fit the occasion. 
Clothes for a Natural style personality
Good quality casual clothes will always be your priority.
To maintain freedom of movement in business or formal occasions, you will probably be more comfortable in trouser suits, or trousers/culottes with a co-ordinating jacket. Choose a less structured cut rather than something too sharply tailored.
You will dress up if you have to, and it is worth investing in a few quality pieces that will allow you to adopt an easy elegance whilst remaining relaxed and casual. Well cut separates in beautiful soft silk and linen are dressy enough for most occasions without compromising your feeling of comfort.
Martha Stewart (left) is secure in her look whatever the occasion.
If you live in the country then the question of warmth has to be factored in and sweaters need to work in layers and sturdy shoes or boots teamed with woollen tights. Wool tweeds, waxed coats or sheepskins will come into their own in the winter months. 
Jennifer Aniston is frequently photographed in jeans and casual wear. 
But even in a dress she appears to bring chic to casual; at ease with her appearance and never looking as though she's really had to try. 
If you find yourself always reverting to t-shirt and jeans at the earliest opportunity, treat yourself to a great jacket and updated accessories to move natural casual into natural chic.

Meg Ryan (pictured top right) never looks over concerned when photographed without every hair in place. 
Be aware of your own body type - you'll always achieve comfort when you dress to flatter your own individual body shape.

Allow 'Your Style' to visit you!
The latest features on Color Analysis, Body Shape and Style to your Inbox, twice monthly.
Plus a Free copy of my book 'Shortcut to Style', it works for you, whatever your age shape or size! 
Pamela x
Sitemap or locate all features relating to...
Homepage >> Style Personality >> Natural style