Tall Lady Style Tips

It's easy for me to forget that a tall lady can have just as many problems finding clothes to fit as us vertically challenged 'shorties'.  

Not only must she take into account her generic Body Type but finding garments that can accommodate a long torso with extra length in the sleeves and trouser legs can be a nightmare.
Many tall ladies are completely confident but others may feel self conscious as they tower over a room and can feel less than feminine.
Some of the highest paid models in the world stand at least 5ft 10ins tall.

Celebrity beauties who stand tall

5 ft 10"
5 ft 11"
6 ft
6 ft 1"
6 ft 2"
6 ft 3"
6 ft 4"
6 ft 5"

Duchess of Cambridge, Queen Latifah

Nicole Kidman, Gisele Bundchen

Brooke Shields, Jerry Hall

Venus Williams
Maria Sharapova, Jodie Kidd

Gabrielle Reece

Candace Parker
Lisa Leslie

The advantages of being tall

your height is envied by most of us
long legs allow you to look good in most styles
you are the perfect clothes horse

you are always listened to with interest
you can carry additional weight without it showing
you don't have to ruin your feet with killer heels!
Generic style tips for a tall lady

Follow the guidelines for your generic Body Type initially
Choose beautiful or interesting shoes because everyone will check to see what heels you're wearing!
Don't avoid heels, they do great things for your legs and posture

Visually reduce your height by creating an optical illusion and breaking up a solid line

Interesting separates and color changes soften this vertical block

Create horizontal lines with wider collars, belts, hemlines etc.
Feeling less than feminine? stick to your comfort zone with pants but try a wider softer pant and a blouse with movement like Nicole Kidman (below) 'tomboy chic'
A Tall Lady is always seen so...

Adopt a hairstyle that flatters your face and is in proportion to your body
Take time with your makeup to always look your best
Personal grooming is important
When you look good you'll feel good and can hold your head up high - confidence is sexy!

Good posture is vital so be confident stand up straight and learn to love yourself
Need style inspiration?  Copy the style of your favorite tall celebrity
In proportion to your size ...

AVOID:

one color top to toe, you will look taller
small florals, patterns, collars, fussy detail

delicate jewelry, small bags and accessories
clingy fabric and designs
DO:

break up the vertical with belts, separates, different colors
enjoy dramatic and bold statement jewelry

interesting necklines, large collars with texture, dramatic large ponchos and wraps

over sized tote bags and beautiful boots
Tall and slender

you may need to add shape to your figure
add shoulder pads to create width and stature
add bulk to top half with blouson top, cardigan, bolero or loose jacket
create volume on your bottom half with wide legged/pleated pants
a belt creates a waistline to add shape
wear double breasted or loose jackets 
Broad shouldered small bust

you have model proportions
long legs look great in most styles
add movement to create curves
you can be dramatic and elegant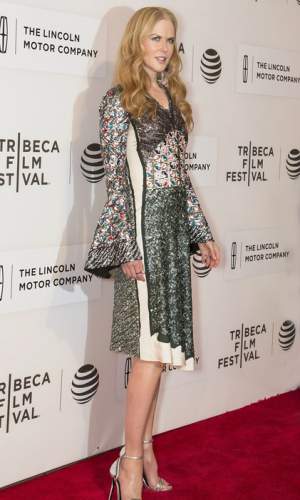 Nicole Kidman 5ft 11"
Athletic or larger figure

show off your broad shoulders
wear simple styles with enough fabric to allow movement
ensure color breaks accentuate your best points
one piece dress with decolletage or interest down the center
ensure that pants fit well around your hips so there's no strain
avoid too much fullness, too many details
assymetrical lines reduce bulk
Suggested stockists:

Establish the manufacturers that fit and suit you then stick with them...

Large size shoes: Zappos, Long Tall Sally, Nordstrom
Fashion and Jeans:  Gap;  Long Tall Sally;  Long Elegant Legs;  Banana Republic
A man looked up at a tall woman and said Wow you're tall! Do you play basketball?"
She shot back without missing a beat, "Wow you're short! Do you play miniature golf?"  Touche!

Homepage >> Dress for your Body Shape >> Style advice for a Tall Lady