Color Analysis LIGHT...
If you're very fair then Color Analysis Light may be your color family?
Looking your best starts with understanding your natural coloring and echoing it with the the colors you wear. Translate it further still into the colors you use for your hair and makeup.
If you are Color Analysis LIGHT, you will look your best in colors with a Light pigment, particularly close to your face. 
This does not mean wishy-washy colors, there are deeper neutral tones too. Just that colors with a Deep or heavy pigment will overpower your delicate coloring.  
Your colors have a Light intensity and you will have elements of both Warm and Cool.
Each of these beautiful shades has the same PRIMARY CHARACTERISTICS as your own - they will complement your natural coloring and create harmony!
Match your natural coloring
Your overall look is delicate and fragile – it can be almost translucent – and you are usually lucky enough to remain looking younger than your years. There is little contrast in your natural light coloring.

Your Hair: will be blonde, fair or even light brown and you might feel you'd like to add color. Blonde highlights are lovely and will recapture the fairness of your childhood but if you want to enrich a light brown, make sure to keep it gentle. 
Your Eyes: will be light blue, blue grey, aqua or light green
Your Skin tone: will be ivory or fair, it can even appear florid if you are wearing pigments that are too heavy.
Seasonal Analysis wouldn't work - you would be wrongly determined SPRING or SUMMER

But your dominant characteristic is Color Analysis LIGHT

Your Color Family has a whole spectrum of colors - from fresh and bright through to soft and elegant - but it is the LIGHT color characteristic that always dominates.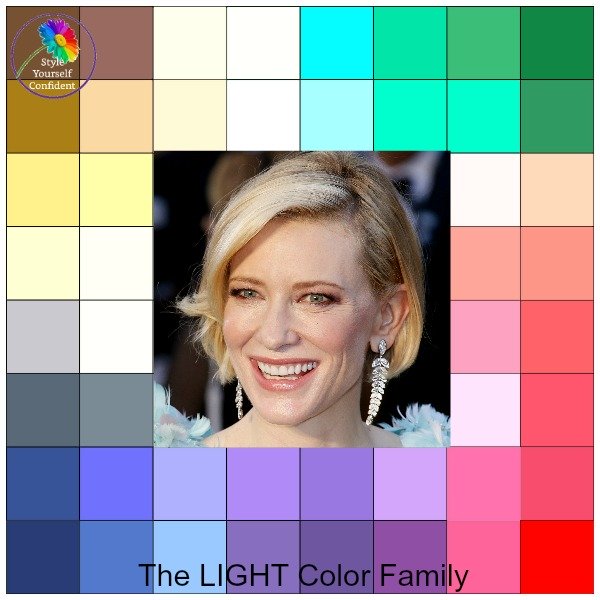 Your color palette has 45 fabulous LIGHT shades and there are elements of both Warm and Cool which echoes the mix of your own natural coloring.
There is no need to ever feel limited with colors. Wear whatever color you like - red, blue, green, purple - they are all featured in your color palette - but your color swatch will direct you to the very best shade of each to flatter your natural delicate coloring.
LIGHT shades create balance with your natural coloring
When your colors balance and echo your natural coloring, they allow YOU to shine! 
We've all seen the effect when an outfit comes through the door first! If you have Light coloring it is easy to be overpowered. Heavy color will drain the color from your face and also cast heavy shadows onto your face. 
The gloriously pretty colors in your Color Family will enhance and bring your natural coloring to life. Your complexion will be complemented by these beautiful tones, your skin will look fresh and clear, your eyes brighter and the shade of your hair more intense. A natural bloom will return to your cheeks and the right make-up will only enhance this even more.

CHOOSE: 
a LIGHT pigment, not necessarily always pastel or wishy-washy but no heavy pigment

Soft white and ivory are better for your complexion than pure white
beautiful 'sweet pea' shades of lavender, pastel pink through to rose, peach and lemon
most blues and blue greens, aqua, turquoise and lighter reds
NEUTRALS:
Elegant shades of beige, stone, taupe and pewter - black and charcoal grey are too heavy for your delicate coloring
lighter shades of navy and grey

How to visualize your LIGHT colors
It can be difficult to visualize how the colors from your swatch come together in an outfit and for real inspiration, take a look at a beautiful range of jersey separates and dresses which bring your Color Swatch to life from Kettlewell Colours.
It's sometimes said that LIGHT is halfway between SPRING and SUMMER but this is not strictly true. Although both seasons have LIGHT in their makeup it is only the TRUE LIGHT shades from each that are included in the LIGHT palette and other elements that don't relate are excluded.  
If your coloring is brighter (and probably warmer) then you will find some of your beautiful colors in the SPRING collection. If your coloring is softer and more gentle then the more muted and cooler shades may be kinder to your complexion - you'll find many of these colors in the SUMMER palette.  
Your primary consideration is that you aim for lightly saturated colors that do not lean heavily to either Warm or Cool. 
You have elements of both so need to tread a central line.  LIGHT is your primary consideration.

Colors to avoid and how to cope with them

Avoid deep colors particularly around your face - they will make you look pale and cast shadows - colors such as maroon, teal and deep greens
Avoid sludgy or dull colors - they will flatten your delicate coloring
Avoid harsh and vivid colors with high contrast - colors like black and white are very harsh
If you particularly want to wear some of the more difficult colors keep them away from your face and team them with lighter and brighter colors.
Like to wear black for the evening? Fine, just wear a slightly lower neckline and introduce some lustrous pearls to bring light to your face. A scarf near to your face, a collar over a jacket, even a pair of pearl earrings will introduce LIGHT.
All you need to enjoy your LIGHT colors...

The LIGHT Color Brief - £3.00
The Light Color Brief is ready to download and print out with all the concise information you need to start wearing and enjoying your own Color Family - colors, makeup, hair etc.  
15 pages of information including DIGITAL COLOR SWATCH that can be on your Iphone or Ipad for shopping. Or you can make it into a mirror image of the fabric color swatch.
The Tonal Color Brief - £9.00
Like to know more about Tonal Color Analysis? I show you an easy way to confirm your Color Family.  This includes all 6 Color Families.

There are 45 colors for each Color Family - 60 pages in all.

Of course this isn't the equivalent of a professional Color Analsis but it's a concise reference to anyone interested in the subject - and comprehensive enough to be the starting point into the magical world of color.
The LIGHT Color Swatch £35.00 with
FREE

digital swatch


The LIGHT color swatch has 45 fabulous shades and comes with a wealth of information about how to wear and co-ordinate your colors.


It's impossible to carry a shade in your head so a color fan is perfect for shopping/wardrobe planning. No more mistakes - save TIME and MONEY!

ALSO INCLUDED: When I acknowledge purchase of your swatch I will send you a FREE DIGITAL COLOR SWATCH so you can always have your colors to hand on your Ipad or phone.
In the UK? Please use this button to purchase, post and packing £1.95
Outside the UK? Please use this button to purchase, post & packing £5.45
Like to check out all the Color Families?

If you need help finding your colors you need Online Color Analysis

Like this Website?
Please share your Comments...
Homepage >> Color Analysis >> Light coloring