How to flatter a Short Neck

or even a Double Chin...
Do you ever feel that you have a short neck or perhaps a wide neck? Perhaps you have a little bit of a double chin appearing.
We all have figure faults but by carefully choosing the shapes you wear around your face you can feel more comfortable with your appearance. Something as simple as choosing a different neckline can change your appearance completely.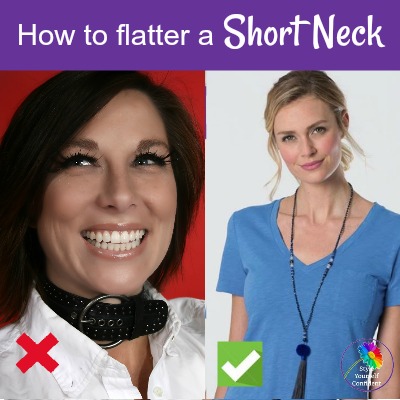 What's a neck length anyway??
It's generally accepted that your own four fingers will fit easily beneath your chin roughly equating to your neck length. Your frame, your hand, your neck! 
If you are a shorter lady then it's probably an overall thing about wanting to streamline your appearance, and elongating your neck area certainly helps. 
The no. 1 rule is to avoid chokers and clutter around the neck which immediately fills the space and makes your neck look shorter 
An open neckline will show a little more flesh enlarging the area bringing the eye downwards and creating vertical lines. 
Styles that flatter a wide or short neck...

Wear open or lower necklines to lengthen a short neck - V-necks in particular, but also cowl neck or cross-over styles. Even if you have to wear a camisole beneath the V still does it's job. 
Shirt styles with open buttons are great as the collar gives height as well and the front buttons take the eye down lower
Other ways to lengthen a short neck area
Wear a V shaped necklace. A longer pendant works well but keep it mid chest height if you have a large bust so as not to accentuate 
Wear a scarf tied low in the front so that it hangs down creating the V shape
Hold your head high and avoid anything tight around the neck will reduce the appearance of a double chin
Short hair or an up-do will allow the neck to look longer. Avoid a hairstyle that hits at neck level. 
Choose earrings that create a vertical line such as hoops, but not long drop. 

Styles to avoid...

Avoid high round necklines, it makes the neck disappear
No polos or high necklines
Avoid clutter such as chokers or round necklace
A hairstyle that finishes at short neck level

Don't hold your head down thinking that a double chin won't be seen, it makes it more obvious.
Allow 'Your Style' to visit you!
The latest features on Color Analysis, Body Shape and Style to your Inbox, twice monthly.
Plus a Free copy of my book 'Shortcut to Style', it works for you, whatever your age shape or size! 
Pamela x
Sitemap or locate all features relating to...
Homepage >> How to fit YOUR figure >> Short neck