Our Rainbow Queen
Although we have now lost our beloved Queen this post celebrated her 96th birthday and 70 years on the throne of Great Britain. 
Our beloved Rainbow Queen celebrates her 96th birthday this week. In February 2022 Queen Elizabeth II became the longest reigning female monarch in history with 70 years on the throne of Great Britain.
At the beginning of June the country as a whole will be partying to mark this impressive milestone. A plethora of Platinum Jubilee events and street parties across a long weekend are planned and most people will receive 2 days holiday.  
Her birthday, therefore, is an appropriate time to cast an eye over the joyful use of color in Her Majesty's wardrobe to see the development of her own unique choice of color and style. 
Happy Birthday Ma'am!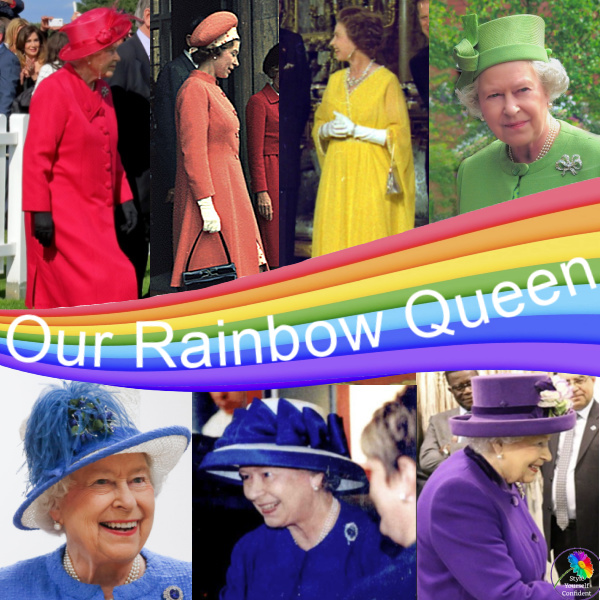 "If I wore beige no-one would know who I am"              Her Majesty Queen Elizabeth II
Her Majesty's role
Although Queen Elizabeth is the Head of State, Head of the Church of England and signs off all the laws, she doesn't actually govern the country.
Her Majesty's main job is as a political figurehead for unity and pride as, with selfless determination, she has devoted her life to the country and the British Commonwealth. She sees public service as the most important element of her work and is a constant and stalwart figure to over 600 charities and associations at home and abroad.
However, the Queen is a countrywoman at heart, never happier than with her horses and dogs. Holidays are sacrosanct and enable her to escape to her private residences in Sandringham or Balmoral in Scotland where she can relax and relish the ability to 'dress down'.   
The wardrobe of our Rainbow Queen
In the year she turned 90 Queen Elizabeth carried out nearly 400 engagements at home and abroad. At 'home' she's busy with desk duties, greeting guests, award ceremonies and every day (apart from Christmas) she must deal with Parliamentary papers from the famous 'red box'.

Our Rainbow Queen's vast and colorful wardrobe, therefore, is curated for and dictated by her role as Queen. She's very aware that people make an effort to greet her and makes a conscious effort to ensure that she is clearly seen. 
Her Majesty is petite and her brightly colored outfits are carefully chosen to suit the occasion and ensure that she's easily seen in a crowd. She has never been afraid of color and the only one she veers away from is 'beige'. As she says "If I wore beige, no-one would know who I am"!
She wows us in RED
The Queen has a natural clarity to her coloring and a cool clear red looks beautiful against her silver hair. You will see that she invariably wears three rows of pearls against a neat neckline.  
She chooses an almost pinky/red (left) as she appears to present the Polo Cup at Windsor in 2013, a particularly flattering and vivid shade.  
A festive red adds cheer as the Queen makes her first emotional Christmas broadcast since the loss of her beloved husband the Duke of Edinburgh in 2021.
Also in 2021, Her Majesty visits the aircraft carrier Queen Elizabeth II as it makes it's maiden voyage. She cuts through the battleship grey at Portsmouth in a stunning shade of scarlet. 
surprises us in ORANGE
Like most of us, the Queen's silhouette has gently changed over the decades to reflect her changing figure and current fashion style. The priority is comfort and practicality for a long day of engagements.   
The princess line of the coat, standup collar and beret style hat (left) are reminiscent of the 70's when she met with the Nixons in Washington. She wears orange once again in the USA as she meets with Senator Orrin Hatch in 1991 sporting a neat pillbox hat.
A lighter shade of apricot is the choice as she names a cruise ship in 2015. A neat but unobtrusive collar is comfortable for the Queen and she will usually wear a brooch on the left hand side of her coat.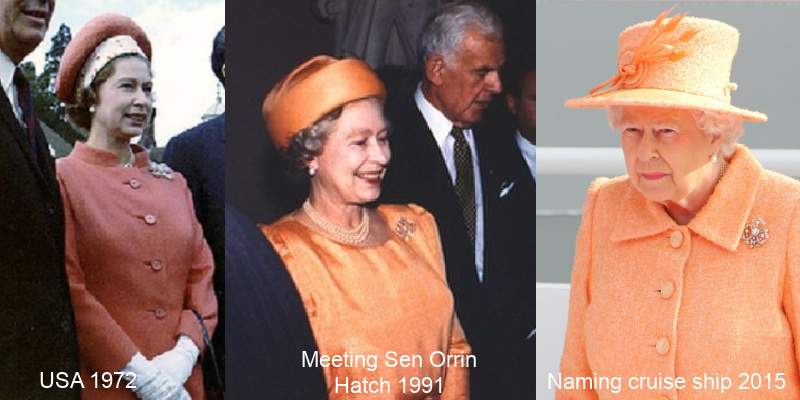 and shines in YELLOW
Our Rainbow Queen has hats made to match all of her outfits which must meet certain specifics. Wide brimmed hats are banned as they would hide her face and must not be too tall in case they make it difficult leaving a car. 
One of the widest brims she has worn is the acid yellow hat (below center) worn when visiting the NASA Space center in 2007 to protect her against the sun. The pink flowers was repeated from the print of her dress beneath the coat.  
The first photo below shows the Queen dancing with President Gerald Ford in the USA way back in 1976. With darker hair in those days she chose a brilliant canary yellow. 
She glows in GREEN
Special care is taken to choose colors that don't blend in with the background of whatever event is being attended. For example, if she is attending a garden event she would never wear green because it may get lost! At other occasions, however, green is a favorite.
Although I don't think the yellow green on the left is flattering to the Queen's complexion, what do I know! I always say you should wear what makes you feel good; the Queen loves this neon shade and has worn it frequently. In the other two photos she wears a blue/green which I think is far prettier.
On the right as she welcomes the Trumps to Britain in 2019 she wears a favorite brooch, a large drop emerald with a detachable pendant inherited from her grandmother Queen Mary. 
beautiful in her favorite BLUE
Many top designers have dressed the Queen over the years and her style has developed over time. It is Angela Kelly, however, the Queen's dresser for the last 20 years, who is recognised in helping to create the stylish look Her Majesty wears so comfortably today.
In recent years the Queen is often seen wearing a print day dress topped with a wool coat in a toning plain color and a matching hat. This photo (right below) shows her inspecting the Guards with President Trump in 2019. 
All shades of blue are featured in the Queen's wardrobe, it suits her coloring so well and it's obviously a favorite as, I understand, it has made up 24% of her outfits over the years! 
Way back in 1975 (left below) the Queen was wowing Japan with her choice of evening wear in intricately embroidered turquoise blue. A family event (center) sees her in a lighter weight two piece.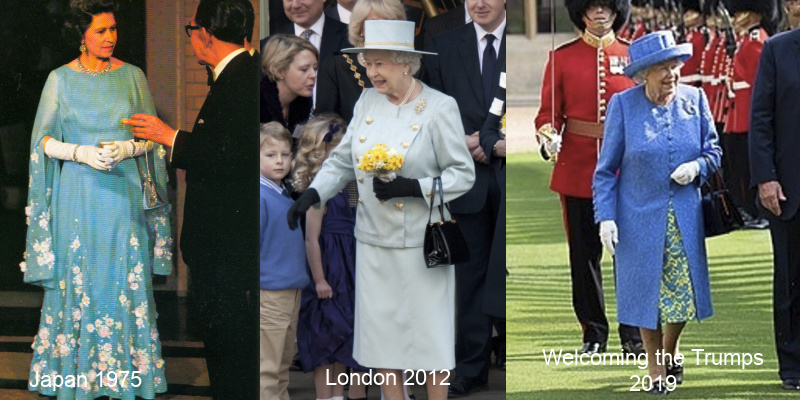 elegant in INDIGO
It's quite unusual for the Queen to be seen in a deeper color, particularly navy blue on the left which she wore in Seattle in 1983. But the glow of her signature pearl necklace and earrings always bring light to the face. 
The brighter royal blue is undoubtedly more flattering against her beautiful silver hair and it's interesting to note that once hair transitions into silver the contrast is often stronger.
2012 saw the celebrations of the Queen's Diamond Jubilee and, in the photo right below, she wears a particularly treasured piece of jewelry. The stunning diamond and sapphire brooch was given to Queen Victoria the night before her wedding by Prince Albert as her 'something blue'. 
Her Majesty's jewelry is chosen with great care to match both the outfit and the occasion. A state visit or meeting with Commonwealth guests will necessitate the inclusion of any gifts or designs that have a connection with that particular country.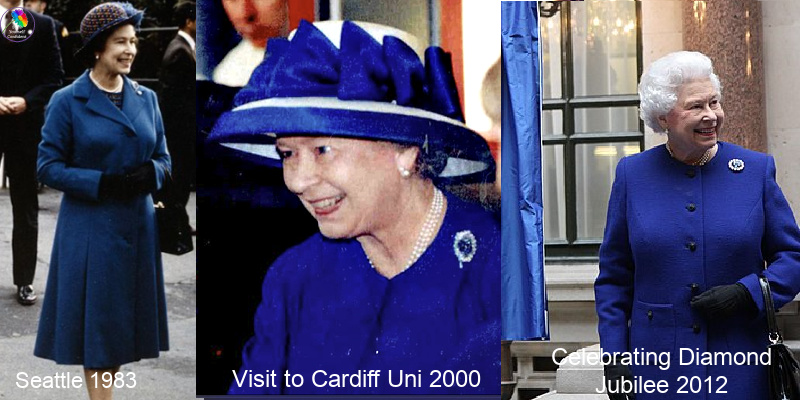 and delights us in VIOLET
The Queen enjoys wearing all shades of purple or, I suppose, it should be VIOLET if we're talking the rainbow! 
Left below Her Majesty looks radiant in sequinned lavender as she attends a dinner in London alongside Pres. George Bush in 2003. This is a really stunning shade to wear with silver hair. 
Center, the Queen and Prince Philip are greeted by Giorgio Napolitano, President of Italy, on their state visit in 2014. 
Although the Queen has designers and dressers, she has a great deal of input into all her bespoke outfits, she knows what she likes and is extremely well informed about fabrics and design.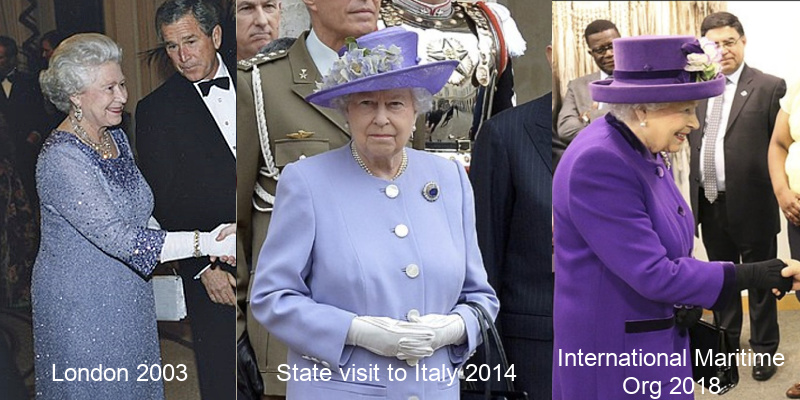 Read about the Queen's wardrobe
If you've enjoyed reading about the Queen's wardrobe a new book is published in May to celebrate the Platinum Jubilee. There are lots more photographs and delightful behind the scenes details of how her Her Majesty's outfits are created. 
"When Angela Kelly and The Queen are together, laughter echoes through the corridors of Buckingham Palace.
Angela has worked with The Queen and walked the corridors of the Royal Household for twenty-eight years, initially as Her Majesty's Senior Dresser and then latterly as Her Majesty's Personal Advisor, Curator, Wardrobe and In-house Designer. As the first person in history to hold this title, she shares a uniquely close working relationship with The Queen".
All photos courtesy of commons.wikimedia.org
Allow 'Your Style' to visit you!
The latest features on Color Analysis, Body Shape and Style to your Inbox, twice monthly.
Plus a Free copy of my book 'Shortcut to Style', it works for you, whatever your age shape or size! 
Pamela x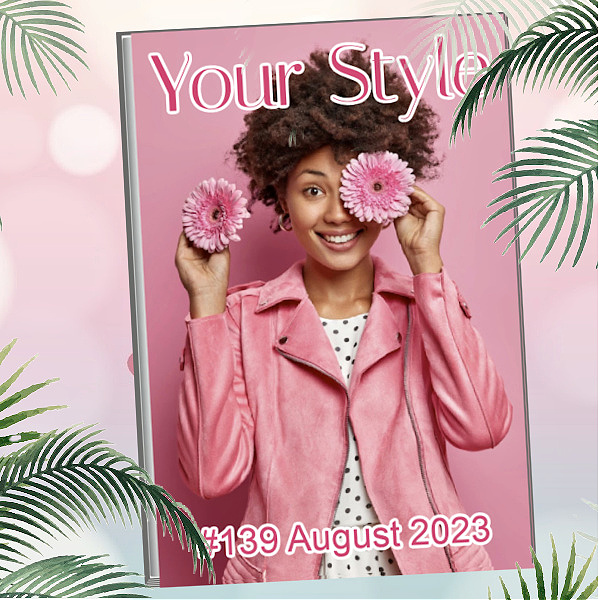 Sitemap or locate all features relating to...
Return to Top of Page
Homepage >> History of Royal Fashion >> Our Rainbow Queen