Mother of the Bride in Las Vegas

My Mother of the Bride outfit for Vicki's Las Vegas wedding had to be something special.
The search began early Spring and I knew I wanted just a dress - but a dress that stood out from the crowd! 

I had several days out and trundled far too many miles visiting exclusive occasion shops for a Mother of the Bride outfit.
And yet, I knew I didn't want a traditional dress and jacket, this was Las Vegas not the Village Church! 
Las Vegas doesn't do subtle!
Beautiful as they were, all the shops were full of elegant and subtle colors which do nothing for me - and to be honest, Las Vegas doesn't do subtle!  Vicki was picturing a wedding full of lovely bright colors.  
It's taken my darling daughter quite a while to find the man of her dreams and I'm considerably older than the usual bride's mother, but I really didn't want to look or feel it!
Just when I was beginning to get desperate and had found a dressmaker, I happened to look on the John Lewis website - and there was my dress!

In my favorite shade of pink I knew the dress from Adrianna Papell was the one!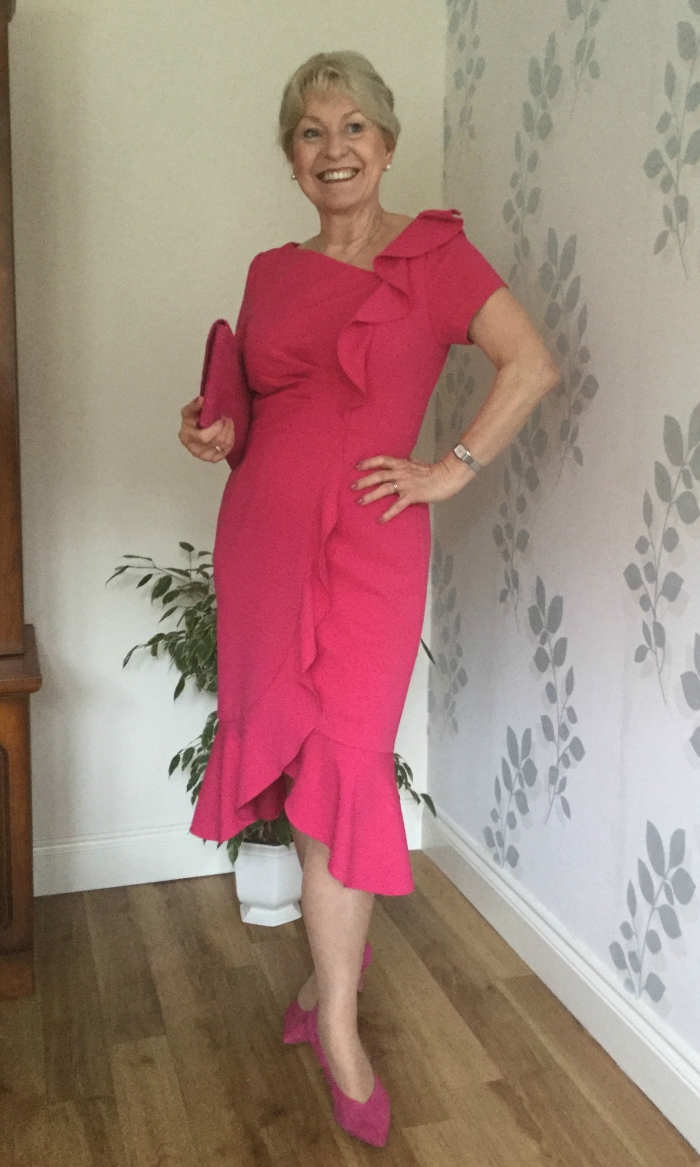 Dress from Adrianna Papell
I ordered it in two sizes to be on the safe side and, tra-la, the next day it was delivered to my local Waitrose! How amazing is that system?
I wasn't penny pinching in my search for perfection but this pink dress was not only far cheaper than all the specific Mother of the Bride outfits but it was GOR-GEOUS. I tried it on and it fitted like a dream!
This is no sleak 'show-every-bump' sheath dress; the high/low hem makes for an easy hemline and the quality lining and ruffles add just enough softness to skim over a few curves.      

Top to Toe color
There's no doubt about it, top to toe color really makes a splash. For us vertically challenged people it also adds height. 
I was fortunate again with good old John Lewis when I looked for a fascinator.  It could have been, but wasn't, made perfectly to match the dress. How lucky was I?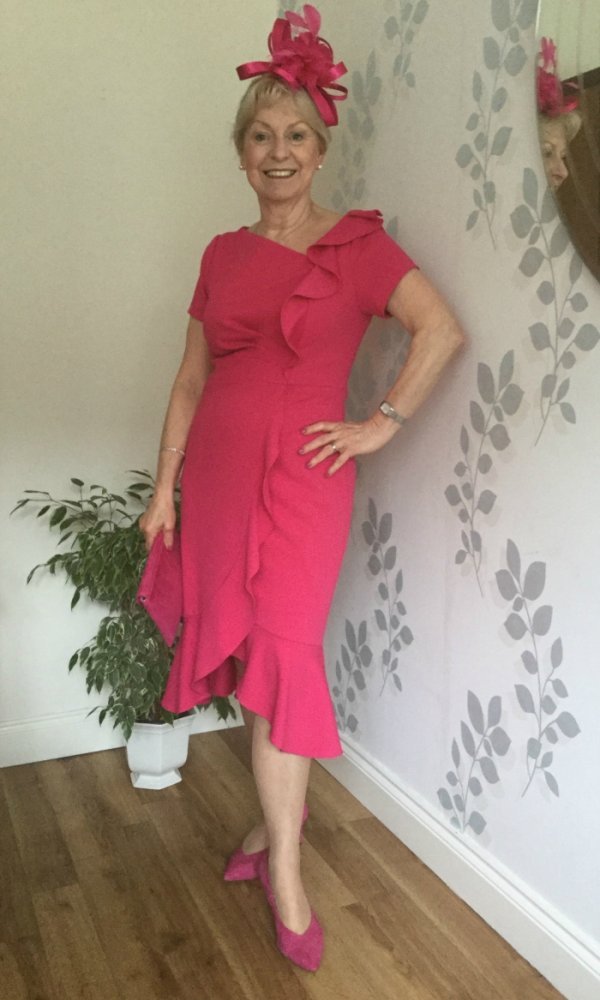 There was no hesitation when it came to choosing shoes. I have horrible feet (an operation that went wrong!) but since I discovered Sole Bliss, shoes that are specifically designed for bunions and difficult feet, I can actually wear pretty shoes again.
I felt like a little girl off to a party in my glorious pink shoes - the style is Carmen. The Jemima bag of course had to come too!
My best colors are from the SUMMER seasonal palette, and although some people may think that the colors are all wishy washy this proves that they're not!
Summer colors are Cool, Light and Soft - but dull - NEVER!

And now THE DRESS is now HALF PRICE!

I wasn't planning to do a style session with my beautiful pink dress but once I saw that it's still in John Lewis and ON SALE. It's a steal and I had to share it with you.
To be honest I couldn't wait to put the dress on again so we did some photos at home. 

If you have a special occasion looming, this could be just the dress to make you stand out from the crowd. I haven't worn a dress from Adrianna Papell before but the fabric and the manufacture is superb, and they actually appear to fit normal women!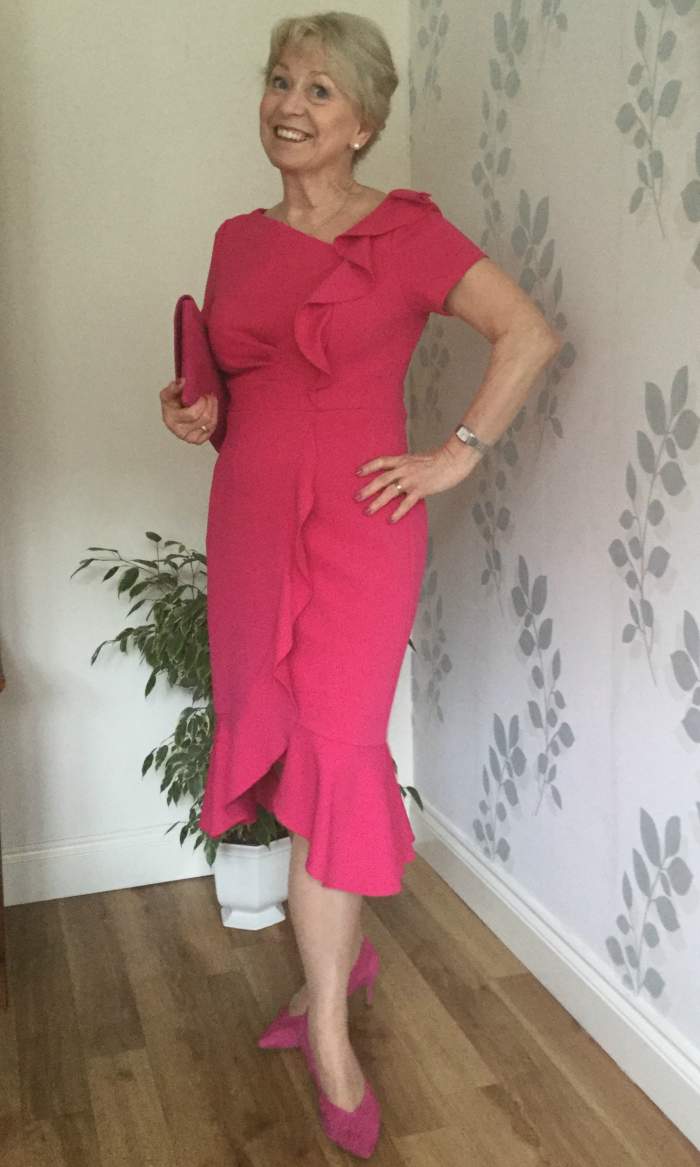 This is an excellent time of year to grab a bargain whether it's a full length evening gown for the party season or getting ahead of the game for a Spring wedding.

Take a look at the great selection at John Lewis, many of them reduced.
Actually I'm wearing my pink dress again on Saturday as we're having a big Wedding Party for family and friends that couldn't be with us in Las Vegas. I can't wait!