Seasonal color analysis SUMMER!
Seasonal Color Analysis SUMMER is probably the prettiest of all the color palettes.
The deliciously delicate tones of an English country garden. 
As the fresh and warm tones of Spring give way to the sleepy days of Summer, the colors become soft and dreamy, seen through a 'heat haze'.
If your color characteristics are LIGHT, COOL and SOFT then these are the colors for you.
Nothing brash, just elegant and feminine. 
The SUMMER colors will allow you to re-create your natural coloring in the clothes and makeup that you wear so creating Color Balance.

Seasonal Color Analysis SUMMER
- the prettiest mix of Light, Cool and Soft (Muted)

Your hair:
will be ash blonde through to fair or light brown. You will have been a child with white blonde, fair or light brown hair although it is likely to have now darkened a little - the overall effect is cool and ashy.
There is often a small amount of red in your hair and it's better to play this down otherwise your skin can look sallow.
Your eyes:
will be light blue, blue grey, green grey, slate blue, even hazel - all softly greyed down - you may have a slightly darker rim around the iris.

Your skin tone:
is fair to porcelain, ivory through to a medium beige, but always with a blue undertone giving a pink tinge to your complexion. You are likely to flush or blush easily. Avoid a true beige foundation, it will 'flatten' your coloring, instead select a color with a slight pink undertone - ask at the cosmetic counter if you need help.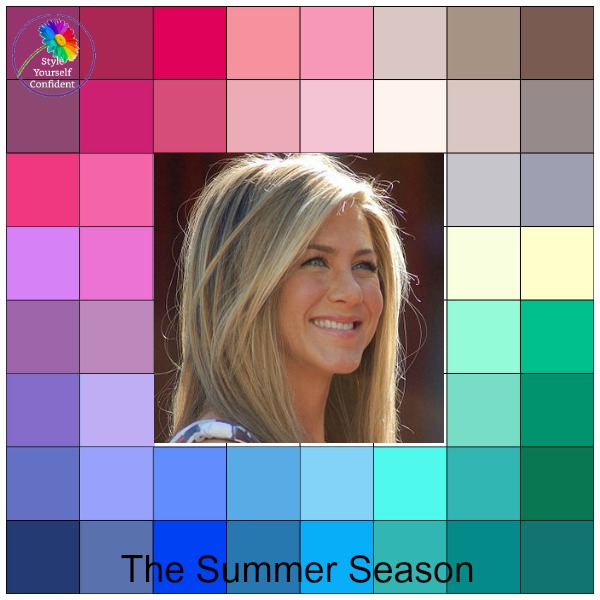 Create Color Balance with your natural coloring...

A plethora of beautiful flowers from an English summer country garden - mauves, blues, violets, pinks! These pretty tones can be far too soft for many people but you need this gentleness otherwise your delicate natural coloring could be overpowered.
Although your colors are COOL, they are the gentlest and the softest of the COOL palette. Light and gentle does not mean pastel just that all the shades have a lightness of pigment.
The soft berry shades and sea green are deeper than you might expect but the effect is subtle and almost sultry. Your neutral tones of grey and navy denote professionalism just as much as heavier tones on a deeper coloring. 

Your most flattering colors:
Your best neutrals:
What to avoid:
any color that has a Yellow (Warm) undertone; yellow, orange, tan and mustard, any gingery browns

If you must wear a color that's not flattering (or you really like them and why not) team them with a prettier color near to your face which will soften the effect. A soft white can be introduced to make things work; a scarf near to your face, a collar over a jacket silver or white pearls earrings will introduce Cooler tones.  
Black is very heavy on your and will drain color from your face. If you must wear it aim for a slightly lower neckline and introduce some beautiful white pearls to bring softness to your face. Midnight blue is a great substitute.
Your skin and eyes are always clearer when you are wearing complimentary tones and any blemishes will be minimized. A natural bloom will return to your cheeks and the right make-up will only enhance this even more.
How to bring your Color Swatch to life...
Holding your brand new color swatch in your hand is exciting - but the next thought is often panic as you wonder what on earth you're going to do with it.

It can be really difficult to visualize how all the beautiful color shades will actually transform themselves into an outfit and find their way into your wardrobe!
For real visual inspiration visit Kettlewell Colours who make a range of jersey separates and dresses in all the colors from your color palette.  

Outfits are photographed and displayed according to Season so you can easily see how the different shades of Seasonal Color Analysis Spring harmonize and work together.
You'll find all your wardrobe basics in flattering shapes and sizes - in fact all the hard work is done for you!
The gentle coloring of the Summer palette does not restrict you to hot weather floaty fabrics, but lends itself just as easily to the soft fabrics of the Autumn/Winter season.
Sadly, Seasonal Color Analysis is often not determined correctly.

If you've been analyzed as a Light Summer, a Cool Summer or a Soft summer then you may not be a true SUMMER at all and the color palette is likely to be diluted. 

If you're not feeling comfortable with your color palette check out the details of 12 Seasons Color Analysis to see if you might be missing out on a wider range of colors that you could be enjoying or contact me for Online Color Analysis. 

All you need to enjoy your Summer colors

The SUMMER color Brief 
£3.00
The SUMMER Color Brief is ready to download and print out with all the concise information you need to start wearing and enjoying your own Color Family - colors, makeup, hair etc.  
15 pages of information including DIGITAL COLOR SWATCH that can be on your Iphone or Ipad for shopping. Or you can make it into a mirror image of the fabric color swatch.
The Seasonal Color Brief - £6.00
4 Seasonal Briefs + swatches 1/2 the price
Enjoy all 4 Seasonal Color Briefs - Spring, Summer, Autumn and Winter - for the price of 2 plus 4 digital color swatches.
It also shows you a simple way to identify your own 'best' Season and how to wear and enjoy your Color Family.
The SUMMER color swatch
£25.50 +
free gift
The Summer color fan holds 30 precision dyed fabric color swatches which fan out to show the whole range of harmonizing shades (shown in the square).

The fan is practical and easy to use, 12.5cm x 6.5cm, finished in a suede style cover and comes with a wealth of information about co-ordination, cosmetics, accessories etc.
Don't think that your choice is now limited, between these colors there are literally hundreds of shades and tones just like an artist's palette.
ALSO INCLUDED: When I acknowledge purchase of your swatch I will send you a FREE DIGITAL COLOR SWATCH so you can always have your colors to hand on your Ipad or phone.
In the UK? Please use this button to purchase, p & p £1.75
Anywhere outside the UK? Please use this button to purchase, p & p is £4.95
Flow Seasonal Color Analysis - what's that all about?

If you've been analyzed as 'flowing' from one season into another then you may not be a Season at all!
Please share your COMMENTS
Homepage >> Seasonal Analysis >> Summer