You have a Pear Shaped Body
A pear shaped body has beautiful curves!
You have curvy hips that are wider than your more narrow shoulders.

Sometimes referred to as a TRIANGLE shape because you're bottom heavy but there are certainly no angular lines to your figure.
Curvaceous hips and thighs with a rounded bustline. Your more slender shoulders may sometimes be sloping but there are easy ways to balance your figure.

We are all different shapes and sizes but if this is the nearest body type to you, just use these easy and logical balancing tricks to choose the most flattering shapes.
But you should always wear what makes you feel good about yourself so take only what works for you from these styling tips. 

How to balance a pear shape

Jennifer Lopez (left) has a typical pear shaped body and, fortunately, has the pick of designers who know how to use shapes to the best advantage.     
The glorious beading draped across the top of this dress widens the shoulder area, keeps the interest high and detracts from her hipline. 
The high waisted empire line appears to make her look taller and the sumptuous fabric creates vertical pleats which further lengthen the frame.
The luxurious drape of the skirt shows off curves without adding bulk to the hip or thighline.
Thus, the shoulders and the hips are completely balanced creating a perfect figure.  
The Pros and Cons of a Pear Shaped Body

Wow! Look at your positives!
You have beautifully feminine curvaceous hips and bottom
You have a slender upper body and often an elegant neck
You always keep a well defined and neat waistline. 
it's the most popular shape to be!
Create figure balance by...
Maximize shoulders to balance your Pear shape

A V-neck or wider neckline will widen the shoulders
Shoulder pads give instant balance - they don't have to be huge but give structure
Minimize Hips

Wear Spanx foundation wear to slim and smooth

Shapes that help to balance the shoulders...
Your bone structure never changes

Your bone structure never changes. Whether you lose weight or gain weight your body frame or body structure exactly the same.
Many celebrities are now paving the way and endorsing the range of Spanx body shapewear to streamline the figure when you want to feel your best. In fact many people use this type of foundation wear daily.
We forget that up until the 60's nearly all women, as a matter of course, expected to use some kind of help to keep their tummy in check.  For some reason we seem to expect that following childbirth and the rigours of life, a woman's body is not quite the same.

So forget trying to change your body shape just learn to balance your beautiful self and dress to your advantage.  
"God made women for their curves and baby-making hips!"
"I know but I wish he'd included the pattern for adjustment?"
Create an optical illusion and visually change your Body Shape with color.

Use light and deep shades to attract the eye and change your shape...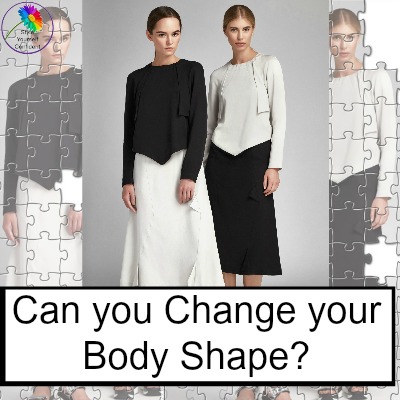 Dress your wide hips and thighs

Many women are over-sensitive about Wide Hips and Thighs - but it's easier to cope with once you realize that it's just your bone structure. 

It's easy to get the hang of influencing the eye and flattering your figure. 

5' 3" or under then you're a Petite lady with a Pear Shaped figure. Check out my styling tips and make the most of every inch.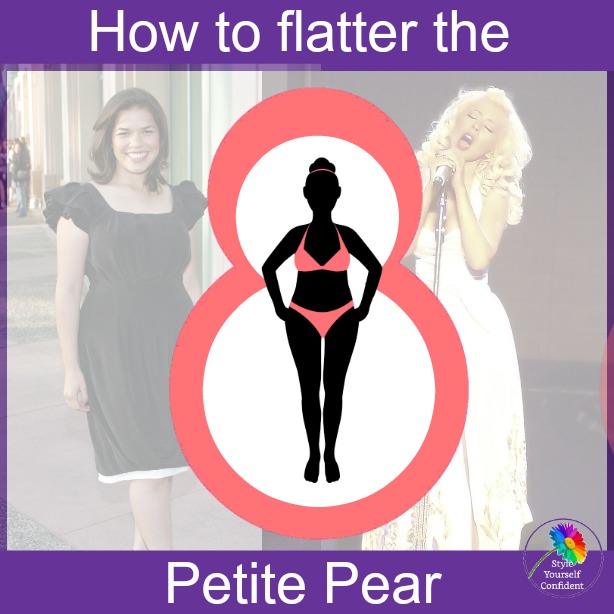 Although you will now understand the basics of fitting your PEAR SHAPED figure, like most of us, you may have the odd 'problem spot' which bothers you.  
Perhaps it's sloping shoulders, a hollow back, a bust that's too big or too small - so take a look at how you can dress this part individually.
Dress for your OWN Body Shape shows you how to cope with your own personal bugbears!