Holiday Capsule Wardrobe

Creating a holiday capsule wardrobe is the most useful and practical way to plan for vacation. Take the angst out of your packing and use my plan for a travel-light getaway or as a base for a longer stay!
There are TWO COLORWAYS to take the angst out of your packing so whatever your coloring there's one just right for YOU! 

Keep costs down by fitting everything into a carryon (no luggage to check) and you're ready for an impromptu weekend, or longer if you're happy to travel light!  
Want to take more then add your favorite accent colors to bring it to life!
Choose NAVY or OLIVE
A basic holiday capsule teamed with white/ivory/cream will condense to the minimum. A few simple pieces that mix and match will see you through a week of casual days and informal evenings whatever your coloring.  
I'm giving you TWO versions of the holiday capsule: 
NAVY - everyone can wear navy as there's a version in every color palette and it's probably the most versatile of holiday capsules.
OLIVE - but if you lean more towards earthy warm colors you may prefer to choose olive.  
We're going to team both versions with your best LIGHT shade so:
Travel in Style - your first 3 items

Choose a 'column of color' with a 'creasefree' jacket to travel - it's all part of your capsule.  
Although comfort is top of the list, travel is something 'special' and the jacket keeps you smart and well put together for the airport and your arrival. 
Chico's are great for these sort of easy wear items. 
On the flight you can shed the jacket and keep warm with a lightweight scarf.
Choose to wear your version of jacket, pants and top with comfortable sneakers/loafers or robust sandals. Sensible and practical color choices of navy or olive means that you won't arrive looking travel stained at your resort or hotel. Choose your fabric weight according to your climate and destination. 
N.B. If you're happy to travel in jeans, it's worth noting that although traditionally casual, dark toned classic jeans (indigo or deep olive) have been promoted to 'smart casual' and will take you to all but the classiest establishment. 
Your capsule is just 8 items
3 items of travel clothes means that you'll need to pack just 8 items in a small carryon to give you oodles of outfits as you'll see below. And you'll still have your lightweight jacket if you need it for warmth or a dress-up occasion! 
maxi skirt
shorts or capri pants
2 plain tops
1 print top
dress for evening
white/cream pants or skirt
I take a Mia Tui travel bag with me on flights which fits securely onto my carryon. A small clutch bag is free inside so just add some pretty little sandals.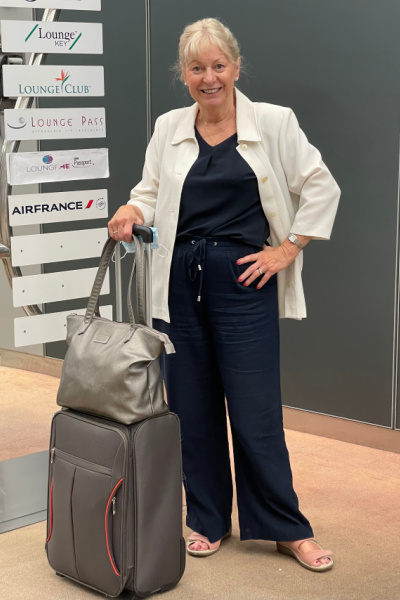 Wearing my navy 'column of color' with the Mia Tui travel bag
Suggestions for NAVY holiday capsule
How to use your capsule
You'll need little more than a pretty maxi skirt or shorts over a swimsuit to take you to lunch in the sun - or you can add a pretty tank. The skirt of course can also be used with your tops at other times.  
Mix and match separates (see below) give lots of outfit choice for excursions, lazy afternoons, cocktail time with a prettier dress available for a special dinner.  
Packing just 8 items leaves plenty of space for essential underwear and toiletries.  
Don't get hung up about matching shades, both navy and olive are very easy-going and different shades will easily blend. 

Suggestions for OLIVE holiday capsule
Add a color cluster!

The basic capsule is only the beginning, get ready to extend!
Adding a small cluster of color extends your holiday capsule. For the scrap of space it takes to add one extra tank, you can team it with your bottoms and achieve 4 additional outfits! Choose a bright color from your own palette for tank, bag, scarf or necklace.  

To navy you can add a touch of bright pink, jade or purple to perk up the neutral. For the olive add warm colors like a brilliant orange, turquoise or tomato red.    
Metallic always boosts a look so silver or gold sandals and a little clutch bag will brighten up your evening outfit.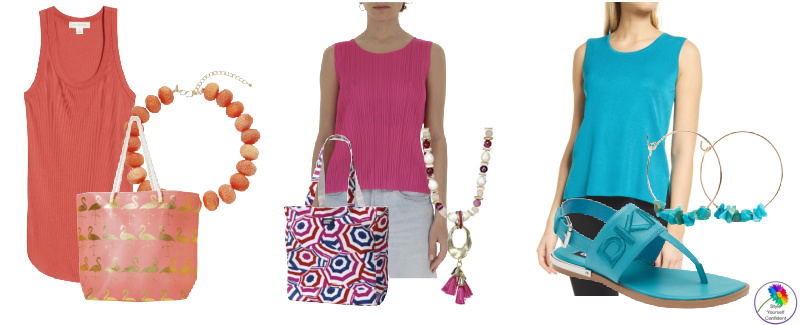 Allow 'Your Style' to visit you!
The latest features on Color Analysis, Body Shape and Style to your Inbox, twice monthly.
Plus a Free copy of my book 'Shortcut to Style', it works for you, whatever your age shape or size! 
Pamela x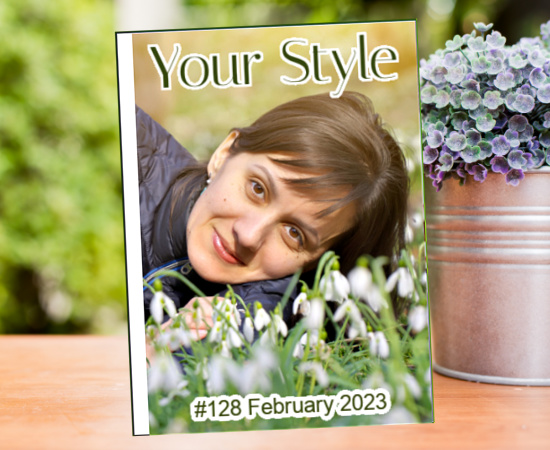 Sitemap or locate all features relating to...
Homepage >> Holiday Wardrobes >> Holiday Capsule Wardrobe