Classic Style Personality
Your appearance:
A Classic Style Personality will always be elegantly and appropriately dressed for any occasion and always be well turned out.
Your style is simple, refined and somewhat restrained!

The impression you create
Your image and personality go hand in hand - you are quite a traditional and organized person and your look supports the impression of a serene and credible persona.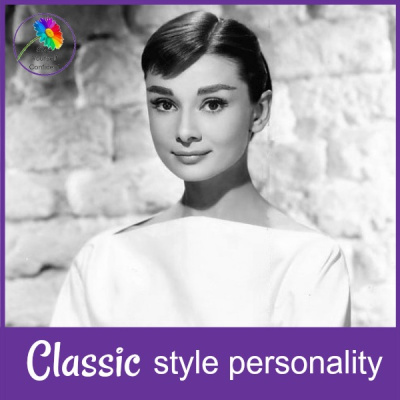 Your shopping priorities:
You don't look for high fashion or for bargains. You enjoy shopping for quality items that will prove to be an investment for your classic wardrobe. Timeless understated and elegant pieces, beautifully cut with clean lines.
Although you are not afraid to spend money on investment dressing, value is important to you and you choose carefully to ensure that each item will earn it's place in your wardrobe. 
You've been known to buy the same well-loved style in different colors as you know it works!
Classic doesn't have to mean boring...

The word 'classic' is often misinterpreted and has almost come to mean boring, conventional and conservative!

Whereas, a Classic wardrobe actual means that it's simple and of a sufficient quality to be considered stylish, elegant and timeless!
Simplicity is the watchword, never over-complicated in color or style.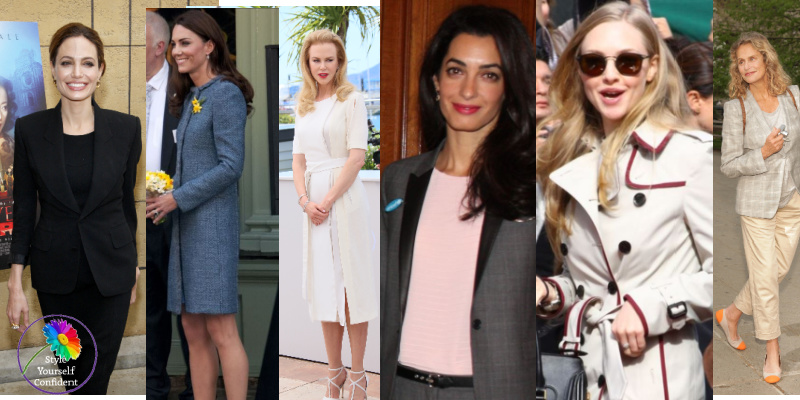 Smart comes naturally...

It comes very naturally to a Classic style personality to aim for a bandbox look, always polished, neat and tidy whatever you wear. You feel at your best with your hair looking good, well applied though natural-looking makeup and classic jewellery, often pearls. 

Dana Walden (right) shows that it's possible to be classic in a softer way, you don't have to always be tailored.

You can sometimes find it difficult to create a casual look; if you choose jeans they are likely to be well ironed and teamed with a smart blazer or jacket otherwise you feel untidy. 
You prefer styles with a structured look that retain a crisp appearance using quality natural fabrics. Although wool is a favorite you will probably shun pure linen in favor of a linen mix rather than cope with the creasing!
Elegant simple accessories, well cared for, in traditional shapes and style.

What a Classic Style Personality chooses to wear...
You feel happy...
In all areas of your life you feel happiest in a tailored structured look from business suits through to your casual blazer, mostly in neutral tones of black, grey and navy. All in simple lines.
You favor solid colors rather than the fussiness of a print although classic designs of stripes, tartan, herringbone etc. will be incorporated. A Classic style can be chic and minimal or lean towards 'preppy' but is always tasteful. 
Your capsule wardrobe will be based around a few key quality pieces that can all inter-mix and stand the test of time.
Remember: Although these styles are representative of your Classic personality style, always shop with your own body shape in mind and be ready to add color to flatter.

Your Style Icons
The beautiful Gracy Kelly chose the simplest of shapes invariably worn with her trademark pearls, always neatly and beautifully refined!
Jackie Kennedy and Audrey Hepburn both favored simplicity of cut too, showing that classic doesn't have to mean neutral. They choose flattering shades of solid color to stand out from the crowd both, incidentally, worn with pearls!
Quality is the essence of classic, both fabric and cut, but comfort too plays a part in owning a timeless wardrobe. A carefully chosen item of clothing that fits and flatters is one that you will return to for many years to come
Keeping classic up to date...

Although your look is elegant and 'timeless', you don't want to be too conservative! Keeping your hair and makeup up to date adds edge to your classic style personality.
Shapes do change surreptitiously over time; the cut of a jacket, the width of a sleeve, the length of your skirt and, most of all, the accessories you wear. Aim to introduce a couple of up to date brighter accessories each season to lift your look - handbags can make a statement and a bright scarf can work wonders.
Give some attention to your casual wardrobe, find a look that appeals so that you have outfits to depend on.

Allow 'Your Style' to visit you!
The latest features on Color Analysis, Body Shape and Style to your Inbox, twice monthly.
Plus a Free copy of my book 'Shortcut to Style', it works for you, whatever your age shape or size! 
Pamela x
Sitemap or locate all features relating to...
Homepage >> Style Personality >> Classic style personality