12 Season Color Analysis? Why?

A 12 Season Color Analysis is admitting that 4 Seasons don't work for everyone.
Very true, they don't!
The Seasons should be very precise because they are a mix of 3 specific color characteristics. If you don't fit into those specifics then you're not a True Season. 
BUT you might be a perfect TONAL!
Both Seasonal and Tonal Color Analysis use the same color characteristics and perfectly complement each other.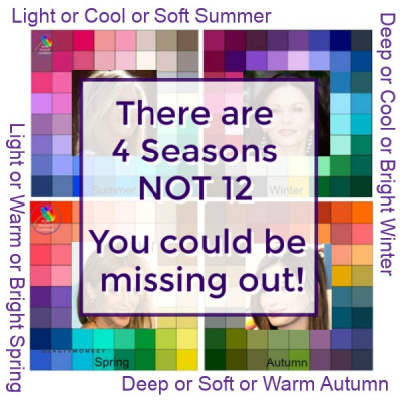 So there is no need to accept second best if you don't feel a 'fit' with a color palette - you just haven't quite found your place yet!
Your individual natural coloring will determine the best method for YOU!
10 perfect Color Families - no need for 2nd best!
There are 6 Tonal Color Families named after the color characteristics (that's just the way we describe colors:
                     LIGHT DEEP WARM COOL BRIGHT and MUTED/SOFT
There are also 4 Seasons (which I call 'complex' color families) which are a mix of 3 of those color characteristics (because of course we're all different!)
SPRING is Light, Warm and Bright
AUTUMN is Deep, Warm and Muted

SUMMER is Light, Cool and Muted
WINTER is Deep, Cool and Bright
Some people break these Seasons down into the 3 individual elements making '12 Seasons'. Very strange and very confusing because if a Season is broken down then the colors are diluted.

Every COLOR FAMILY has a wide and glorious color palette with plenty of choice for mood and occasion. There's no need to dilute any of the palettes, just find the best one for YOU!
If you are part of a Season your colors are 'DILUTED'
and your color palette restricted

How can you be LIGHT Spring, WARM Spring or CLEAR Spring?
SPRING is always a combination of LIGHT WARM and CLEAR

How can you be LIGHT Summer, COOL Summer or SOFT Summer?
SUMMER is always a combination of LIGHT, COOL and SOFT
How can you be DEEP Autumn, WARM Autumn or SOFT Autumn?
AUTUMN is always a combination of DEEP, WARM and SOFT
How can you be DEEP Winter, COOL Winter or CLEAR Winter?
WINTER is always a combination of DEEP COOL and CLEAR (Bright)
If you have been determined with a 12 Season Color Analysis, not only will your colors be 'diluted' but if not a True Season you're probably not a Season at all.
You may well lean more towards one of the Tonal Color Families and could well be missing out on lots of additional colors that you could be wearing and enjoying. 

If you're not a SEASON, you must be a TONAL!
Click into 'Part' of a Season and see if you're missing out!

Homepage >> Color Analysis >> 12 Season Color Analysis