Seasonal color analysis AUTUMN!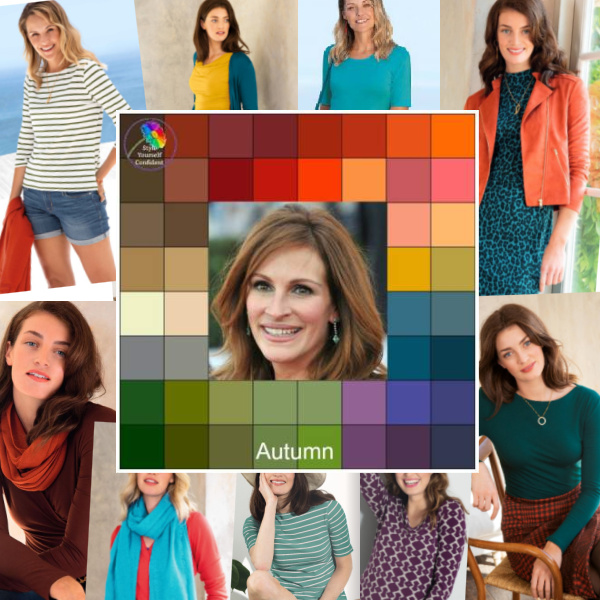 Color Characteristics
If your color characteristics are Warm, Deep and Muted then these are the colors for you.
The AUTUMN color palette allows you to re-create your natural coloring in the clothes and makeup that you wear. This creates COLOR BALANCE and harmony!
Seasonal Color Analysis AUTUMN
- a glorious mix of DEEP, WARM and MUTED
Your eyes: 
will be warm green, golden or deepest amber, hazel, turquoise/teal - often with yellow flecks.
You have medium contrast - there is usually a reasonable contrast between your eyebrows, skin and hair color. 

Your hair:
is likely to be auburn through to a rich Warm Deep chestnut, sometimes even darker.  
Your skin tone:
is WARM - ivory, golden beige through to a deep coppery tone - and always with a golden undertone.  You may actually look quite fair against dark hair and have freckles. 
AUTUMN colors balance with your natural coloring
The beautiful array of colors in your COLOR FAMILY will enhance and intensify the warm golden undertones and bring your coloring to life. Your skin and eyes will be clearer blemishes will be minimized. A natural bloom will appear; the right make-up will enhance this even more.
The colors to flatter you are:
every shade of nature from deep golds and oranges, rich reds and greens, heathery blue mountains and deep teal of the sea
Your most FLATTERING neutrals:
Colors to AVOID:

How to cope with hard-to-wear colors

Raspberry, royal blue, blue red - are not your best shades. If you must wear them, team them with a warm soft shade close to your face to soften the effect.

How to bring your color swatch to life!
Holding your brand new color swatch in your hand is exciting - but the next thought is often panic as you wonder what on earth you're going to do with it.

It can be really difficult to visualize how all the beautiful color shades will actually transform themselves into an outfit and find their way into your wardrobe!
For visual inspiration...
For real visual inspiration visit Kettlewell Colours who make a range of jersey separates and dresses in all the colors from your color palette.  

Outfits are photographed and displayed according to Season so you can easily see how the different shades of Seasonal Color Analysis Spring harmonize and work together.
You'll find all your wardrobe basics in flattering shapes and sizes - in fact all the hard work is done for you!
Autumn colors? Nature at it's finest!

It's misleading to think that because Autumn colors are WARM, DEEP and MUTED that they can't be VIBRANT and yes almost BRIGHT! It is this rich blend of color that makes the Autumn palette so intense and almost dramatic but retains the softness.
You don't have to look like a pile of Autumn leaves!
I've compared forest color with a spectacular Florida sunset proving that the Autumn color palette isn't bound by climate or season of the year. 
Do your colors change as you age? 
No - your natural coloring is genetic so it never changes.
However, as your hair begins to transition into grey losing pigment, your skin can also lose color.
This is probably more obvious with a Warm skin tone and coloring your hair will allow the warmth to stay dominant otherwise the muted softness can take over. 

But... that is by no means always the case and many women continue to enjoy their brightest shades. Irish actress Fionnula Flanagan above has transitioned from rich auburn to grey/white with no loss of enjoyment in her colors for clothes or makeup.    

If you do choose to color your hair ensure that you add a subtle mix of tones to create a natural look rather than a solid color.  
Scroll down for lots more..
Ok you're a Autumn – but how do you actually begin to wear Autumn colors?
Liking the look of the palette doesn't show you where to begin and many consultants will determine your color palette but give you no idea of how to translate this into a wardrobe.

Time for a bit of clarification and a step by step guide!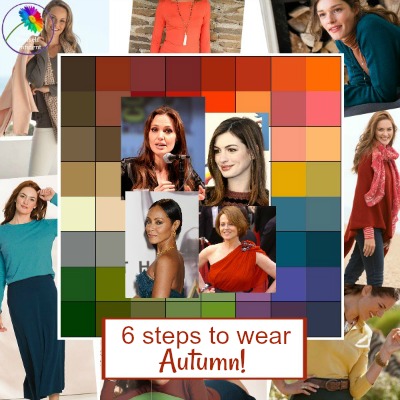 What do I do now? That's probably the first thing most of you say when you first hold a brand new color swatch in your hand!
All these ladies have had Online Color Analysis and are kind enough to share with us how they enjoy the Autumn colors.

If you're used to sinking into soft warm woollen fabrics, deep piles and rich coloring of the Autumn colors, it might initially be difficult to visualize the same shades in the sunshine.
But think Mediterranean vineyard or the dazzling spectacle of a Caribbean sunset - they're all AUTUMN colors!
It's often considered a no-no but Autumn colors are brilliant and, as long as it doesn't wash you out, black can actually good!
There are no 'wrongs' with color you should wear whatever makes you feel good.
The cold mornings creeping up on you?

You don't need to change your daily 'uniform' dramatically when the season begins to change you just need a coverup with flexibility!
If you've been analyzed as a Deep Autumn, Warm Autumn or Soft Autumn; then you may not be a true AUTUMN at all and your color palette is likely to be diluted. 
Not feeling comforable with your palette, check out 12 Seasons Color Analysis to see if you're missing out on a wider range of colors.

All you need to enjoy your AUTUMN colors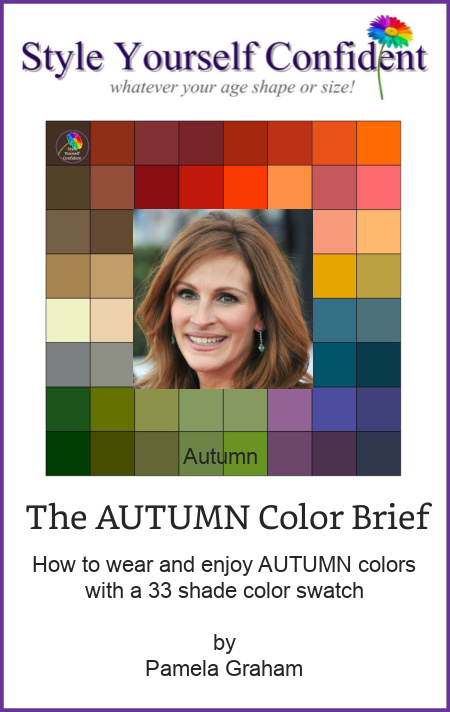 Autumn Color Brief £4
The AUTUMN Color Brief is ready to download and print out with all the concise information you need to start wearing and enjoying the AUTUMN Color Family.
With 30 colors, advice for makeup, hair, jewelry and glasses frames. It also comes with a printable color swatch so you can make it up into an mirror image of the fabric swatch.    
This is a digital product.
The Seasonal Color Brief - £12

(4 seasons & 4 color swatches for the price of 3)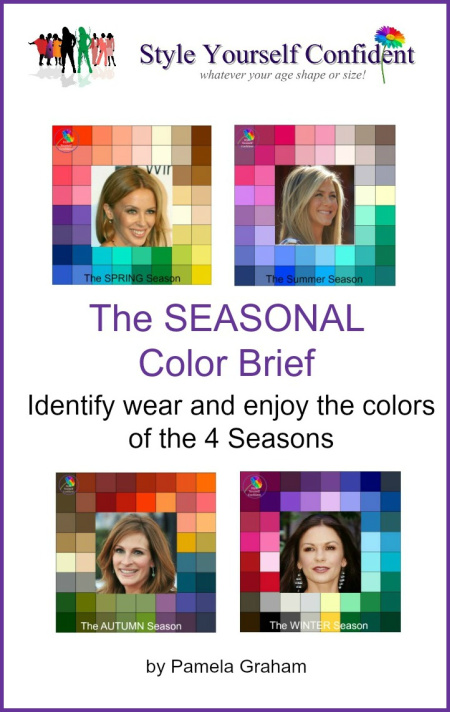 How to identify and discover your own 'best' Season - with all 4 Seasonal Color Briefs and 4 color swatches.
Spring Summer Autumn and Winter Seasons - 4 for the price of 3. 
For each Season you will discover how to wear and enjoy the colors, advice for makeup, hair, jewelry and glasses frames.
PLUS a 30 shade color swatch (33 for Autumn) ready to download and makeup into a mirror image of the fabric swatch.
This is a DIGITAL PRODUCT. 
Autumn color swatch £28.00

The AUTUMN color fan holds 30 precision dyed fabric color swatches which fan out to show the whole range of harmonizing shades (shown in the square).

The fan is practical and easy to use, 12.5cm x 6.5cm, finished in a suede style cover and comes with a wealth of information about co-ordination, cosmetics, accessories etc. Don't think that your choice is now limited, between these colors there are literally hundreds of shades and tones just like an artist's palette.
In the UK? Please use this button to purchase, p & p £1.95
Outside the UK? Please use this button to purchase, p & p £4.50
Homepage >> Seasonal Analysis >> Autumn