What do I do now? That's probably the first thing most of you say when you first hold a brand new color swatch in your hand!
How do you begin to translate those beautiful colors into your wardrobe?
This is REAL Color Analysis!
I'm privileged to share with you some photos of ladies whose color direction I have determined with Online Color Analysis. This is such great visual inspiration!
Most women with medium to deep coloring are automatically drawn to darker tones and find the Autumn palette easy to incorporate into a wardrobe with their existing neutral shades. This includes BLACK. 
Although it's certainly not a warm color if you choose to include black DO NOT FEEL GUILTY because it looks fabulous with the brilliant Autumn shades! 
Christina, Australia
Christina has very dark hair and chooses to mix the brilliant Autumn colors with her love of black. Black is often a no-no for Autumn coloring but it's the perfect foil for Christina against the rich Autumn shades.   
She says: "It's absolutely wonderful. I had a feeling I was going to be either Autumn or Winter so this has confirmed it and I'm very excited!
I am actually rebuilding my wardrobe 'from the ground up'. Most of my clothes no longer fit me as I've lost weight so I'm literally starting from scratch. I absolutely love the idea of a capsule wardrobe to start off with so I'm trying to come up with a colour palette based on the analysis you've given me.

I've spent ages trying to find good matches to tomato red, mahogany, olive green and teal. Am also thinking perhaps true red, sea blue and like the darkish maroons e.g. 'bordeaux' if you think that will work?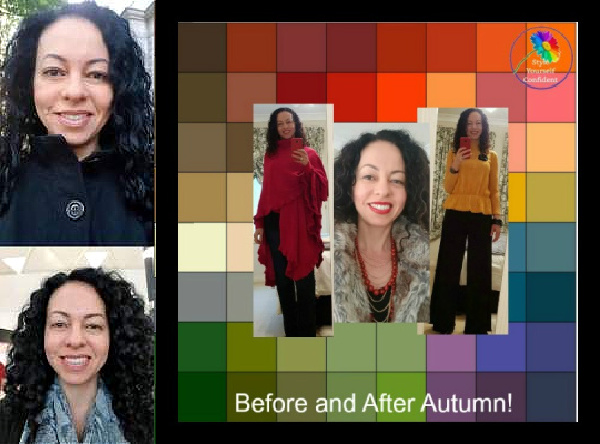 Pamela says: Actually Bordeaux is a great color, it's impossible to include every color on a swatch so don't feel intimidated. Many deep maroons, burgundy, claret etc. will work with the Autumn palette. See how they harmonize with your color swatch.