All wrapped up for Autumn

Get wrapped up for Autumn with a simple and stylish coverup poncho or cape. 
The Seasons are changing and the cold mornings will start creeping up quickly. But you don't need to change your daily 'uniform' dramatically you just need a coverup with flexibility!
No doubt our lifestyles are changing and many of us might not even have the need for a heavy winter coat this year. But in and out of cars, shops or the occasional office visit means we're probably over heated or over chilled!
What we need is a simple, practical and inexpensive solution.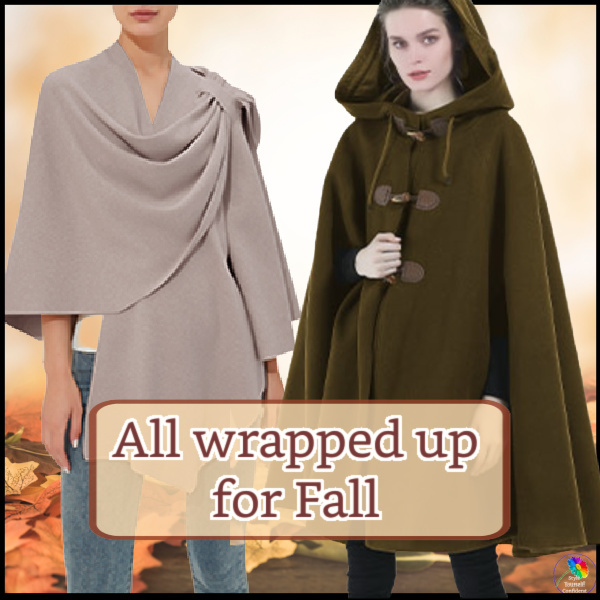 Wrapped up for Autumn - what do you need?

Jumping into the car on a cool morning, a simple poncho is perfect to take you to the school gate or the office door - a chic topper and you're quickly wrapped up for Autumn. 
However, if you need your arms free a simple wrap may not be enough. A topper with sleeves will stay neat and leave your arms free for bags, briefcase, shopping or just need to hold onto the kids!   
If your Winter draws in quickly...
If your Winter draws in quickly take a look at this fabulous cape with fur round the collar and cuffs. It's big enough to cope as you layer up beneath. Certainly no fit problems.
A neat neckline is always a winner for me; a collar that frames the face is flattering without showing what you're wearing beneath. And if you're lucky enough to be travelling, most of them will double up as a blanket throw. 
Sudden changes of temperature can be quite over-whelming for many of us. So the ability to whisk your warm layer on and off at will is a joy!
The benefits of a cape/poncho with sleeves...

Smarter than a wrap as it stays in place
You are arms-free



Brings all your separates together, minimal expense maximum coverage



No size problems, one size fits all, light and easy to carry
No hems or sleeve length to bother about if you're tall or short

It can be worn casual or dressy over pants or a skirt
Wrapped up for Autumn without restriction
Perfect for travel, fold up and use as a blanket or cushion
Begin to layer up

Add a lightweight scarf at the neck - change it for something warmer as the mornings get cooler. 
A cape will easily take an extra cardigan or jumper beneath to ensure you're wrapped up for Autumn.  
Keep your hair under control when the cooler winds bite with a fabulous hat!
This classic fedora is at the unbelievable price of £12.50 (about$14.00), it has an adjustable size band and comes in 12 colors. 
Return to Top of Page
Homepage >> Fall Fashion >> All wrapped up for Autumn