All wrapped up for Autumn

Get all wrapped up for Autumn with easy styling and snuggly warmth. Busy lifestyles mean that we're always on the move.
Wherever you live in the world, we jump in and out of cars and public transport; homes, offices and stores are frequently either over heated or over chilled with air conditioning. 
I'm sure I'm not the only one who finds sudden changes of temperature very uncomfortable. In fact for some middle aged women it can be quite distressing.

Thick Winter coats are often just too bulky and heavy for modern lifestyles but a wrap, poncho or lightweight cape can be just the ticket. They offer a coverup solution that will marry with whatever you choose to wear from jeans casual to office smart.
There's a very wide variety available from an inexpensive blanket throw, or a luxurious pure wool Burberry cape.
Some of the simplest throws are easy and lightweight to carry and can be styled in many different ways from a scarf to a poncho or a cape.
You don't need to change your daily 'uniform' dramatically when the season begins to change you just need a coverup with flexibility!
So simple layering that can be on or off quickly and easily is the solution.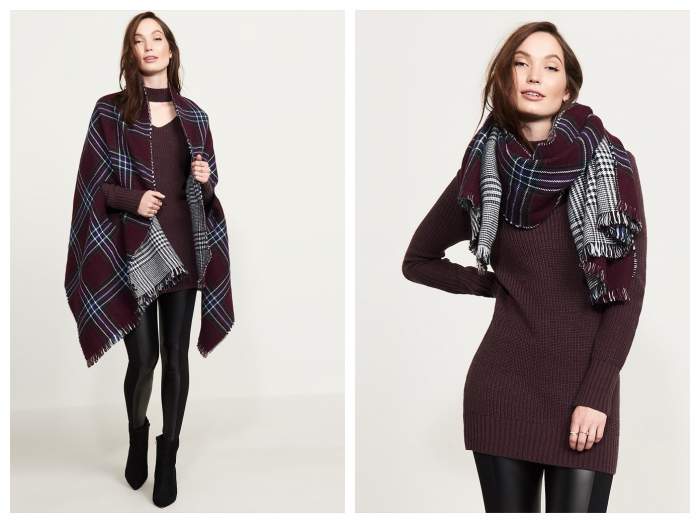 Loving this fully reversible number
This Plaid beauty quickly changes from a wrap to a cape to an elegant scarf. Stylish slits for the arms keep it firmly in place.   

Fully reversible fabric features warm Burgundy, the no. 1 color this Fall, on one side and a more sophisticated Prince of Wales check on the other. This looks perfectly at home whether it's topping your work wardrobe or paired with a cozy long sleeve top, jeans and boots for weekend outings.

Wrapped up for Autumn - keep it simple...

A blanket wrap/throw brings all your separates together, minimal expense maximum coverage



A blanket wrap has no size problems, one size fits all, light and easy to carry

A poncho is more snuggly and covers up to the neck
A cape is slightly more dressy and often has fixed fastenings
They can all be worn casual or dressy over pants or a skirt
Comfort and warmth without restriction

Add fur hat for sophistication and a touch of luxury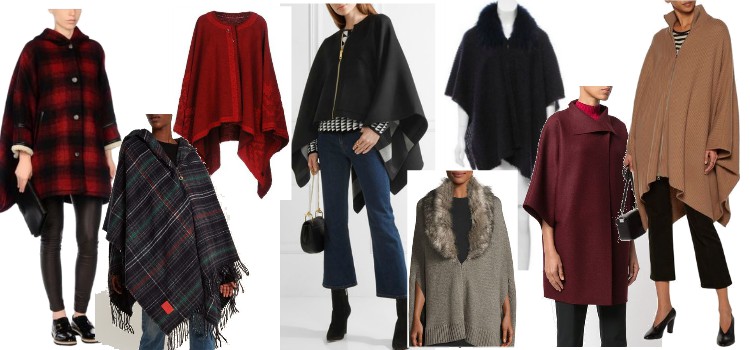 Comfort and warmth whatever the weather with a blanket wrap, poncho, or cape
Choose a budget buy or the warm luxury of wool and cashmere

Like to feel a bit neater?

A simple blanket throw can of course feel a bit over powering if you're petite or you might even find a throw difficult to keep in place. But you can stay wrapped up for Autumn with the same easy-wear appeal and remain just that little bit neater.
Choose a cape with a secure fastening that will hold it firmly in place whether you're struggling with the shopping, carrying a briefcase or travelling. Or a poncho just pops over your head to keep you neat, snug and warm.

Petite bonus!

A wrap or cape, particularly one with a fastening is the perfect answer for a petite woman - no length problems with sleeves or hem to worry about, your legs look longer and the movement or swing adds presence to a shorter lady. And... you don't feel overpowered as it stays 
Although you can still find plenty of budget purchases you might be tempted to indulge in a more luxurious wool or cashmere cape which will retain it's good looks for years to come. 
Please share your COMMENTS
Return to Top of Page
Homepage >> Fall Fashion >> All wrapped up for Autumn