Color Analysis Specials

From time to time I enjoy collaborating on Color Analysis specials with other Bloggers doing either personal Color Analysis or staging competitions.
Or a Royal Wedding - what's a better 'special' to feature here!

Helen is the winner of our Color Analysis competition to celebrate the 100th edition of Your Style Newsletter. 
Thank you to all who entered. I think you'll agree that Helen from Canada is a very worthy winner having worked tirelessly throughout the pandemic in Mental Health.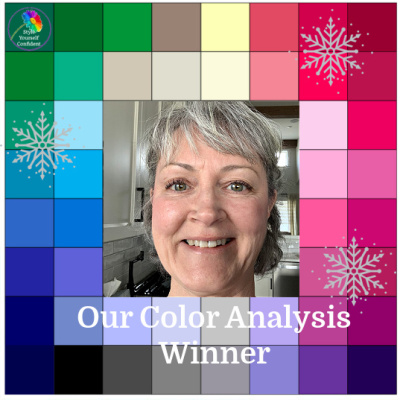 Allow me to introduce a very special family to show that Online Color Analysis is for any age!
Jodie is 50+, Nancy is 60+ and Charlotte is 70+ - 3 ladies who make up the team of Jodie's Touch of Style blog. jtouchofstyle.com

Although Jodie is the actual blogger, Charlotte (her Mom) and Nancy (her Stepmom) contribute hugely to the fun.
Whatever your age, fashion can be fun so take a look at these fabulous 'golden girls' as they put together outfits from their own wardrobes.
I was honored to be included in a 'colorful' feature by Nicole of High Latitude Style which included bloggers/websites from across the globe talking about how they wear color.  
Even though I spend my 'life' working with Color Analysis, next to these other radiant ladies I feel quite conservative. But that's OK because I know what feels right for me and that's what it's all about - feeling comfortable in your own skin.
Finding your color direction is likely to give you an instinctive feeling of comfort but a color palette is never finite, it's merely the beginning!  

A very special feature to celebrate the Centenary of the ceasefire at the end of World War I. This gorgeous photograph is of my local church.
Service of thanksgiving and parades were held in every town and village across the land at 11 am Sunday 11th November 2018 with a 2 minute silence observed on the hour.
Well beautiful lady, you won't actually be a Princess (which is how we'd really like the fairy tale to be) but you will be our new 'Duchess Meghan' - and that's a pretty darned cool title!
We all love a wedding particularly when it's a Royal event. I'm taking a look at Meghan's natural coloring and wondering what she might be wearing!
Homepage >> Guest Posts >> Color Analysis Specials