Burgundy or Maroon?

Burgundy or Maroon - do you know which is which? And how to distinguish between Warm and Cool shades? 
Burgundy is a beautiful cold weather color and a very popular fashion shade. As with all colors you'll see lots of different shades all calling themselves 'burgundy'. This is a color that, years ago, my mother would have called 'maroon'.
So in actual fact we use the word BURGUNDY very loosely to cover many deep rich shades! 

This is a beautiful color and suits many people but, sometimes, you may be put off if you can't find a shade that you feel suits you. 
It's the undertone of a color, whether it's influenced by Yellow or Blue, that decides whether a color is Warm or Cool - and consequently whether or not it's going to flatter your complexion.  
So whether you're buying a lipstick or a winter coat, if you find a color you're happy with don't even think about it - enjoy!  I personally think that most burgundies look great on both Autumn and Winter coloring.
BUT if you're having a problem identifying the best 'burgundy or maroon' for you read on...

So what's the difference?

I've been asked about this quite a lot lately so, after a bit of research, I've come up with the real answer - are you looking for burgundy or maroon!
Burgundy is actually a dull purplish red which takes it name from the color of the wine produced in the Burgundy region of France.
Alternative color names such as wine, claret, bordeaux, grape, damson etc. are often used and follow the wine connection.
Maroon, however, only becomes a color when brown is added to red. The word 'maroon' is taken from the French word 'marron' for chestnut - hence the rich brownish chestnut tone of the conkers we enjoy in the Fall.  
Recognize - is it Burgundy or Maroon
Red is a primary color with no undertone, but when another color is added it takes on an undertone of either Warm or Cool.
When Purple (primarily a Cool color) is added to Red it becomes Burgundy and is COOL. 
When Brown (primarily a Warm color) is added to Red it becomes Maroon and is WARM.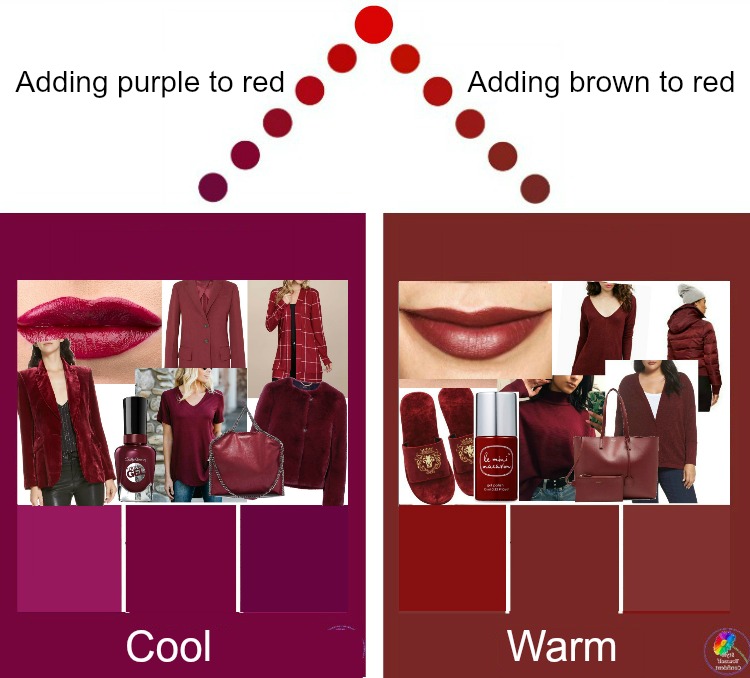 There might not seem to be a great difference in these two sets of colors but, if you know your skin tone or are trying to understand a Color Swatch, this is an easy way to understand the most flattering color for you.
Use your Color Swatch as a 'blending tool' on any fabric or garment and see whether the two 'sit' happily together.
Alternatively, if you are not sure about the color you are choosing, look around at several different shades in this color range and the purple tones/brown tones will identify themselves when you put them next to each other
So Burgundy is Cool, Maroon is Warm

Above left the purplish deep pink tones of Burgundy blend into the Cool colors of the Winter color swatch. 
On the right, however, the rich, russet, chestnut tones of Maroon blend happily into the Warm colors of the Autumn season.
You might see lots of 'burgundies' that will blend easily with either color palette and if this is the case then don't worry, it's not essential to distinguish between the two unless the difference is obvious.
For some great inspiration check out 30 ways to wear Burgundy!

Shades of Cool Burgundy
Shades of Warm Maroon
Homepage >> Understand your Colors>> Burgundy or Maroon