Healthy Family Favorites

Looking good and feeling good go hand in hand! All the Healthy Family Favorites are quick, easy on the purse, and need no particular skills!
If you've got a recipe that would fit into this section and you'd care to contribute please Contact Me.

Mushroom bruschetta
This is posh mushrooms on toast and is brilliant for breakfast, lunch or an appetiser. Although this feeds 2 you don't have to weigh exactly just throw in what you have. 
250g sliced mushrooms

2 garlic cloves or 1/2 tspn dried garlic

25g low fat crm cheese or creme fraiche

chives or dried herbs to taste

salt and pepper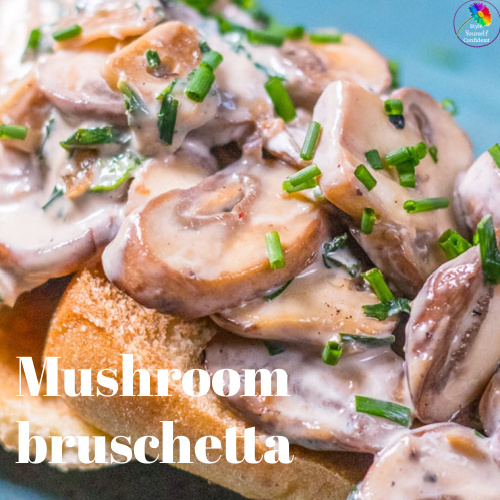 from Pinch of Nom
Saute mushrooms 'til they start to soften then add garlic and continue for a couple of minutes 'til soft. Add cream cheese and mix it through, then season, that's it. Serve on hot toast or, for a proper bruschetta, ciabatta. So tasty!
Wholemeal Soda Bread
Not pretending I'm a domestic goddess and make all my own bread but this is a throw-together but special treat to serve with soup or cheese. Thanks to Sara Buenfeld for this lovely recipe. 

450g wholemeal flour 
pinch salt
75g seed-mix 
1 tsp bicarb of soda
1 Tbsp black treacle
150ml natural bio yogurt made up to 450ml with water
Line baking sheet with parchment and heat oven to 200C. Mix flour, seeds, bicarb and salt in a large bowl. Stir treacle into yogurt mix and when dissolved pour onto the dry ingredients. Stir together with a knife to a soft sticky dough, leave 5 mins so liquid can be absorbed.  
Tip dough onto a lightly floured surface and form into a round about 18 cm across. It will still be sticky to handle, more like a scone dough than bread, so handle it carefully. Lift onto the baking sheet and bake for 25-30 mins until the crust is golden and the loaf sounds hollow when tapped underneath. 
Grease a 9.5/10 inch quiche dish. Cook the onions slowly in either low fat spray or butter to soften. In a big bowl combine the onions, mushrooms, ham, cheese and flour and spread evenly in quiche dish. Whisk together the eggs, milk, mustard and seasoning and pour over. Bake for 30-40 minutes 200 deg C. 
NB Impossible because it's so quick and easy with no pastry to make. The little added flour somehow creates a thin crust like magic! This recipe came via a work colleague years ago, so thanks to Sheryl's Mum in S. Africa x 
Quiche with lentil/oat crust - Leek and Bacon Tart

A great low fat/no fat quiche for family lunches, dinners, meals, snacks or picnics. Freeze the base uncooked or cooked whole or sliced. 

Quiche crust:
4 ozs red lentils and a stock cube
1 chopped onion and 1 crushed clove of garlic
1 tsp tomato paste, 1 tsp mixed herbs
2 oz porridge oats, salt and black pepper

Cook lentils in 400 mls and stock cube til soft - about 20 mins. Drain. Saute onion in low fat spray til soft, add garlic and cook 2 mins. 

To a mixing bowl add lentils, onion, tomato paste, oats and seasoning, mix well.  Leave to cool, add extra oats if too wet.
Spray a quiche dish (this one is 10") with low fat spray and press lentil/oat mix on the bottom and sides of the dish to form a crust. Bake 175 C for about 10 mins til set. Cool.

Use your favorite quiche filling or try my Leek and Bacon Tart.
Wash and thinly slice 1.5 lbs leeks, and cook gently in low fat spray and dash of water til soft. Cool then spread over the quiche base.
Dice 3 oz bacon and cook for 5 mins, spread over the leeks and add 3.5 ozs grated cheese.
Beat together 3 eggs and 10 fl oz of milk/single cream/0% creme fraiche, whichever your choice, season with salt and black pepper. Bake for 25/30 mins til golden and set.
Veggie Chilli
1 lge onion, finely chopped

1 carrot & 1 courgette finely diced
1 red and 1 yellow pepper, diced
2 garlic cloves, minced
1 tsp fresh root ginger
1 level Tbsp chipotle chilli paste
100g dried red lentils
4 Tbsp tomato puree
2 x 400g cans chopped tomatoes
198g can sweetcorn drained
2 x 400g cans red kidney beans in chilli sauce
Spray wide pan with low calorie cooking spray over medium heat. Add onion, courgette, carrot, peppers, garlic and ginger and fry for 5 mins til softened. Add chipotle paste and fry for 1-2 mins.
Stir in lentils, tomato puree, tomatoes and 250 ml water, bring to boil and cook for 15-20 mins. Add sweetcorn and beans and cook for further 10 mins.
Place chickpeas, apricots, olives, courgette, onion, tomatoes, garlic and 1 Tbspn spice mix into a baking dish and mix well. Season to taste. Sprinkle the additional half teaspoon of spice mix onto the chicken and place on top of vegetable mix.  Spray with low fat cooking spray and bake for 30-35 minutes at 170 C. Serve with rice or vegetables of your choice.
NB This is my version of the fabulous Pinch of Nom recipe Ras El Hanout Chicken. There are only 2 of us and I freeze the other half which comes out perfectly.

Heat oil in large pan, add onion and cook gently on low heat for 5 minutes til soft. Stir in the garlic and curry and cook for a further 2 minutes so onions are covered with mixture. Don't have the heat to high or it will burn and spoil the flavor.
Stir in lentils, red pepper, tin of tomatoes and stock. Bring to the boil then reduce heat and simmer for 15 - 20 minutes.  Stir in lemon juice and coriander, season to taste. This is very versatile and kidney beans or sweetcorn can be added for bulk.
NB I've been making this very useful spicy, winter warmer for years as an accompaniment to curry although it can be served alone with rice or baked potatoes. I freeze it in small pots for a quick hot lunch microwaved from frozen - I even like it cold!
And... now you're here it would be great if you'd like to look around at the COLORS, SHAPES, and STYLES that help you to Style Yourself Confident.
Homepage - Low Fat Eating - Winter Warmers