Leek and Bacon Tart

Looking good and feeling good go hand in hand! All the Healthy Family Favorites are quick, easy on the purse, and need no particular skills!
If you've got a recipe that would fit into this section and you'd care to contribute please Contact Me.

Leek and Bacon Tart

If real men don't like quiche, they certainly LOVE this filling Leek and Bacon Tart.
You can use a regular pastry crust and make it as indulgent as you like.
Or you can keep it healthy with my tasty Lentil and Oat pie crust with low fat cheese.
So useful for family lunches, dinners, meals, snacks or picnics. Freeze the base uncooked or cooked whole or sliced. 

1.5 lbs leeks 
4 ozs chopped lean bacon
4 ozs grated cheese
3 eggs 
10 fl oz milk or single cream or 0% creme fraiche
salt and black pepper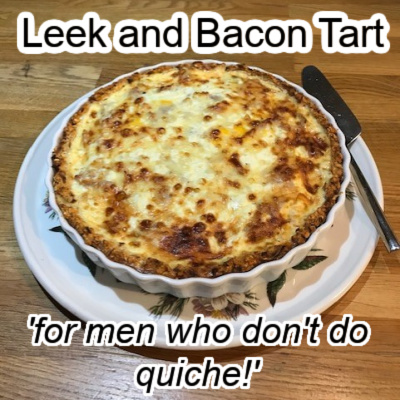 Wash and thinly slice the leeks, and saute gently in low fat spray and dash of water til soft. Cool then spread over the pastry base.

Dice the bacon and saute for 5 mins, spread over the leeks and add the grated cheese.
Beat together 3 eggs and 10 fl oz of milk/single cream/0% creme fraiche, whichever your choice, season with salt and black pepper. Bake 180 degrees C for 25/30 mins til golden and set.
And... now you're here it would be great if you'd like to look around at the COLORS, SHAPES, and STYLES that help you to Style Yourself Confident.
Allow 'Your Style' to visit you!
The latest features on Color Analysis, Body Shape and Style to your Inbox, twice monthly.
Plus a Free copy of my book 'Shortcut to Style', it works for you, whatever your age shape or size! 
Pamela x
Sitemap or locate all features relating to...
Homepage - Low Fat Eating - Family Favorites - Leek and Bacon Tart