Seasonal color analysis SPRING...
A true Seasonal Color Analysis SPRING is the most delicate but vivid of all the seasons, a beautiful bright fresh color palette.
If you fit comfortably into this category your natural coloring is glorious and you have a wonderful mix of characteristics - WARM, LIGHT and BRIGHT.
Color Characteristics
Each of the beautiful shades in the SPRING color palette has the same Color Characteristics as your own, to complement your natural coloring and create harmony!
When you're wearing colors that echo your natural coloring your skin and eyes will be clearer and blemishes will be minimized. A natural bloom will appear; the right make-up will enhance this even more.
Seasonal Color Analysis SPRING
a glorious mix of LIGHT, WARM and BRIGHT
Your hair:
is usually LIGHT with a definite golden WARM tone and elements of light red, golden or strawberry blonde but your hair could be a rich chestnut. You will invariably have been a golden haired child and even as you age you're likely to carry that 'golden glow'.

Your eyes:
The BRIGHTness and clarity of your eye color is one of the most obvious characteristics of Seasonal Color Analysis SPRING - clear blue or turquoise, sometimes green or topaz and often flecked with yellow. There will often be a darker rim around the iris.  

Your skin tone:
is fair through to a golden beige often with a sprinkling of freckles but always with golden/yellow WARM undertones. 
Create Color Balance with your natural coloring
The beautiful array of colors in your COLOR FAMILY will enhance and intensify the warmth and brightness and bring your coloring to life.
Your most flattering colors are always:
Your most flattering Spring Neutrals:

Light warm beige, light camel and golden tan through to deep chocolate brown, warm greys and bright navy blue.
What to avoid:
Avoid Cool colors with a blue undertone - icy pinks and blues, fuchsia and magenta
Avoid deep heavy colors - they will drain your lovely golden tone and can make you look quite 'pinched' and grey.
How to bring your Color Swatch to life
Holding your brand new color swatch in your hand is exciting - but the next thought is often panic as you wonder what on earth you're going to do with it.

It can be really difficult to visualize how all the beautiful color shades will actually transform themselves into an outfit and find their way into your wardrobe!
For visual inspiration...
For real visual inspiration visit Kettlewell Colours who make a range of jersey separates and dresses in all the colors from your color palette.  

Outfits are photographed and displayed according to Season so you can easily see how the different shades of Seasonal Color Analysis Spring harmonize and work together.
You'll find all your wardrobe basics in flattering shapes and sizes - in fact all the hard work is done for you!
Do your colors change as you age? 
Do your colors change as you age? No because your natural coloring is genetic so it never changes.
However, as your hair begins to grey, skin can also lose color. Your color palette doesn't change but if you feel a little over-powered in the vibrant colors of Spring, try some of the softer / lighter shades to see if you feel more comfortable. 
Pictured here is legendary actress Vanessa Redgrave who shares her Spring coloring with daughter Joely Richardson. Ms Redgrave continues to enjoy her brightest shades regardless of age retaining the 'golden glow' that frequently comes with Spring coloring.  
Ok so you're a Spring – but how do you actually begin to wear Spring colors?
What does that mean, beyond a terrifyingly bright palette and, at first glance, very few neutrals? How do you begin dressing in your colors and looking fabulous?
It's easy to get excited about a Color Swatch and, certainly, the Spring shades are some of the most glorious shades around.
But until you clarify your basic (almost boring) neutral shades, it's difficult to begin any kind of co-ordination.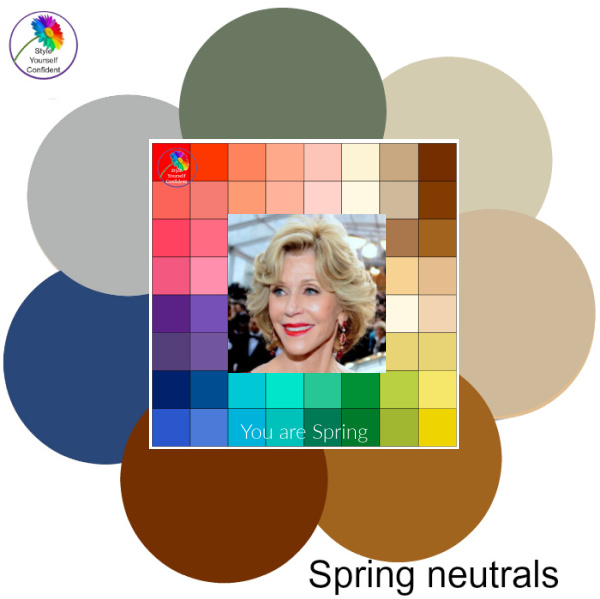 Find yourself stuck for inspiration when you're looking for Winter coats when you're a bright palette like Spring?
In fact you've got some rich tones that will bring cheer to the most dismal of days and happily sit atop your .....

Are you just part of SPRING? 
If you've been analyzed as a Light Spring, a Warm Spring or a Clear Spring then you are part of a Season and you may not really be a Spring at all.
More especially your color palette could be diluted.   
Not feeling comfortable with your palette, check out all the 12 Seasons to see if you're missing out on a wider range of colors. 

All you need to enjoy your Spring colors
All you need to understand SPRING colors
The SPRING Color Brief £4
The SPRING Color Brief is ready to download and print out with all the concise information you need to start wearing and enjoying the SPRING Color Family.
With 30 colors, advice for makeup, hair, jewelry and glasses frames. It also comes with a printable color swatch so you can make it up into an mirror image of the fabric swatch.    
This is a digital product.
The Seasonal Color Brief £12 

(4 books and 4 swatches for the price of 3)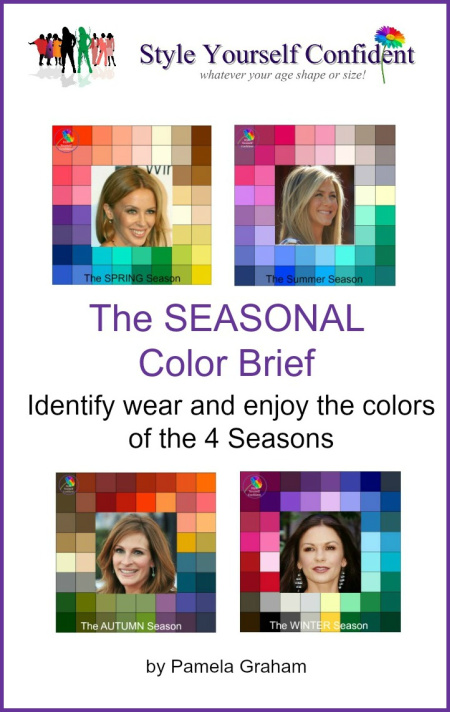 How to identify and discover your own 'best' Season - with all 4 Seasonal Color Briefs and 4 color swatches.
Spring Summer Autumn and Winter Seasons - 4 for the price of 3. 
For each Season you will discover how to wear and enjoy the colors, advice for makeup, hair, jewelry and glasses frames.
PLUS a 30 shade color swatch (33 for Autumn) ready to download and makeup into a mirror image of the fabric swatch.
This is a DIGITAL PRODUCT. 
SPRING color swatch £28.00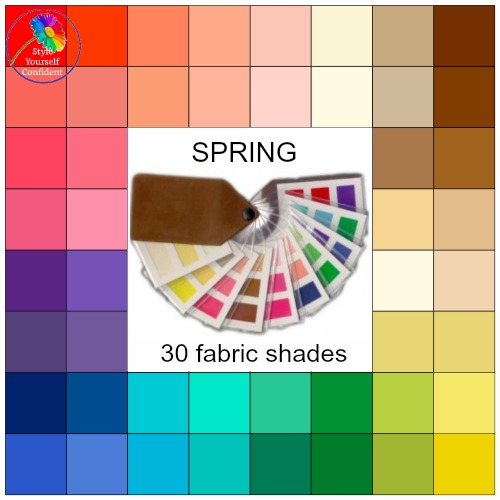 The Spring color fan holds 30 precision dyed fabric color swatches which fan out to show the whole range of harmonizing shades (shown in the square).

The fan is practical and easy to use, 12.5cm x 6.5cm, finished in a suede style cover and comes with a wealth of information about co-ordination, cosmetics, accessories etc.
Don't think that your choice is now limited, between these colors there are literally hundreds of shades and tones just like an artist's palette.

In the UK? Please use this button to purchase, p & p £1.95 
Anywhere outside the UK? Please use this button to purchase, p & p £4.50
Allow 'Your Style' to visit you!
The latest features on Color Analysis, Body Shape and Style to your Inbox, twice monthly.
Plus a Free copy of my book 'Shortcut to Style', it works for you, whatever your age shape or size! 
Pamela x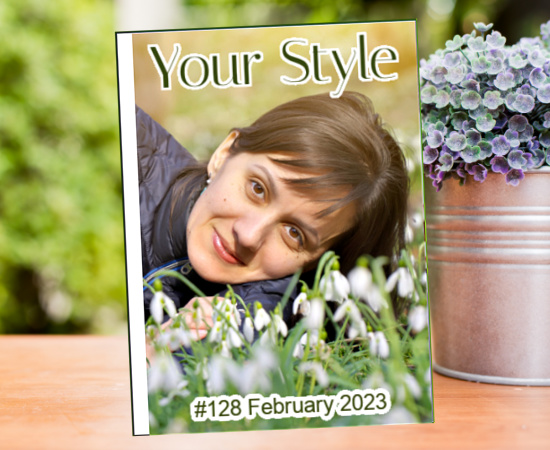 Sitemap or locate all features relating to...
Homepage >> Color Analysis >> Seasonal Color Analysis Spring