My Style

Just once in a while I like to show you a few special outfits that I've particularly enjoyed wearing. This is My Style!
I'm not a natural extrovert and certainly have never been a natural model at any age. I'd have a nervous breakdown if I had to do fashion shots every week!
I favor simple easy to wear classic clothes that are versatile, retain their looks and earn their keep. My figure is far from perfect so soft fabrics and unstructured shapes cover a multiple of sins.
When I achieve that level of 'comfort' it will stay in my wardrobe for many years.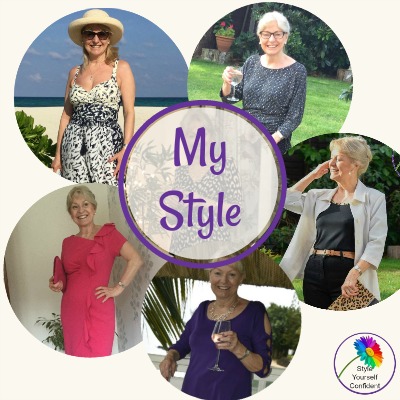 I love wide leg pants at any time of the year but they are a MUST in the Summer! 
Whether you're at home, enjoying a vacation or a staycation, a pair of loose pants do a great cover-up job - and they're bang on trend!
They're extremely flattering and oh so comfortable!
My Christmas dress has to be a go-anywhere, do-anything dress that makes me feel confident as well as comfortable.
It has to strike the right note; a bit special but not over the top! It's something I hope to but rarely find.
This year I've found that phenomenon.
I'm a sucker for separates that span the seasons. Anything that packs for vacation and also doubles up for Holiday and party time is a sure winner for me.
Such is this amazing pair of wide leg pants from Roman Originals that I've been wearing since early last year. The tops too are easy shapes that go with anything whatever the season.
Loving my tops from Covered Perfectly and - Wow they actually fit in all the right places!
I don't do 'skimpy' - I want something that covers the midriff and tummy, is roomy enough around the sleeves and I like a neckline that doesn't make me too hot
This silky soft fabric is totally NATURAL made ... read more...
Now although I'm a lover of all things ANIMAL I do like it to be subtle!
So team a touch of animal with the fabulous tops from Covered Perfectly and they (and me) are on to a winner!
Something special to wear for the HOLIDAYS and a useful layering piece for the cold weather all rolled into one.
The split-sleeve tunic in such a beautiful Violet was something a bit different for the Winter party season and it certainly received lots of compliments. 
Little did I know that it would also be a hit on the tropical island of Mauritius!
My Mother of the Bride outfit for Vicki's Las Vegas wedding had to be something special.
The search began early Spring and I knew I wanted a dress that stood out from the crowd! Certainly not traditional, this was Las Vegas not the Village Church!
And let's be honest Las Vegas doesn't do subtle!

I had no idea that a new swimsuit would give me a mini Chanel Capsule! 
I like a swimsuit with tummy control for a bit of figure confidence but, this time, I was disappointed to find no coverup dress - only a pair of wide legged pants.
Once I got them home, however, I realized just what a clever and stylish set of co-ordinates it created.
Unexpectedly, a neutral colored cardigan called a 'Popcorn Jacket' provided the perfect travel companion on my recent holiday to Mexico.

(Not completely disregarding the husband of course!)

I usually wear a jacket to travel so I feel reasonably smart on arrival but an overnight flight meant that I needed something softer and more forgiving.
Homepage >> My Style