The Popcorn Jacket - the perfect travel companion

Unexpectedly, a neutral colored cardigan called a 'Popcorn Jacket' provided the perfect travel companion on my recent holiday to Mexico. Not completely disregarding the husband of course!
I usually wear a jacket to travel so I feel reasonably smart on arrival but an overnight flight meant that I needed something softer and more forgiving.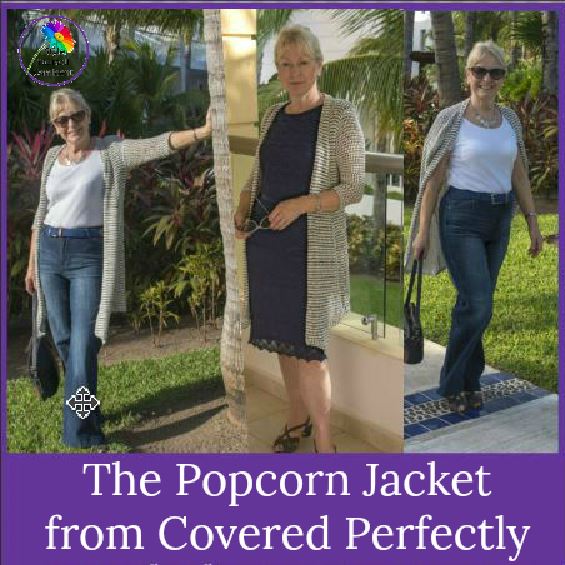 From one climate to another...
Flying towards the sun always means a chilly early morning start and the Popcorn jacket was light and soft but oh so snug. You can never go wrong with natural fibers of course and this little number is 75% cotton. 

Whether it was pushed unceremoniously into my bag or used as a pillow - the Popcorn emerged looking considerably fresher than I did next morning!  
Although I'd chosen a natural tone so it could team with everything, this jacket turned out to be so much more. I hadn't noticed the delicate lacy design!
From denim to lace...

Like many of you, the base of my wardrobe has many different neutrals.
This delicately shady and lacy design (this must be the popcorn pattern) happily tones with black, white, grey, blue and even denim.

More than just a travel companion, it provided a pretty and lightweight coverup for the evening too as it was versatile enough to work with denim, linen and even lace. Exactly the mix and match-ability I need from my clothes!
The Popcorn jacket just as easy with a dress...

Fortunately, I neither want nor need an enormous wardrobe and I feel most at home when wearing classic basics.
So when I find an item that's comfortable and as versatile as the Popcorn jacket which proved itself ready to be dressed up or down in any climate, then I feel I've hit the jackpot. 

This jacket was kindly gifted to me by Pauline Durban the creator of Covered Perfectly, to review for your pleasure. 
This range of cleverly cut separates, made in the USA, is specially designed to flatter the mature woman. 
You've seen me wearing them before here and they wash and wear brilliantly long term. 

You'll find longer length tunics to cover the tummy and 3/4 length sleeves to cover the arms and all are made in soft-to-the-touch fabrics that allow the skin to breathe. 
And if that weren't enough you can BUY 2 tops and get the third item absolutely FREE!
Allow 'Your Style' to visit you!
The latest features on Color Analysis, Body Shape and Style to your Inbox, twice monthly.
Plus a Free copy of my book 'Shortcut to Style', it works for you, whatever your age shape or size! 
Pamela x
Sitemap or locate all features relating to...