Color Analysis BRIGHT or CLEAR ...

Is Color Analysis BRIGHT your Color Family?
Perhaps you know it as CLEAR because it's all about CLARITY.

Looking your best starts with understanding your natural coloring and echoing it with the the colors you wear. Translate it further still into the colors you use for your hair and makeup.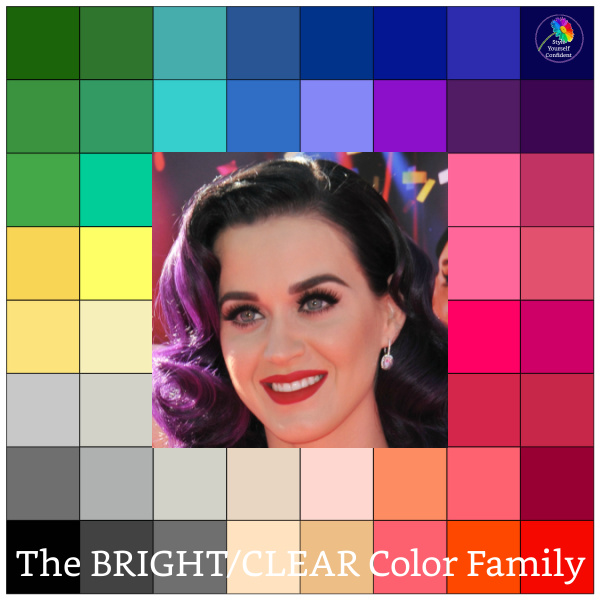 You'll always look your best...
If you are Color Analysis BRIGHT you will always look your best when you're wearing pure colors ie colors with complete clarity with little or no undertone.  
Your colors have elements of both Warm and Cool which balance each other out. Warm colors will look too 'yellow' and Cool colors will look too cold.  
Each of the colors in the BRIGHT color swatch has the same Primary Color Characteristic as your own and will complement your natural coloring - creating harmony!
Match your natural coloring ...
It is usually your jewel-like eyes that initially attract attention with brilliant natural color contrast between your eyes, skin and hair overall. And a dramatic sparkle!
Your hair is always a much stronger color than your skin tone and this high contrast in your natural coloring demands a high contrast in the colors you wear. 
Although you do not actually HAVE to have very deep hair and fair skin, this is the 'snow white' effect that's most often identified with Bright. 
Women of Color can fall into this category too if there is high contrast between bright eyes, hair and skin tones.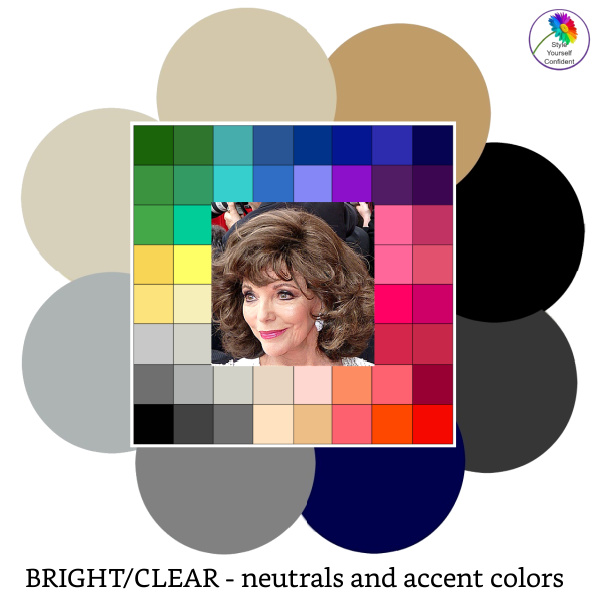 Hair Skin and Eyes 

Your Hair: will be from mid to the darkest of browns or black and will eventually turn to the richest of steel gray. But: it can be Red or even clear blonde - it's always intense! 
Your Skin tone: will be from the most delicate ivory through to olive or dark ash brown depending on your ethnicity.
In fact, it is difficult to accurately describe the coloring of the BRIGHT/CLEAR color family and it is often your beautiful eyes which set you apart! 
Your Eyes: Jewel-like eyes, clear and bright, they could be bright twinkling blue, steel gray, green or even bright hazel. 
S
easonal Analysis would not work - you would be wrongly restricted to either SPRING or WINTER
It would be easy to say that you are halfway between SPRING and WINTER but this is not strictly true. Although they both have Bright in their makeup it is only the TRUE BRIGHT shades of each that are included in the BRIGHT color swatch.
Other elements that appear in the Spring and Winter swatches are excluded because they do not relate to your overall BRIGHT clear coloring. 
A complete spectrum of CLEAR colors
There is a whole spectrum of colors from light and fresh through to bold and deep - all with complete CLARITY. So whether your natural coloring leads you to the lighter brighter shades or the bolder more dramatic colors, it is the clear BRIGHT characteristic which always dominates.
The BRIGHT color swatch has 45 brilliant shades encompassing the brightest and clearest tones. 
There is no need to ever feel limited with colors. Wear whatever color you like - red, blue, green, purple - BUT - the BRIGHT color swatch will direct you to the very best shade of each to flatter your natural high contrast.
Color Analysis BRIGHT also has neutrals...



It does not mean that you need to wear VIVID COLORS all the time just that your colors are clear and true. Shades that lean heavily towards either Warm or Cool will detract from this clarity and you may have thought your coloring is neutral!
In a way it is, you need to tread that central path. Black, white and true gray are all Bright colors, strongly saturated, intense, nothing muddy, dull or pastel here.   
A clear skin tone and a high contrast that needs to be echoed in the colors you wear.


When you wear your Color Family your skin will look fresh and clear, your eyes brighter and the shade of your hair more intense. Follow this direction to create balance and COLOR CONTRAST!
CHOOSE: From your color analysis Bright palette, use light and dark colors together or one bold color alone. Use basic colors of black, charcoal gray, royal blue and red to mix and match with the other shades to create a 'snappy' contrast. Black and white is fabulous and even better when one of your brights is introduced as well.

How to wear your BRIGHT/CLEAR colors
It's difficult to visualize how an outfit should look. But your primary consideration is CLARITY. You can wear and enjoy all the colors in the BRIGHT color palette. 
If your coloring is fair you may lean towards Warm and look your best in some of the clear tones from the Spring palette.
If your coloring is stronger and more dramatic then you may feel more at ease in the deeper shades to give you greater contrast - you'll find some of these colors in the WINTER palette.  

NEUTRALS: Being Bright does not mean you have to live in bright colors! Your neutrals - black, white, charcoal gray - are all Brights too and create clear contrast against themselves as well as the brighter colors. 
ADD CONTRAST: with bold jewelry, crisp makeup tones and nail polish. Alternatively add a bright accent tone near to the face - a scarf or blouse in gorgeous shades of mango, hot pink or fuchsia will add femininity.
Colors to avoid and how to cope with them ...

If you are Color Analysis Bright you should avoid all colors that are dull, dusky or pastel. They will not do you justice - they do not give a strong enough color contrast to offset your dramatic natural coloring.
Colors like beige, dusky pinks, soft greens and mustard are not complementary to your skin tone. If you already have these colors and want to wear them, team them with a brighter color next to your face.sto offset your dramatic natural coloring.
All you need to wear and enjoy your Colors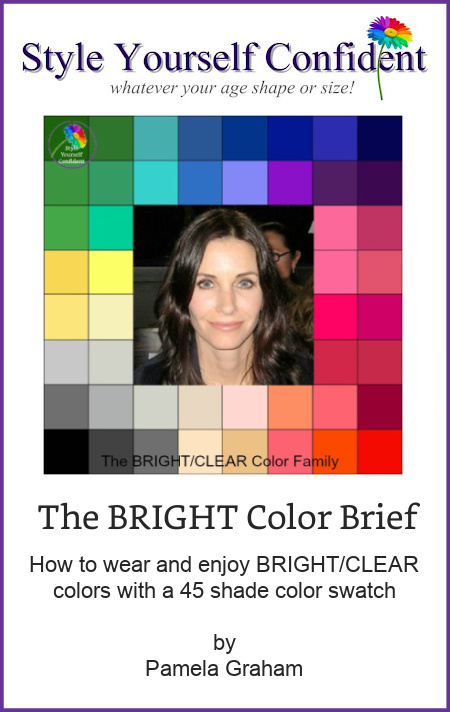 The BRIGHT Color Brief is ready to download and print out with all the concise information you need to start wearing and enjoying the BRIGHT Color Family.
With 45 colors, advice for makeup, hair, jewelry and glasses frames. It also comes with a printable color swatch so you can make it up into an mirror image of the fabric swatch.    
This is a digital product.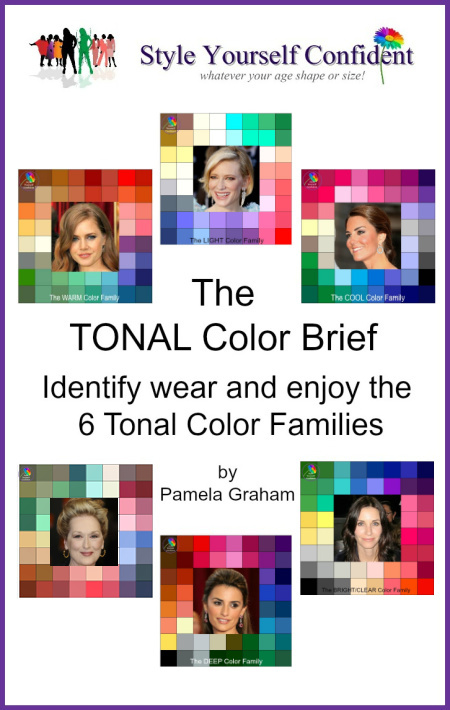 A FULLY ILLUSTRATED digital book clearly explaining Tonal Color Analysis. How to identify your primary color characteristic and translate it into a complementary group of colors i.e. your most obvious Color Family.
A 60 page book with detailed information for each Tonal Color Family. You can even print out, make up and laminate your own color swatch.
It explains how your natural coloring works and how you are linked to a particular Color Family; how to wear and enjoy your best colors, How to recognize your neutrals and accent shades; it shows you how to choose your best makeup colors, hair shades and even how to select jewelry to flatter you.
This book is a digital download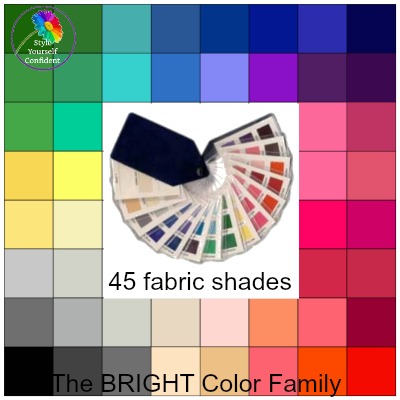 BRIGHT swatch £38.50
45 fabulous shades in an attractive suedette covered fan, handbag size 12.5 x 6.5 cm. With a wealth of information about how to wear and co-ordinate your colors.
No more mistakes - save TIME and MONEY!
Select BRIGHT from the drop down menu
UK
Select your Color Family in the drop-down menu
P and p is £2.75
EUROPE
Select your Color Family in the drop-down menu
Postage and packing for Tracked safety is £9.75
REST OF WORLD
Select your Color Family in the drop-down menu
Postage and packing for Tracked safety is £11.45
All deliveries are tracked to ensure safe delivery. 
Due to circumstances beyond my control no orders can be accepted for S Africa.
Allow 'Your Style' to visit you!
The latest features on Color Analysis, Body Shape and Style to your Inbox, twice monthly.
Plus a Free copy of my book 'Shortcut to Style', it works for you, whatever your age shape or size! 
Pamela x
Sitemap or locate all features relating to...
Homepage >> Color Analysis? >> Color Analysis Bright