You have an Inverted triangle body shape

Wide shoulders Slim hips
You're an Inverted Triangle Body Shape...
If you have straight hips and wider shoulders, you probably have little waist definition.
This figure is sometimes referred to as Top Heavy but you're not - you merely have strong shoulders which makes for an amazing body shape.

And you're in great company. 

Angelina Jolie, Demi Moore, Kim Catrall, Cindy Crawford - all beautiful ladies that stand proud with broad shoulders and a more slender bottom half.
Wow! look at your positives...

You have the body of athletes and models
you're probably a strong swimmer
clothes hang elegantly from a strong shoulder line
broad shoulders make your waist look slimmer
slim hips and thighs with wonderful legs

Maximize your amazing body shape by:

enjoying and even emphasizing your strong shoulder line
allow your broadness to slenderize the rest of your figure
don't add additional bulk to your shoulders

Balance a strong shoulder line by...

drawing the eye down to your bottom half with color or print
a dropped neckline such as a soft cowl or ruffles to bring attention to your cleavage
assymetric styles add interest at the hipline
detail or pockets at the hipline
palazzo pants or tulip style skirt to add width to your bottom half
you can add softness and volume to your bottom half to balance it if it feels right for you
And the CONS...
There are very few CONS to this body shape but when it's time to put on weight you WILL put it on around your midriff! 
This area is probably the easiest to disguise and you WILL invariably retain slim hips and thighs.

Flaunt those fabulous shoulders!

Look at these fabulous girls! All standing tall, flaunting and even enhancing their broad shoulders - it makes their waist and hips look even more slender. All the ladies use curved detail on their hip line to add curves and balance the figure - seam detail, ruching and folds, softly flowing chiffon.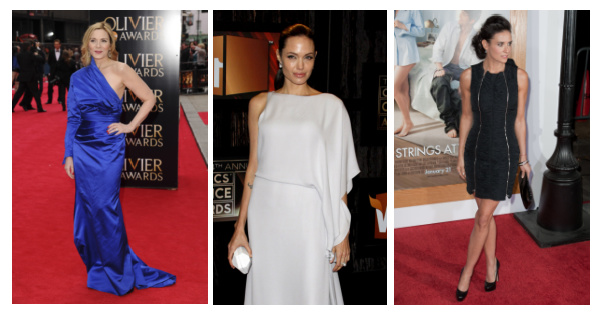 Shop the most flattering shapes...
If you're an Inverted Triangle shape and also a Petite Lady, check out a few additional styling tips so you can achieve a good fit - and feel your best.

Getting clothes to fit well is difficult - until you know how. Although you now understand the basics of fitting your Inverted triangle body shape, your actual body shape is quite unique!
We're all individual and most of us have the odd 'figure challenge' - perhaps sloping shoulders or a hollow back, a bust that you consider too big or too small - but then again you've probably got enviable legs that are worth showing off.
You can easily learn to accentuate the positive and eliminate the negative by recognizing the shapes that will work best for you. Once you know how to dress your shape you will always know what to look for and what to avoid!
You should always wear what makes you feel good about yourself
Take only what works for you from these styling tips
Find all articles relating to

Please share your COMMENTS
Homepage >> Body Type >> Straight Hips >> Inverted triangle body shape