You're an Inverted Triangle Body Shape...
If you have straight hips and wider shoulders, you probably have little waist definition.
This figure is sometimes referred to as Top Heavy but you're not - you merely have strong shoulders which makes for an amazing body shape.

And you're in great company. Angelina Jolie, Demi Moore, Kim Catrall, Cindy Crawford - all beautiful ladies that stand proud with broad shoulders and a more slender bottom half.
Flaunt those fabulous shoulders!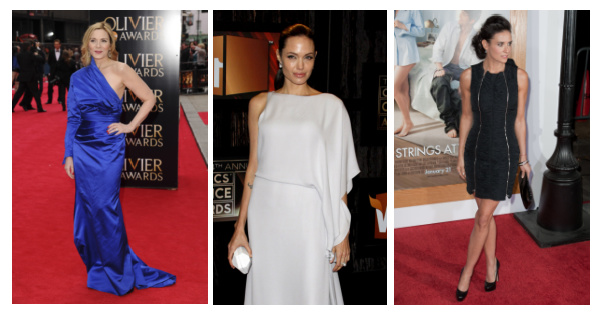 Look at these fabulous girls! All standing tall, flaunting and even enhancing their inverted triangle body shape. Broad shoulders make their waist and hips look even more slender.
All the ladies use curved detail on their hip line to add curves and balance the figure - seam detail, ruching and folds, softly flowing chiffon. Add a pretty clutch bag at hip height.