An Inverted triangle body shape

Wide shoulders Slim hips
You're an Inverted Triangle Body Shape...
If you have straight hips and wider shoulders, you probably have little waist definition.
This figure is sometimes referred to as Top Heavy but you're not - you merely have strong shoulders which makes for an amazing body shape.

And you're in great company. Angelina Jolie, Demi Moore, Kim Catrall, Cindy Crawford - all beautiful ladies that stand proud with broad shoulders and a more slender bottom half.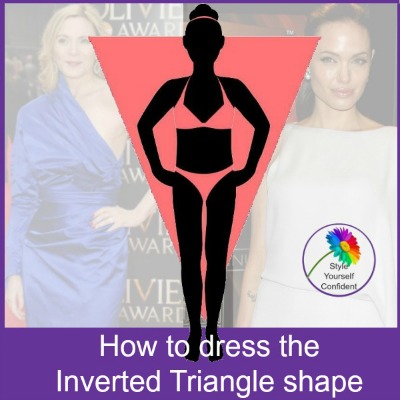 Flaunt those fabulous shoulders!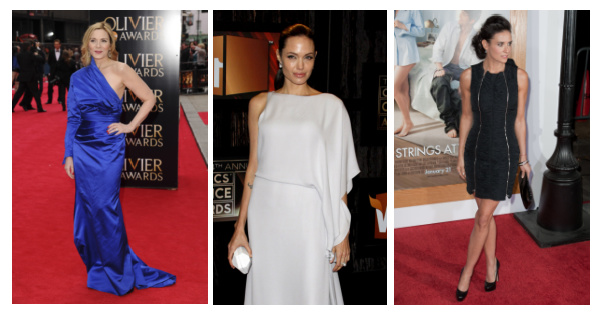 Look at these fabulous girls! All standing tall, flaunting and even enhancing their inverted triangle body shape. Broad shoulders make their waist and hips look even more slender.
All the ladies use curved detail on their hip line to add curves and balance the figure - seam detail, ruching and folds, softly flowing chiffon. Add a pretty clutch bag at hip height.   
Positives of an Inverted Triangle Body shape

You have the body of athletes and models
you're probably a strong swimmer
clothes hang elegantly from a strong shoulder line
broad shoulders make your waist look slimmer
Maximize your amazing body shape by:

Balance a strong shoulder line by...

palazzo pants or tulip style skirt to add width to your bottom half
How to balance...

For the perfectly balanced inverted triangle, tall and enjoy your strong shoulder. 
Add a little width to the hipline for balance with assymetric or detailed garments.

And the CONS...
There are very few CONS to this body shape but when it's time to put on weight you WILL put it on around your midriff! 
This area is probably the easiest to disguise because you WILL invariably retain slim hips and thighs.

Shop the most flattering shapes...
If you're an Inverted Triangle shape and also a Petite Lady, check out a few additional styling tips to help balance your shoulders. 

OK you're an inverted triangle but, like many of us, you may have some 'problem' spots. 
Whether it's sloping shoulders, a hollow back, a bust that's too big or too small - you can learn how to fit those spots individually. 
You should always wear what makes you feel good about yourself
Take only what works for you from these styling tips