Face Shape and Glasses

The connection between your face shape and glasses frames is an important factor to consider when making your choice of flattering spectacles. 
It's important to find a frame that's attractive as well as comfortable so that you feel your best, otherwise you may not wear the glasses as much as you should. And, of course, if you know your Color Family then make sure you choose a frame that suits your coloring.   
If you're not already sure of your face shape then I show you a very easy way to find your FACE SHAPE here.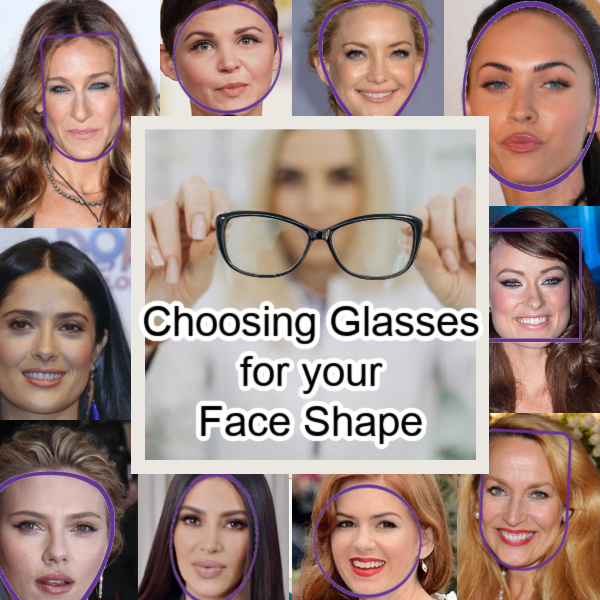 Choosing frames that flatter your face shape
Choosing glasses frames can often be the most difficult part of the whole procedure. It's a bit like choosing clothes to flatter your body structure and, if you need guidance, then follow the very simple 'rules'. 
Contrary to the way you complement the bone structure of your figure, it's more flattering to choose glasses that balance and contrast with your facial features. 
1  For CURVED FACES faces i.e. round or oval, straight shapes are recommended to add firmness.
2  For ANGULAR FACES i.e. square or rectangular, the opposite is the case and softer more rounded shapes are suggested to soften the lines. 
As with body shapes, you may be a combination of both. This is not a one-size-fits-all rule, it's important to be flexible and to wear what you feel looks good.
Scroll down to the bottom of the page to discover where you can see your face shape and glasses together LIVE! 
Glasses for Oval Faces
If you have an Oval face consider yourself lucky! It is invariably easier to enable your face shape and glasses to balance than any other shape.
An Oval face is longer than it is wide with a gently curved forehead and jawline. The proportions of your face appear perfectly balanced and most frame shapes will look good.
Choose frames that are as wide or slightly wider than your cheekbones in squared or just slightly softened shapes. The sharp angles provide contrast to your soft features.
You have enough 'face space' to take bold or oversized styles. 
Above, Hilary Duff wears a light tortoiseshell frame which flatters her fair coloring so well. Megan Fox (center) has fine features and looks good in a more delicate frame. Kim Kardashian (right) has stronger coloring and features and can take the heavier frame.
All glasses frames have slightly softened angular shapes.   
Glasses for Round Faces
A Round face is prettily curved and is about as long as it is wide. Do not choose a frame that is wider than your cheekbones, stay inside the width of your face; and avoid frames that are too deep, they will swamp your face. 
Rather than rounded shapes which would make your face look wider, add some angles with an rectangular or square frame which balances the features and brings a more structured shape.  
A slightly upswept frame (cat's eye) can be flattering as it lifts the face adding contours and effectively slimming it down.
The format for round face shape and glasses is quite similar to Oval as we are still looking at a curved shape. But this face is not as long as Oval so avoid glasses frames that are overlarge. 
Kirsten (left) wears a mixed tortoiseshell colored frame which echoes her warm coloring while Isla's red frames compliment her auburn/red hair. Ginnifer's silver frames reflect her bright cool coloring and are compact enough not to overpower her neat features. 
Glasses for Square/Rectangular Faces

When you're looking at a square face shape and glasses, you can afford to be confident and bold.
It's best to avoid glasses that are rectangular or square as adding more angles to your already strong face may make your face look too wide and rigid. 
Oval and rounded shapes are good to offset the angular features and balance the strong jawline. This breaks the square and helps to make the face look longer.
Don't add to the width of your face so ensure that the glasses stay within the width of your face.
Look for frames with soft thin lines and curves. Round shapes soften the jawline, emphasize the eyes and help to lengthen the nose.  
Creating contrast to the lines of your face is easier if you stick to dark colored frames rather than lightly colored that can get lost. The glasses frames on these 3 ladies all follow the line of their eyebrows which frames the eyes. 
Both Olivia and Selma wear rounded lens, one in an upswept style and the other with a feature top. Both styles draw the eye upwards away from the square jaw. Angelina's face is really a little more rectangular than square so her face can take a slightly larger frame like the softly rounded shape you see above. 
Glasses for Heart shaped Faces
A pretty heart shaped face sweeps down from a wide forehead towards a quite pointed chin. The idea is to add volume to the lower half of your face which is much narrower than your forehead.
Rectangular frames like Wayfarers work well for a heart face shape and glasses because the tapered lenses draw attention away from the cheeks and create balance. They are a design classic popularised during the 50's and 60's by the Blues Brothers and Tom Cruise. They are worn by countless celebrities and always add a touch of class. 
A pair of thin metal frames with a bottom heavy design like Aviators, draw the eye downwards and flatten the bottom part of your face. A lighter frame, in any case, keeps a small face and features from looking too heavy. 
Avoid 'cats eye' glasses that sweep upwards. Aviators are the perfect style as the lower half adds bulk to the slender chin.  
Jennifer wears a tortoiseshell frame to flatter her golden looks while Scarlett shows off the Aviator style so as not to overpower her delicate features. Kate, right, wears the iconic Wayfarer style with a finer frame.   
All frames are deep and add bulk to the lower part of the face. 
Glasses for Long faces
A long face is considered to be oblong and even though it may have a curve around the jawline it has long, straight sides. The main factor is to avoid small shallow frames which will make your face appear longer. A deeper frame will offset the length of your face. 
Bold or oversized frames are made for you! Squarish glasses that are slightly wider than your cheekbones will help to make your face appear broader and complement your features.
Alternatively, you might choose something more feminine with upswept corners or decorative detail to emphasize the cheekbones and add some width.  
Two toned glasses can also create an optical illusion as the different colors or textures draw focus upwards to your eyes rather than to the length of your face.  
When considering face shape and glasses for a long face you have lots of choice - just make them bold enough to balance the length of your face.
Jerry Hall wears a dramatic pair of green frames to flatter, while Sarah is sporting a pretty pair of glasses that echo her Summer coloring. Hilary's coloring is stronger altogether so I've chosen a bold pair of Wayfarers. 
You might also consider Aviators whose interesting shape always looks cool!
Sunglasses of course! and try them on! 
When you're trying on sunglasses you can take the basic shape and exagerate!! We all need a bit of drama when the sun's out.
Don't forget about the shape of your eyebrows, it's flattering to follow the line.
There are several websites where you can easily try-on glasses virtually! Even if you're not interested in buying in that way you can take your time to get the feel of the right shape for you. And it's fun! 
https://www.visionexpress.com/
Allow 'Your Style' to visit you!
The latest features on Color Analysis, Body Shape and Style to your Inbox, twice monthly.
Plus a Free copy of my book 'Shortcut to Style', it works for you, whatever your age shape or size! 
Pamela x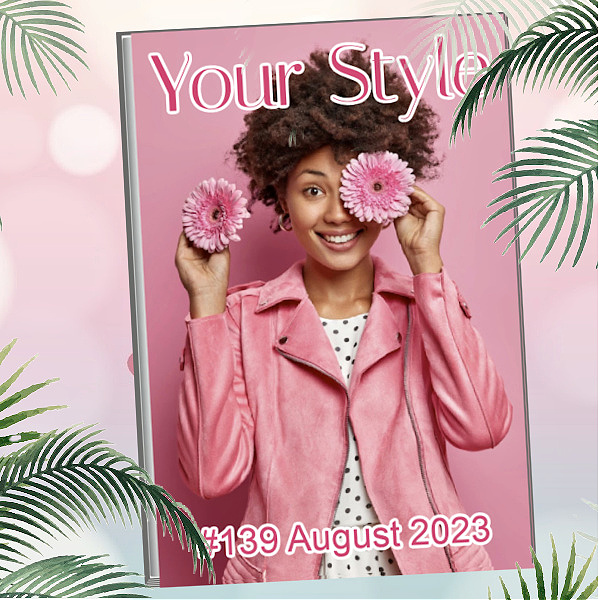 Sitemap or locate all features relating to...
Homepage >> Shape >> Face Shape and Glasses