Do you have a Romantic Style Personality?

Your look
A Romantic Style Personality? You're feminine, ladylike and never lose your feminine allure choosing softness and drape, color and curls.
Not for you the razor sharp haircut, you will usually have softly curving features which are flattered and often framed with the tousled curls and waves that you love or at least a style with movement.
You're always conscious of being well groomed and looking your best - you wouldn't dream of rushing to the store in your gardening clothes! 
Although you give the impression of being non-threatening, you're a man's girl!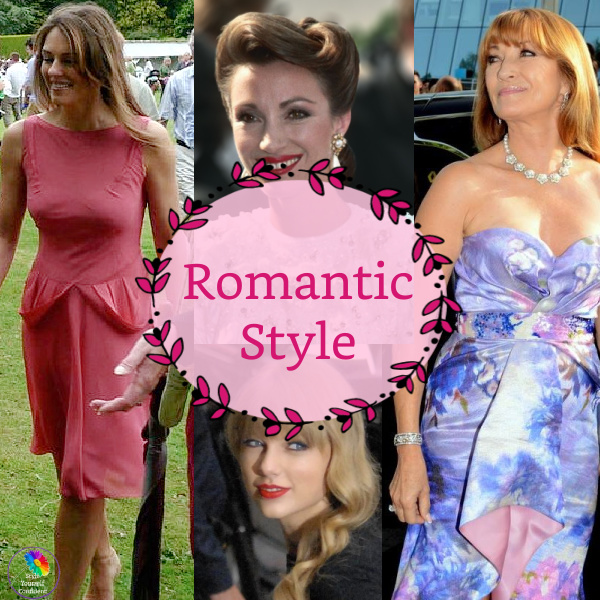 You are drawn towards...
You are drawn towards towards dresses and skirts rather than anything tailored. Long skirts in delicate fabrics and pretty detail, you'll instinctively choose beautiful tactile fabrics, gentle or pretty colors and curvy shapes. 

If you choose trousers you prefer a wider leg in a soft and fluid fabric teamed with a gorgeous array of tops. Evening wear is perfect for you with fur velvet or lace. 
Your shopping priorities:

feminine colors and shapes
beautiful fabric is paramount; velvet, lace and chiffon, delicate fabrics
flattering colors or prints (often floral) are important to you.
The romantic vibe will often include vintage pieces with prettily floaty and feminine boho dresses. The addition of a ruffle or pretty pearl buttons will always adorn a plain garment and even when casually dressed you include full makeup and a careful hairdo. 

Casual wear doesn't come easy...

Casual wear doesn't come easy to you.
There will inevitably be jeans, but you're just as likely to have them in velvet or corduroy as well as denim. You'll always include a softening element - a frill, some color or softness with your top.
Rather than a plain jacket that's likely to feel too formal and structured, you'll probably choose to add a pretty kimono or a beautiful soft knit for added warmth.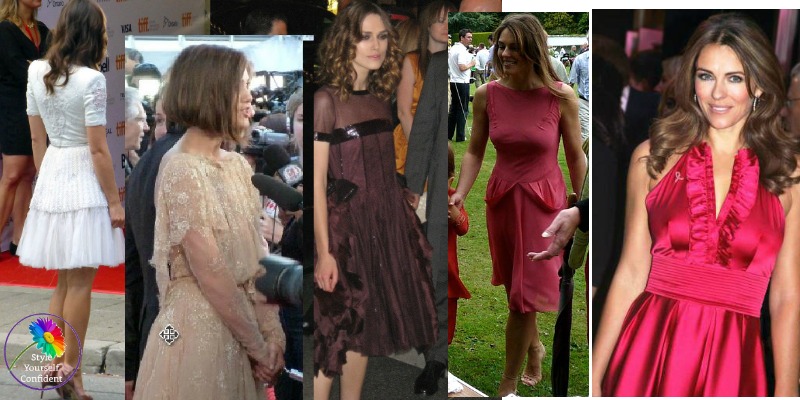 Ready for the Summer garden party?

and for accessories...
Your accessories may not always be practical but they're always prettily embellished. Your shoes and handbags are likely to have the addition of bows and beads, embroidery and flowers.
You'd never be seen without your makeup and a bit of sparkle and, yes, diamonds are a girl's best friend.
And for business?
The feminine look is never consciously provocative but it's as well to play the femininity down just a little in the business arena.
It's sensible to curtail your romantic style personality and veer more towards the Classic for work, but you will never forego your jewelry, makeup and nail polish.
Your style icons...

Taylor Swift always with a feminine curl, Penelope Cruz with ruffles to die for and always feminine Keira Knightley.

Romantic fashion style not for you? Check out the other Style Personalities for inspiration:
CLASSIC,  DRAMATIC,  CREATIVE,  EUROPEAN,  NATURAL
It's OK to mix and match your image, different occasions demand different looks. 
Allow 'Your Style' to visit you!
The latest features on Color Analysis, Body Shape and Style to your Inbox, twice monthly.
Plus a Free copy of my book 'Shortcut to Style', it works for you, whatever your age shape or size! 
Pamela x
Sitemap or locate all features relating to...
Homepage >> Style personality >> Romantic style personality