How to listen to your Body Talk

New around here? It's easy to Style Yourself Confident!

Think you need a MAKEOVER? Well let me show you how to find the COLORS, SHAPES and STYLE that Nature gave you.

You don't need someone to tell you how to look and what to wear because no-one else but YOU knows how you want to look and how you want to feel.
You don't need someone to tell you what colors and shapes to wear because your COLORING and BODY TYPE was decided at the moment of your conception. 
You can't change this coloring or your body type but it's easy to identify the COLORS, SHAPES and STYLES that will best flatter your face and figure.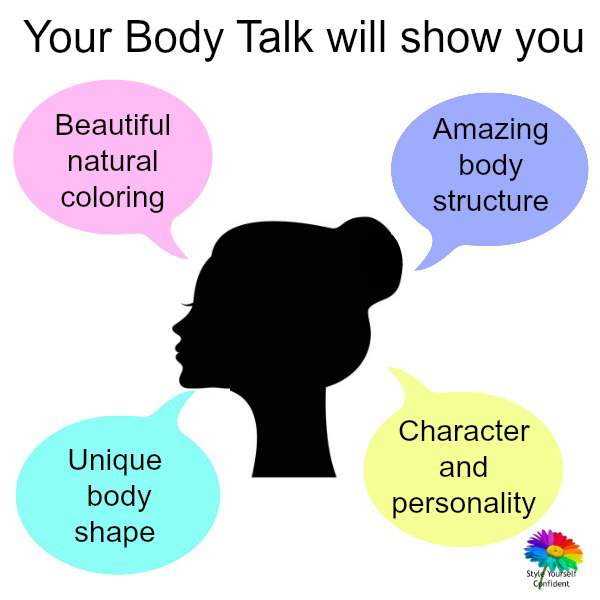 It's a STYLE MAKEOVER designed by NATURE

Sometimes we're not open to positives and we hear only negatives because something is holding us back. It might be your weight, your self esteem, your relationships, money issues - but if we wait for life to be perfect it rarely happens.
By listening to your BODY TALK, the messages your own body is giving you, you'll find all the POSITIVES that Nature gave you and your confidence will soar. 
Whatever your age, shape or size everyone has positive things going on, you just need to recognize them so you can go forward and
STYLE YOURSELF CONFIDENT

Don't fight Nature...

With your permission Nature will show you how to blossom... 
Follow the positives Nature provides and you're on the way to feeling and looking your best.
Use your POSITIVES and enjoy

Colors that bring you to life - it's Magic
Clothes that fit - it's life changing
Be happy with your own Style - it's liberating

Positive no. 1 - Your Natural coloring shows your Colors

Nature provides every flower with leaves and a habitat to flatter and complement that flower. All the subtle colors surrounding the water lily are from the same Color Family, this creates harmony.

In exactly the same way as the flowers, Nature gave each of us natural coloring in our Eyes, Hair and Skin tone.
By looking carefully (analyzing) these color characteristics, you can identify your Color Family, the whole palette of colors that will complement and flatter your face. When you wear the shades from your Color Family you create harmony and will always look your best.
I show you 3 different ways to find your natural coloring:
Discover all you can about Color Analysis - It's magic!

Positive no. 2 - Body Type is Shape not Size

Your Bone Structure is what decides your Body Type. Whether you lose weight or gain weight your body frame does not change.

It's SHAPE NOT SIZE that counts and works on the relationship between shoulders and hips.


All you need to ask yourself is a couple of questions to find which of the 5 basic Body Types you are closest to. 

You can choose:

You'll discover whether you have a Straight or Curved Body and suddenly understand why some clothes feel more comfortable than others.

Hourglass; Pear Shaped; Rectangle; Inverted Triangle or Apple
Positive no. 3 - How to dress your UNIQUE Body Shape

Nature makes each of us 'perfect' but our Body Shape is invariably unique.

We all have lumps, bumps, bits we like, bits we don't like and everyone's figure is slightly different. Few of us actually have proportions that fit in with garments you buy 'off the peg'.

Therefore the majority of us have a 'fit' problem with certain parts of our body.

It also depends on how you feel. You may want to look slimmer or taller; accentuate a small bust or disguise a generous one.


Identify how you'd like to look and feel and you can visually influence the eye by choosing a cut or shape to balance - you have the solution. 

Positive no. 4 - your individual Character and Personality

There is no right or wrong way to look. Your LOOK is whatever makes you feel confident and comfortable - and it only has to work for YOU and your LIFESTYLE!
According to your lifestyle, that look may be classic or edgy, crisp or fancy, ladylike or outrageous! Style is where you embrace your personality and individuality; it's what makes YOU an individual and allows your creativity to blossom!
You don't have to fit in with anyone else's style but these are great for inspiration.

Classic style; Natural style; Romantic style; European style; Creative style; Dramatic style

There's a wealth of additional information on this website - all ready to help you LOOK GOOD and FEEL GOOD.
Take a bite of confidence wherever and whenever you need it and be happy BEING YOU! 
Everyone has POSITIVES - just listen to your BODY TALK
"There is no better designer than Nature" - Alexander McQueen
Find all articles relating to

Please share your COMMENTS
Homepage >> Listen to your Body Talk