Business Casual for Women

Business Casual for women is one of the most difficult dress codes to crack.
More especially when it's a woman working in a male dominated industrial environment. How easy it was when business-wear meant a two piece suit!
Nowadays, most offices have a more casual environment even it's just a Friday dress-down day but women run the risk of making a fashion 'faux pas' much more easily than their male counterparts.
To be honest, home and work have collided somewhat. Working from home needs the same kind of 'uniform' that is smart enough to cope with a Zoom call.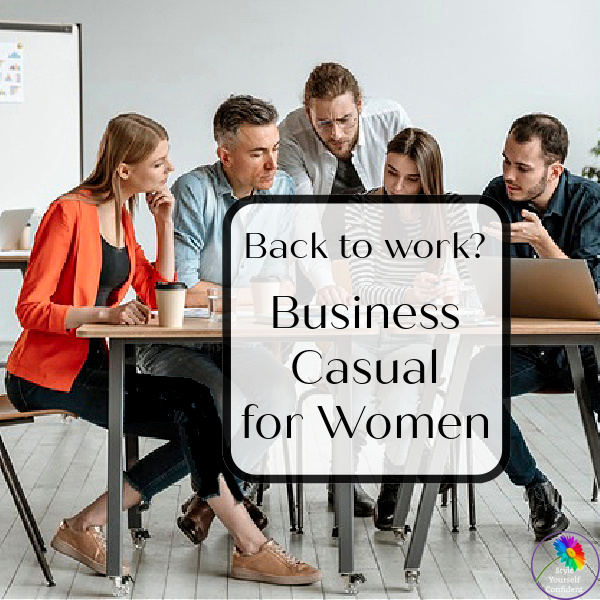 It's still a man's world...

Particularly in industry the jeans and polo shirt approach is usually completely acceptable for the guys. However, when women are in the minority it can sometimes be difficult to judge what is appropriate wear. It's often commented that a woman needs to work twice as hard in order to be regarded as an equal to the man working next to her.
Whether he's wearing a business suit or jeans no-one is going to mistake him for a secretary - whereas a professional woman often needs to maintain a slightly more 'uniform' approach which projects some authority if she wants to avoid being mistaken for the receptionist!
Why Business Casual for Women is so important...  
'Business Casual' will arrive for you at some point
If not on a daily basis there are 'dress-down days', team building exercises, out of hours meetings etc.
A confident image demands that you be taken seriously

A put together and organized appearance indicates an organized mind
Looking competent shows you're capable of getting the job done
You don't want to be mistaken for the secretary or someone's mother
If men are dressed down, women need to look 'non-threatening'!
The easiest way to approach Business Casual
Develop and adopt your own kind of 'uniform'
A collection of simple/classic separates in neutral tones will mix and match
Pants are usually the most suitable; dark wash jeans, other deep toned denim, khaki or straight leg pants
Tops should be classic; button-down shirts, softly draped blouses, knits, tailored or silk tees - simple enough to top with a jacket
A third piece; a jacket, blazer or structured cardigan, makes the 'outfit' - not too formal but essential to elevate your look to meeting status
Well groomed hair and makeup with a quality bag
Business Casual for Women does not mean...
low necks or bare midriffs

light denim or ripped jeans
Allow 'Your Style' to visit you!
The latest features on Color Analysis, Body Shape and Style to your Inbox, twice monthly.
Plus a Free copy of my book 'Shortcut to Style', it works for you, whatever your age shape or size! 
Pamela x
Sitemap or locate all features relating to...
Homepage >> Business Casual for Women