5 ways to hide Tummy Fat!

Many of us want to hide tummy fat but first of all let's clarify where the 'tummy' is.

If you have a recognizable waist, which probably means that you have Curved Hips then the bit below your waist is what is considered to be your 'tummy'.

However slim you are if you have an Hourglass or Pear shaped body, then you can always expect to have a slightly rounded tummy area because you are a curvy lady!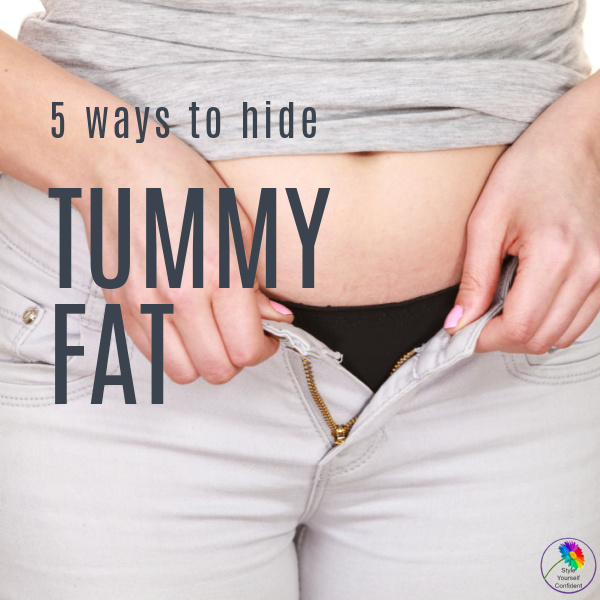 It all depends on your body type!
Not everyone will gain weight on their tummy - it depends on your Body Type.
If you have curved hips extra weight will be stored on your tummy, hips and thighs. So you are most likely to want to hide tummy fat if you are a Pear Shape or an Hourglass.  
Excess weight above your waistline is considered to be your midriff and is more likely to be experienced by those with straight hips and retangular type figures.  
A bit of a 'pot' ...

whether it's a little or a lot, is a natural part of being female - and it can be caused by losing muscle tone, childbirth, weight gain, natural ageing or just being allergic to exercise like me!
"By nature, a woman's body is developed to protect her and a potential fetus. As a result, women have more enzymes for storing fat and fewer enzymes for burning fat. Additionally, the estrogen women have activates fat storing enzymes and causes them to multiply".
But any kind of bulge can distort the look of your clothes and even affect the hemline.
5 ways to hide Tummy Fat

1  Keep it under control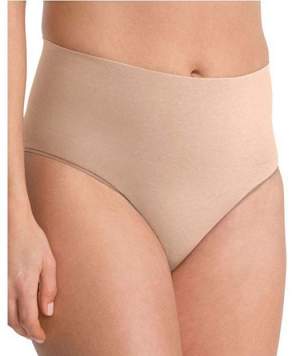 Shape Pants - Amazon

2   Choose a dress that skims the tummy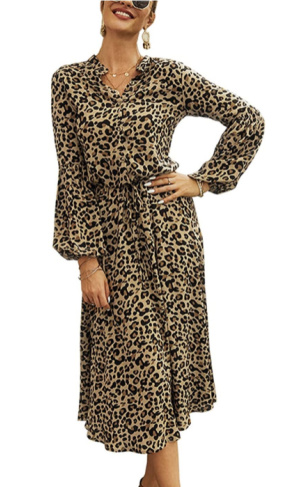 Blouson dress - Amazon

3   A pretty top can hide tummy fat

Swing top - Amazon

4   Wear clothes that fit and suggest slimness

Jumpsuit from Amazon

5   Try a little bit of disguise in the middle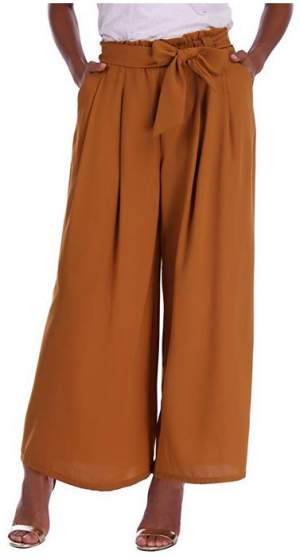 Trousers with tie - Amazon

Allow some looseness in your top which will 'overlap' the tummy. 
6   How I hide tummy fat...you can make it work...

I don't consider myself to be fat (UK size 10/12) but I do have hips and I have had 3 children, consequently, I've got a tummy!
Pic 1: Wearing close fitting stretch trousers with a plain t-shirt - tummy completely exposed!
Pic 2 and 3: Better bra and control pants with small shoulder pads takes all the stress away from tummy area

Pics 4 and 5: A blouse/shirt that ties at the waist is brilliant as are tie front trousers.
If you're a bit overweight...

Cutting down on the amount of fat you eat will certainly show benefit in this area. 

I could suggest weight training or boot camp of course, but it's much quicker and easier to disguise!
Allow 'Your Style' to visit you!
The latest features on Color Analysis, Body Shape and Style to your Inbox, twice monthly.
Plus a Free copy of my book 'Shortcut to Style', it works for you, whatever your age shape or size! 
Pamela x
Sitemap or locate all features relating to...
Homepage >> How to fit YOUR figure >> Hide Tummy Fat