Autumn / Fall Fashion Tips

Autumn/Fall fashion tips because transitioning from one season to another often makes us panic. It does seem silly as it happens every year but the weather is so changeable we really don't know what to wear!
If your wardrobe has been functioning well during the Summer months you don't need a major rethink because a cold morning could mean it's roasting by lunchtime - so don't be panicked into major changes!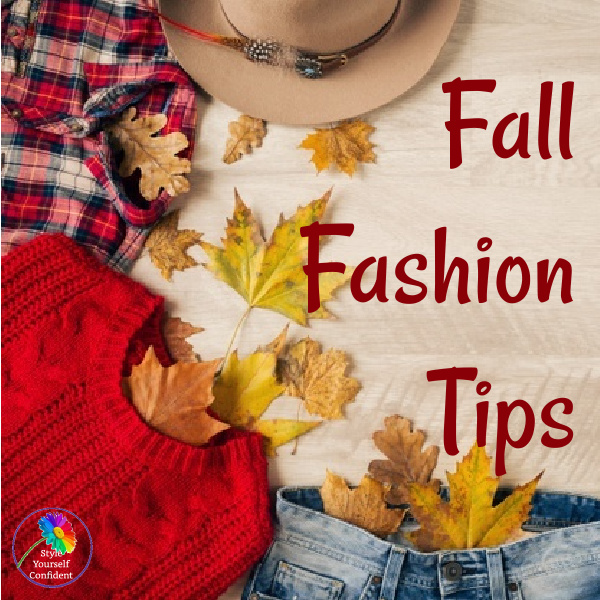 Time to layer up...

For some reason we all think we've got nothing to wear when the Season changes - and yet there are easy ways to go forward.  
Make a gentle transition and get ready to layer up for Autumn. You don't have to completely change what you wear every day but you do need to cosy up!

Being warm and comfortable will allow you to feel more at easy and look STYLISH!
The cardigan is back in fashion

When you start to layer up for Autumn you need flexibility so you can look good and stay comfortable.
Don't pack away that summer dress just yet - there are lots of ways to warm it up. Whether your cardigan is ladylike neat to throw around your shoulders or a longer version that resembles a jacket, it's your first port of call. If it doesn't match what's underneath accessories can pull the look together.
As long as you've got sunglasses and an umbrella in your bag you can cope with a change of weather with just a few basic essentials.
A cardigan, warm tights and ankle boots are your best friends this month so take it easy and allow yourself to change into Autumn in stages. 

It's September and the stores are traditionally full of delicious shades of pumpkin and mustard, olive and camel. But these shades are far from flattering to Cool coloring.  

So let's highlight some brilliant color combinations and fresh ideas from the Summer, Winter and Cool color palettes. 
Meteorological Autumn has arrived and it's time to layer into Fall with a CLASSIC!

Moving seamlessly from Summer to Fall is certainly possible. 
A camel or neutral toned sweater spells warmth and comfort and this timeless classic is a must-have for every well-dressed woman.
Whether you're using an old favorite or looking for a sure-fire sales buy this season, a cream or Winter white sweater will earn it's keep as one of the most versatile items in your wardrobe. 
Does the transition of the seasons throw your wardrobe into disarray?
Take your basic Summer tops into Autumn and Winter with a bit of clever layering and you won't actually need to make any massive changes.
Ok you're a Autumn – but how do you actually begin to wear Autumn colors?
Liking the look of the palette doesn't show you where to begin and many consultants will determine your color palette but give you no idea of how to translate this into a wardrobe.

Time for a bit of clarification and a step by step guide!
Let's not forget gorgeous Mr Autumn with his soft but strong golden undertones and his tousled russet colored hair! Could this be your man in his country classics?
Or find your Mr's best look in the free quiz Color Analysis for Men.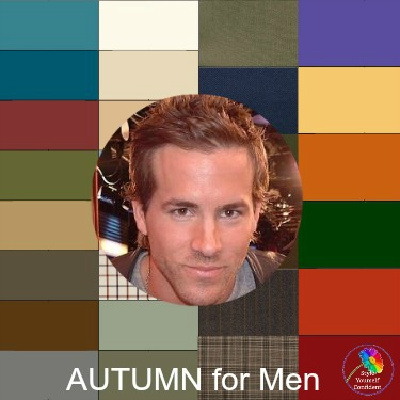 The cold mornings creeping up on you? Be prepared to get wrapped up for Autumn with easy styling and snuggly warmth.
You don't need to change your daily 'uniform' dramatically when the season begins to change you just need a coverup with flexibility!
I've had a soft spot for leopard print ever since my mother bought me some cuddly PJ's in my teens. 
Ok I don't want to wear it head to toe but I'm thrilled to see that it re-appears almost every Fall in some guise or other and it never fails to raise a smile! 
But did you know that some prints are Cool and some are Warm?

Scarves are one of the easiest ways to add panache and color to your outfit at any time of the year but particularly when you're between seasons and often don't know what to wear!
Fab video with 16 amazing ways to wear your Autumn scarf.

Wearing black with Autumn colors is usually considered a no-no! But who said so?? I actually think they can look fabulous!
I frequently hear you saying "I can't do without black in my wardrobe! Can I wear it? Is it wrong?
There are no 'wrongs' with color, and if black makes you happy why not?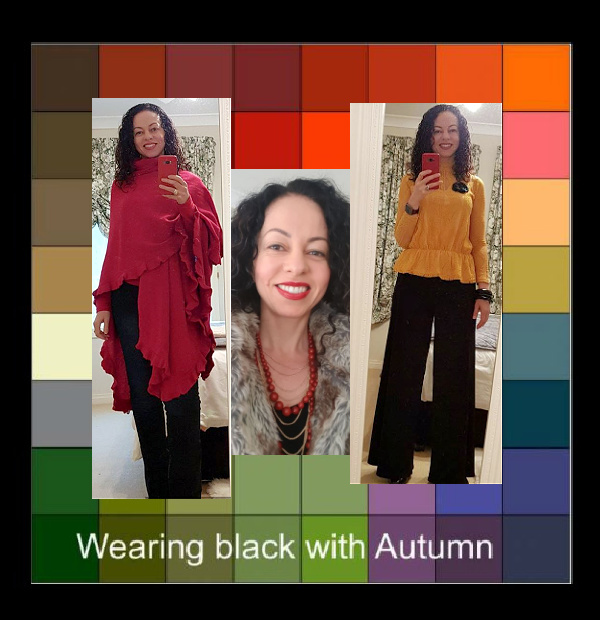 Don't be confused, so much to enjoy!
When a Season is split it can be very confusing! Not only is the color palette diluted but rarely do you completely understand what it's all about!
I've been in the color business for a 'looong time' working with both Seasonal and Tonal Color Analysis and, believe me, AUTUMN is always WARM always SOFT and always DEEP. Check them out you may find even more colors to enjoy! 
Allow 'Your Style' to visit you!
The latest features on Color Analysis, Body Shape and Style to your Inbox, twice monthly.
Plus a Free copy of my book 'Shortcut to Style', it works for you, whatever your age shape or size! 
Pamela x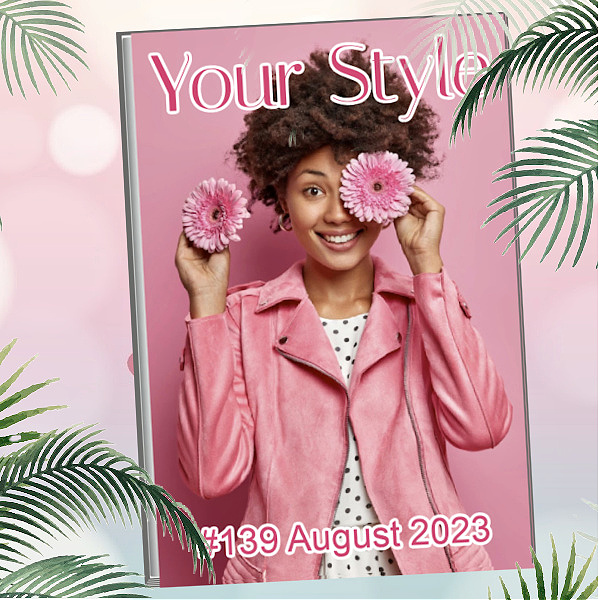 Sitemap or locate all features relating to...
Homepage >> Fall Fashion tips