Layer into Fall with a Classic!
Meteorological Autumn has arrived and it's time to layer into Fall with a CLASSIC!

Although Summer is officially over the weather doesn't instantly change and there's no need to panic about your wardrobe. Moving seamlessly from Summer to Fall is certainly possible. 
A camel or neutral toned sweater might not be your first thought but earthy tones spell warmth and comfort and this timeless classic is a must-have for every well-dressed woman.
If you've never thought about a capsule wardrobe before, this is a sure-fire investment piece that will come out year after year.   
A camel sweater is a CLASSIC! 
A camel/cream sweater will happily team with all your neutrals
A V neck camel sweater is a classic because it's universally flattering - the V neckline is flattering to all figures as it slims the upper body.
However, if the camel tone is a little too warm or heavy for you then taupe or ivory will fill exactly the same gap in your wardrobe - regard that as your CLASSIC!
These sweaters team effortlessly with all your other neutrals creating an easy link with the colors of Fall whether they be Warm or Cool. Camel works just as well with navy and black as it does with typical Autumn colors.  
The main benefit of this classic sweater is it's versatility! Wear it alone and/or with many different items from your existing wardrobe creating multitudinous looks.
If you're like me, as I've got older I can't bear anything too tight around my neck and a V neck is so easy to wear.  
Look 1 Worn alone

The v neck sweater can be worn alone with practically every item that covers your 'bottom half'. There should be a collective noun for 'bottoms'!
But whether it's shorts, jeans, a ladylike skirt, summer or winter weight trousers - your sweater has them covered with a touch of sophistication and a modern twist.
Showing some decolletage even adds a touch of sexiness ready to add a striking piece of jewelry and killer heels for the evening.  
Your choice of accessories is limitless ready to add the casual or elegant vibe you favor. 
2 With high Summer pieces - over the shoulders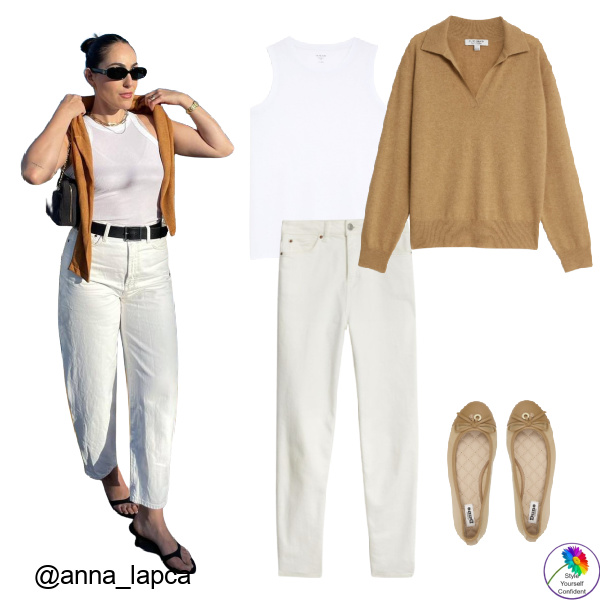 The coolest way to wear your sweater is probably not to wear it at all!
You don't need to pack away your Summer clothes yet, just throw a sweater around your shoulders so you're ready for the crisper air as the sun goes down.
Work it with shorts, jeans of any color or linen trousers, perhaps a more enclosed tee-shirt - your sweater is the chic new version of a scarf! 
Fold the collar down so that the sleeves sit just on your shoulders with the back of the sweater facing outwards. Slightly over sized with some texture works best and you can choose to wear the sleeves loose or tie them for added warmth. 
Your feet are probably one of the first areas to feel the cold, so be ready to swap out the sandals for ballet flats or sneakers. 
3 Layer into Fall with a shirt

Getting a little cool for a t-shirt then we think blouse or shirt. You can go short sleeves then later on a long sleeve. It's the obvious layer under your sweater and a collar always looks good. 
We're always told that a white cotton shirt is a must but, personally I prefer a softer silky blouse that moves with the body and sits more easily with another layer. Your body type will probably influence your choice here as to whether you prefer a firm or a softer fabric.  
When it's time to layer into Fall your classic sweater can be elegantly draped around the shoulders ready to pop over your shirt whether you're wearing trousers or a skirt.
Create different looks by choosing to tuck the blouse in neatly or allowing it to flow freely showing the hem and the cuffs. Both looks are very Ralph Lauren. 
Ready to layer up even more? Add a tank or t-shirt under the shirt for additional warmth, and top with a blazer.      
4 Over a thinner sweater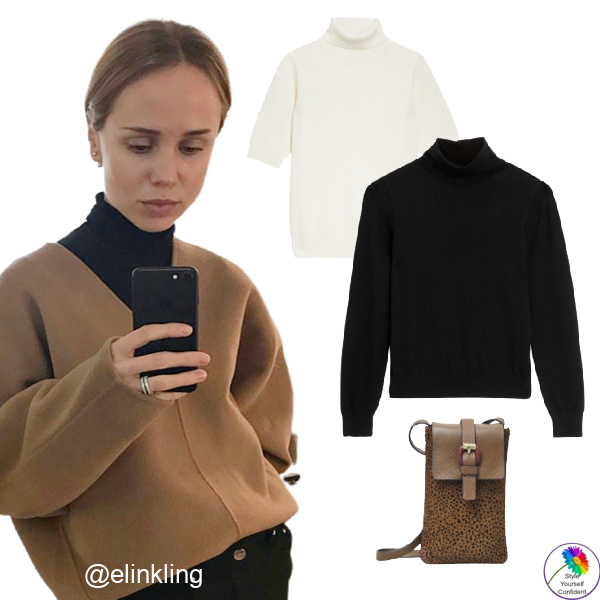 When the chills really arrive, take it to the next level with a classic combo!
A fitted light weight turtleneck/roll neck style beneath your thicker layer will provide warmth without bulk. 
Continue to add insulation against the cold with silk or thermal underwear. 
5 Top a lighter weight dress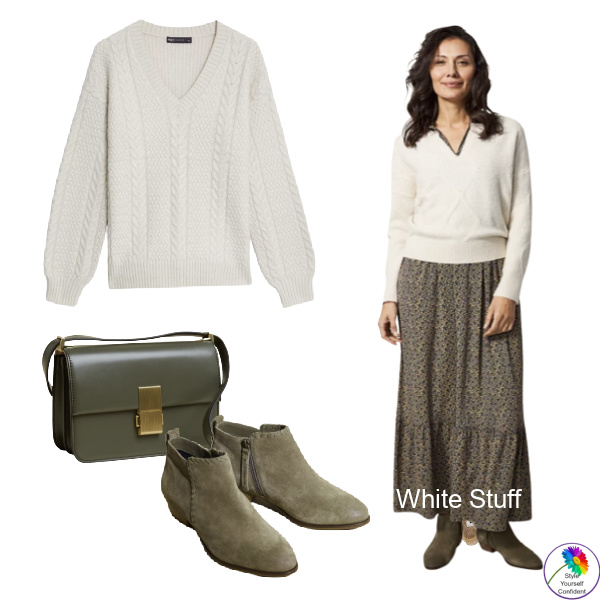 A flowing Summer or lightweight dress can happily layer into Fall topped with your classic knit. 
The ribbed hem to this cream sweater (above) ensures that it accentuates your waist rather than hiding your figure. You could also use a belt to show off your waist if you are slim enough and feel happy doing so.
Although you could team this sweater with a mini skirt and warm tights, it's a look that probably works best for a midi/maxi skirt with a sturdy ankle boot. Take care that the proportions work for you. 
The look is particularly stylish with a shirt dress turning back the cuffs to team with the collar.  
6 Create your own layered look!
As the colder weather approaches add more layers! Texture and heavier fabrics will provide the warmth and comfort we need. 
Being cold is not a good look and you don't have to suffer to be stylish!  
Add a jacket with a trench over the top; a heavy wool coat directly over your sweater; scarves and shawls, hats and beanies. Your classic sweater can be used under or even over a coat! 
Allow 'Your Style' to visit you!
The latest features on Color Analysis, Body Shape and Style to your Inbox, twice monthly.
Plus a Free copy of my book 'Shortcut to Style', it works for you, whatever your age shape or size! 
Pamela x
Sitemap or locate all features relating to...
Homepage >> How to Style >> Layer into Fall with a Classic!