Queen Victoria's Style
Queen Victoria's style of dress was a massive influence on her subjects. Everyone wanted to emulate the beautiful young Queen who loved and wore clothes and jewelry liberally. 
Setting trends and insisting that all her clothes and those of her courtiers were made in Britain gave a huge boost to British industry and trade. 

Victoria came to the throne at only 18 years of age and ruled for 64 years through a time of immense industrial and scientific progress. Under her rule, the British Empire was doubled in size and the trade created brought great financial growth to Britain. 

Corsets and Curves
Like many women Victoria dressed for her man!
This was the era of the corset and women created a tiny waist which, in turn, gave the illusion of a curvier figure. The early Victorian corsets were stiffened with boning both for evening and everyday wear.
She was strongly influenced and, indeed, attracted to her first Prime Minister, Lord Melbourne, but it was Prince Albert of Saxe Coburg who stole her heart. Both men would advise on her fashion style and were influential in encouraging her to support British industry.  
Although not usually an everyday item, corsets can still make a fashion statement from time to time.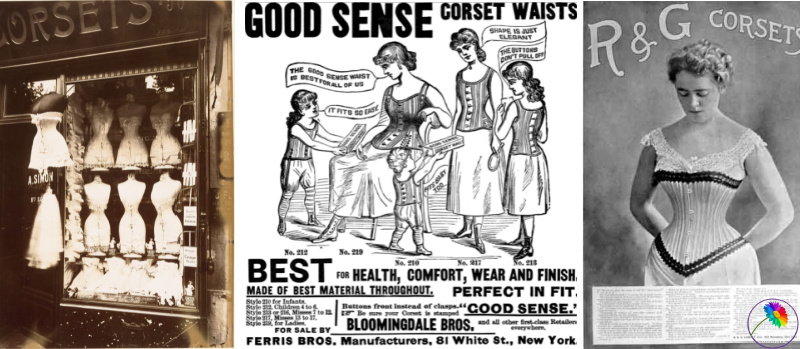 White Wedding dress becomes a global tradition
The royal couple were married in 1840 and Queen Victoria's style choice of a white wedding dress was quite unusual at the time. Since then of course it has become a global tradition for brides to wear white! 
Her heavy satin gown was made from fabric woven in London and trimmed with rich hand-made Honiton lace, matched by an 18 foot veil. This proved an important boost to the lace-making cottage industry in Devon.  
She chose to wear fresh orange blossom in her hair instead of a tiara and she began the tradition of carrying myrtle in the bridal bouquet.
A sprig of myrtle from Victoria's own bouquet was planted at her home on the Isle of Wight and, when her daughter Princess Victoria was married in 1858, a sprig from the bush was included in the bouquet. This began another tradition that every royal bride since has chosen to continue.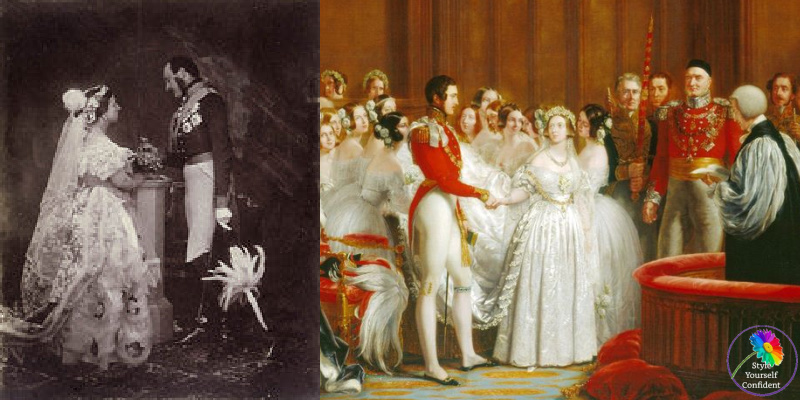 Queen Victoria's Hairstyle
Skirts were evolving into a bell shape with ruffles and very soon a 'crinoline cage' started to be worn which meant less petticoats. 
Queen Victorias fashion silhouette in the 1850's was certainly curvy and ladies were wearing off the shoulder evening gowns in luxurious fabrics with pretty ruffles down to their elbows.  The Queen wore her hair parted in the center looped into a plaited bun at the back. It was often decorated with flowers and the hairstyle was quickly popularized.  
New ideas were adopted much more slowly in America and Victorian fashion was at the fore-front of 19th century European trends.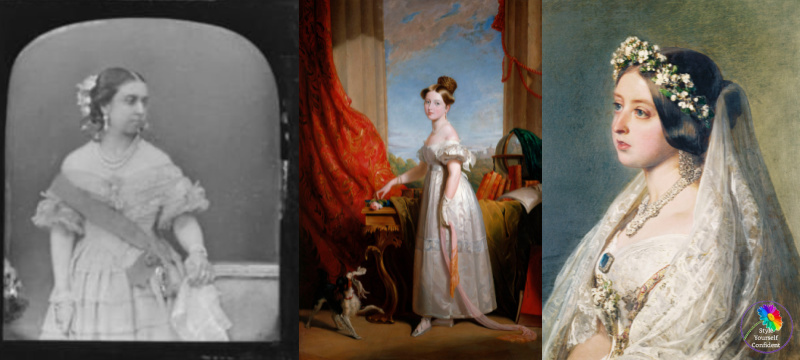 Victorian modesty
Prince Albert, as consort, encouraged Victoria as she used her influence widely and wisely in her role as a 'constitutional monarch'. He 'created' his own role strongly supporting the arts, science, trade and industry; he was instrumental in educational reform and was a leading figure in the abolition of slavery.
The marriage produced 9 children and, sadly, when Prince Albert died in 1861, Victoria never recovered. She wore nothing but black for the rest of her life relieved with just a white cap. 

A more modest and conservative way of dressing became the norm and most Victorian women adopted a 'uniform' of lace-up boots, a long dark skirt and high neck long sleeved blouse often with a 'bustle'.
Of course this was open to interpretation with more sumptuous versions and the Victorian lady in a ruffled white blouse and leg 'o' mutton sleeves, beautifully embroidered and pleated is an iconic image often worn with a velvet skirt.  
Queen Victoria's jewelry 
Queen Victoria had a lifelong passion for formal jewelry but it was her personal and sentimental pieces she loved the most being obsessed with association.  
As a child she treasured a locket containing a lock of her deceased father's hair and, once engaged to Prince Albert, she wore a lock of his hair in a heart-shaped pendant almost constantly throughout her life. She popularized the charm bracelet and gifted her closest friends with a new charm each New Year.
Victoria's love of opera and the theatre was emulated in some of the fabulous items of jewelry lovingly commissioned by Albert. But alongside the priceless jewels sat pebbles, set in silver, retrieved from her Balmoral estate in Scotland.   
After Albert's death, she frequently wore black jet jewelry, a gemstone from Yorkshire, but this is rarely used nowadays except in gothic jewelry.  
She took her jewelry obsession to her grave by selecting bracelets, necklaces and rings for her burial including many of the romantic pieces from her husband. 
Allow 'Your Style' to visit you!
The latest features on Color Analysis, Body Shape and Style to your Inbox, twice monthly.
Plus a Free copy of my book 'Shortcut to Style', it works for you, whatever your age shape or size! 
Pamela x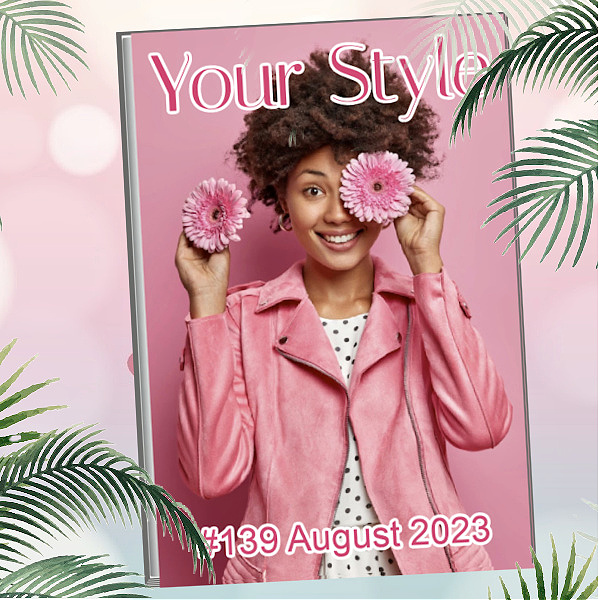 Sitemap or locate all features relating to...
Return to Top of Page
Homepage >> History of Royal Fashion >> Victorian Fashion