Stylish ways to wear Cobalt Blue!

How to wear COBALT BLUE? Just enjoy it darling, it's a stunningly vibrant and elegant shade that everyone needs in their wardrobe!
Cobalt Blue is one of the key colors for Autumn/Winter 2023 - and the intensely rich pigment will brighten up the most dismal of days! 
I actually think it should be considered one of the Universal Colors because it looks good whatever your coloring and there's a place for it in every season of the year both daytime and evening.  
Blonde, Brunette or Redhead!
Cobalt is not the primary shade of blue as it has hints of green and violet, and yet it can be considered as such as it treads a fine line between Cool and Warm. So whether you're blonde, brunette or redhead, it suits every skin tone!
Strangely enough this stunning shade always makes a statement but never overpowers or looks over the top! 
The best thing with cobalt is that it can be paired very easily with most neutral tones in your wardrobe to achieve a classic look; try black, navy or white for elegance. 
A bold blue coat makes a great investment piece as it pairs happily with the classic or the crazy!  (see foot of page)
Power dressing with Cobalt Blue
The original idea of power dressing for women was based on a capsule wardrobe that would loosely copy mens business attire, playing down femininity and sticking closely to neutral tones.
Today, lines appear to be softening somewhat with more elegant and stylish silhouettes. Professional wear doesn't have to be dreary and strong color is making a statement of individuality.  
Red is often said to instill confidence but, to me, wearing COBALT BLUE wins the race. 
Blue is reknowned to invoke reliability and COBALT adds richness and dignity to the norm creating the perfect entrance that commands attention and respect.  
Not ready for strong color head to toe, consider a tailored blazer with more neutral separates or a sleek blue dress worn with a black jacket perhaps. Even a richly colored print looks the part.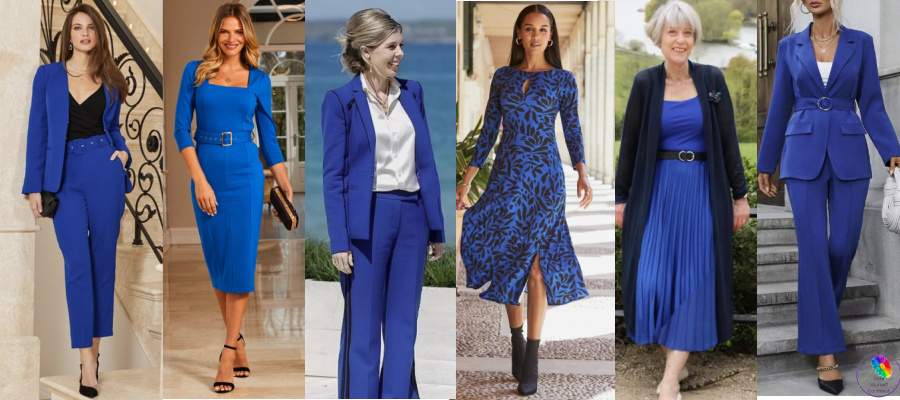 Evening Glamor
Stop the show when you wear Cobalt Blue! Was there ever a more striking color to wear after 6?
Whether it's a flowing evening gown or a sleek satin top, you'll stun the crowd. Team with metallic accessories and allow the vibrant rich pigment to take center stage. 
Warm coloring? No problem! 
You don't traditionally connect Warm colors with bold Cobalt Blue but, you know, the more I see these 'color clashes' the more I like them!  
It's possible to create a striking contrast by teaming colors from opposite sides of the color wheel. These are called complementary colors and basically they are used to make each color appear brighter! 
Orange is directly complementary to blue but other warm shades like yellow, purple, chartreuse and turquoise are close by and will create an equally dynamic team. It's a look that turns heads! 
Are you ready to add a pop of cobalt blue into your Spring or Autumn wardrobe palette? If not a bold blue bag might be just the ticket! 
Cobalt with all cooler shades
Cobalt Blue works well with all cooler shades which, of course, all have a blue undertone. It's Winter's magic color but actually it works just as well as part of the gentler Summer palette.  
Wear cobalt in a monochromatic mix of all blue shades for an elegant and ladylike ensemble.
We know that cobalt teams well with the brightest warm shades so, of course, it's going to look particularly brilliant when it's mixed with the brightest Cool shades. White, black, emerald green, purple, magenta, bright pink, red, silver - all offer a noticeable, bold and particularly pleasing contrast when worn with cobalt blue!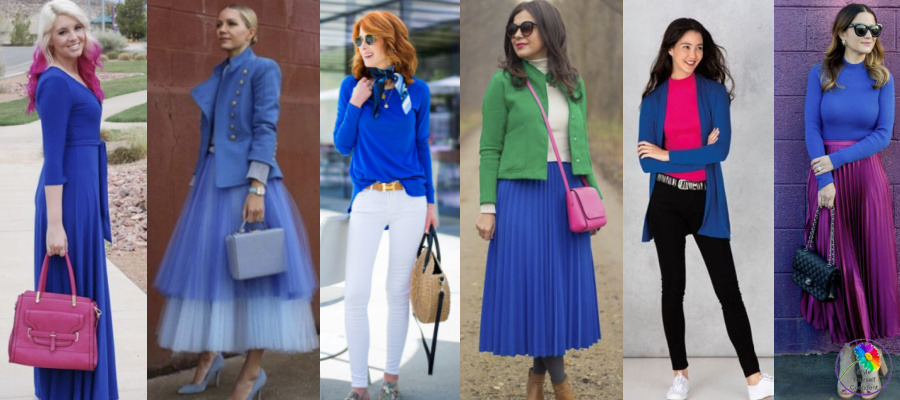 A cosy coverup in Cobalt!
Pictures: Pinterest
If I have failed to acknowledge any copyright on photos please contact me and it will be immediately corrected
Allow 'Your Style' to visit you!
The latest features on Color Analysis, Body Shape and Style to your Inbox, twice monthly.
Plus a Free copy of my book 'Shortcut to Style', it works for you, whatever your age shape or size! 
Pamela x
Sitemap or locate all features relating to...
Homepage >> How to wear Colors >> Stylish ways with Cobalt Blue