Summer Style Tips

Vacation time - a few Summer style tips to help you face your holiday with confidence.

In hot and sticky weather we're usually forced to display a little more of our bodies than we sometimes feel comfortable with. 
It can be a particularly difficult time for anyone who's carrying a little too much weight and those with a very fair skin.
If you're lacking in confidence in general, relaxing and enjoying the Summer weather can sometimes be difficult.
But with a little forward planning you can feel cool and confident in the heat and cope elegantly with any occasion at work or play.

Tips for cool confidence

Warm weather looks should follow the same philosophy as the rest of the year.
Forget fashion - wear what suits your body and your coloring, and whatever makes you feel comfortable.
Even if you've left it til the last minute to prepare for vacation there are tips here that will help you to have cool confidence.

I rarely do styling posts but when I saw the ROMAN ORIGINALS SALE I had to share some of my favorite separates!

I'm a sucker for separates that span the seasons. Anything that packs for vacation and also doubles up for Holiday and party time is a sure winner for me.
Such is this amazing pair of wide leg pants from Roman Originals that I've been wearing since early last year.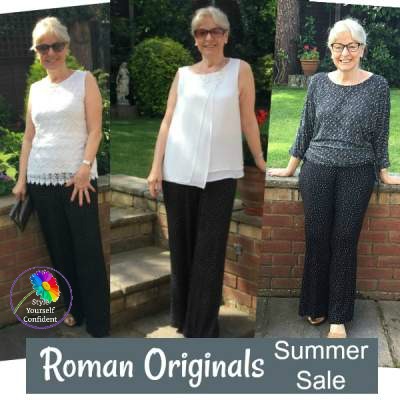 Like to create a mini Chanel Capsule like mine? With just a couple of matching items you can create a clever and stylish set of co-ordinates versatile enough to take you from beach, to lunch, to drinks and even to dinner.
It might sound fanciful but the outfit reminded me of vintage photos of Chanel in the fashionable resorts of Deauville and Biarritz during the 1920's. read more...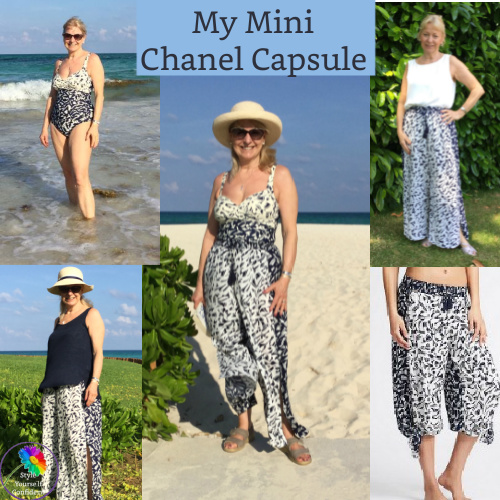 Do you wonder how to wear Winter colors in Summer to complement your strong natural coloring?
Whether you're barbecuing in Brighton or baking in the Tropics, the dramatic tones of the Winter palette are perfect for your warm weather wardrobe.  
Finding flattering swimwear is probably number one priority for your vacation?

Rather than considering your entire body shape, center your thoughts on what would make you feel most confident.
Look for a swimsuit that flatters your best figure points and draws the eye away from the bits you'd rather hide.
How to wear Autumn colors in Summer - it's easy to wear dresses and separates when you know what to look for. 
There's no reason to feel left out for any occasion or any season because the 4 Seasons are workable all year round. You just need to know how to recognize them.

Creating a NAVY holiday capsule is the most useful and practical choice for everyone. No matter your coloring, this will work.
Navy and white forms the perfect base allowing you to make it individual and quite unique as you add your own touches of color.
You need to look after yourself as well as your family.
Women of all skin tones need to be vigilant about the alarming growth in skin cancer statistics. Get into the habit of applying protection regularly - it should be the first thing... read more...

We're frequently told that we need to protect our skin every day, not just when we're on the beach, but we're rarely told the correct way of applying it. Let's make it easy...
Apart from the lucky few who come into their own in a heatwave, there are many of us who find it difficult to cope elegantly with hot and sticky weather.
Although there's no instant magic there are a few quick-fix solutions to help you cope with the heat at work or at play.
Seasonal color analysis Summer

Probably the prettiest of all the color palettes.
As the fresh and warm tones of Spring give way to the sleepy days of summer, the colors become soft and dreamy, seen through a 'heat haze'. An English country garden...
OK you've been analyzed as SUMMER - but what comes next?  As many of us know, this is when panic sets in because you probably have very little idea of how to begin to translate a color swatch!
Let me walk you through the early days of how to begin to wear and enjoy your Summer colors.

Homepage >> Summer Style Tips