6 ways to wear Summer colors

OK you've been linked to a fabulous color palette but what comes next? How do you actually begin to wear Summer colors.
As many of us know, this is when panic sets in because you probably have very little idea of how to begin!
First of all forget all about whether you are LIGHT, SOFT or COOL SUMMER, that just causes frustration and a dilution of the palette. If you are a TRUE SUMMER you need all the variations of this palette to do you justice. 
Nothing to do with months of the year!
Don't even think about the months of the year, this color palette is nothing to do with hot weather, you can wear Summer colors in Winter too! 
You'll find beautiful soft greys, blues and pinks and a few somewhat punchier colors so let's simplify the whole color analysis process and take it step by step.
This article was inspired by an article from 'Kettlewell Colors'.
A soft smokiness!

Although at first glance the Summer palette appears to consist largely of blues and pinks, there's such a huge range of those colors that they might as well be totally different - pastel pink through to the softest plum; powder blue through to deepest indigo.  

There are also less obvious hues: pastel primrose, a deep sensuous green, bright jade, cocoa brown and gorgeous purples.

What unifies the palette, is a Cool blue undertone with a slight grey tint giving a smokey softness.
Pinks are rose or mauve tinted, greens are straight from the sea; nothing that leans towards golden tones. The token pale primrose could hardly be considered yellow at all!
1 Tone on tone
Your palette is perhaps the easiest to get to grips with and one of the prettiest ways to wear Summer colors is to wear several tones of one color together.
Summers usually look fantastic with layered tonal shades, wearing several tones of one color together rather than pairing one or two high contrast colors.
Take a simple denim blue and soft white - try simply adding a third tonal shade of bright cornflower blue as a cardigan or scarf and watch how it pulls the look from boring to stylish. You might add a slate colored jacket or a scarf with several different shades to add interest while still keeping the tonal feel.
The challenge is to find ways to add more colors rather than creating high contrast which would be over powering.
2 Adding an additional color

Although the Summer palette is by its nature softer and smokier than the other three seasonal palettes, there is still plenty of vibrance. 
So if you're ready to add more contrast consider a splash of vibrant raspberry or cherry red contrasted with one of your neutrals. A cool navy or icy grey looks professional or in the summer months you could team them with chalk white.
In fact adding any of the brighter pinks or reds can really lift an outfit particularly if you're feeling brave enough to pair with a brighter lipstick.
And don't forget those more unusual shades - a dash of light jade green or primrose yellow can completely change the look of your outfit, making it more casual and playful.
Stripes are perfect to add contrast but still with restraint - cornflower blue, raspberry pink, cherry red, jade green - will lift your navy, grey and lighter neutrals. 
The important thing to remember is that whether your look is classic, sporty, girly, outdoorsy or romantic, you can achieve any look you want to, whatever your palette.
3 How to wear prints
Summer lends itself to prints very well - easy blends of the tonal shades of your palette. Think how well Monet's paintings swirl from one shade to another and you'll see how effortlessly Summer colours go together in print.
But what if all the colors don't fit into your palette? As long as the majority of the colors appear to 'sit' happily within your range and you feel good then it's likely to work and the whole will tie together.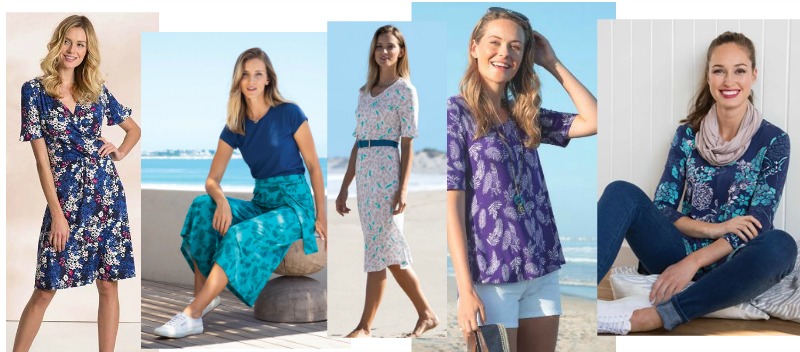 Your coloring is soft and it's just best to avoid adding colors into the mix that are likely to 'jar', particularly those with a warm undertone. In particular do avoid the deep warm golds and browns, anything that's dull and earthy, and black of course can be really heavy. 
Kettlewell Colours do some really pretty prints that have been carefully selected to fit entirely with your palette.
4 How to accessorize with Summer colors

Accessories are your friend and can add another layer of texture and color to bring a glow to your complexion. Just follow your color palette.
You will often prefer wearing understated neutrals - Summers just love to wear navy and white - and so necklaces and scarves can be a great way of adding a splash of color into your outfit and close to your face. 
Silver jewelry and white pearls will bring light to your face. No yellows in your color palette so try to avoid yellow gold.

French Navy is an elegant shade  which looks great top to toe; try it with dramatic silver jewelry and a bolder makeup.

5 Does everything I wear need to match my palette?
Yes and no! Initially think about the colors around your face which will make your skin glow and your eyes sparkle. So tops, scarves, jumpers and getting your makeup to tone will bring you to life.
But to make the very best use of your color analysis, then longterm it's good to aim for a mix and match wardrobe that gives you an effortlessly easy way to dress.

It doesn't need to be a massive changeover, just gradually replace clothes with better colors when you're able to do so.
6 Wear Summer colors but still feel like YOU!
It's important, once you've found your color palette, that you still feel like YOU!
Color Analysis is not the old inflexible and rigid tool it once was and a color swatch is only the beginning. Don't get too fixated on matching an elusive shade  that you forget your own taste and own personal style.
Most people find instinctively that your color palette will include lots of your favorites and you can afford to take your time and enjoy the process.
Delicate Summer coloring following Color Analysis, see more...

Easy ways to begin
Look for your lighter shades of navy and grey

Add a splash of color to your outfit with inexpensive t-shirts and scarves
Makeup in your best shades makes a big difference
Most of all have FUN!
Allow 'Your Style' to visit you!
The latest features on Color Analysis, Body Shape and Style to your Inbox, twice monthly.
Plus a Free copy of my book 'Shortcut to Style', it works for you, whatever your age shape or size! 
Pamela x
Sitemap or locate all features relating to...
Homepage >> Summer Color Analysis >> How to wear Summer colors