How to Work Your Wardrobe right NOW!

This is the perfect time to learn how to 'Work Your Wardrobe'. 
Many people are concerned about family finances in the present situation, so cross shopping off your agenda for the foreseeable future. 

If you're feeling frustrated about home style dressing, follow my ideas to work your wardrobe efficiently with the clothes you've already got!
You can do this - RIGHT NOW! 

In normal times you may have considered the idea of a Capsule but you probably can't afford to start afresh, don't want to feel restricted or adopt complete minimalism!
A wardrobe plan is brilliant if you want to build a particular look but the most important factor at any time is to work with what you've got before you even think about adding to the mix.

I created this plan last Spring and was amazed at the number of outfits I could put together with the minimum of items and without panic. 
Organizing your wardrobe can be a daunting task if you try to tackle it in one go but I've found a completely new way to Work Your Wardrobe, so PLAY ALONG! 
Last Monday morning...

I pull on a pair of jeans and t-shirt, my go-to for wielding the vacuum cleaner and sitting at the computer.
I'm visiting my grandson's school after lunch and, as I'm notoriously lazy at 'dressing up', I change the jeans for a pair of navy linen mix pants, grab a little soft jacket (4 years old) and add a scarf. My kind of outfit!

I need mostly casual outfits but don't do skinny jeans shorts or biker jackets. Are you with me?
Simple clean-cut clothes, smart but not fussy and I certainly don't want to look like my Granny did at the same age!

Start to work your wardrobe...

Well the idea was kind of vague...
At the end of the day I decide to hang these 3 items at the end of the rail (normally I'd separate jacket, pants etc) and after a week or so, see how many items I'd actually worn. 
In fact it didn't work like that at all because, next morning, I had a light-bulb moment!
I decided to see what other tops I had that would team with the tan jacket and navy pants. 

Outfits 2 - 7

By simply moving around a few tops, instead of 1 outfit, I suddenly had 7.
Simple t-shirts and the slightly more dressy blouses worn with the same jacket and pants, now means that I have outfits for a variety of occasions. 
I can of course choose scarf, bag and shoes accordingly to ring the changes even more.

Outfits no. 8 - 14

When I add the orginal pair of jeans back into the mix I've already got 14 outfits. The 'boring' or simple items that I favor have come into their own. I've hit on my 'capsule' if you want to call it that without even trying. I'm not trying to fit into someone else's plan - and I'm off!
Denim or navy blue and light tan/taupe are basic neutrals and allow you to work your wardrobe whatever your color palette. 

Now I've got the bug...  Outfits no. 15 - 70

Keeping to just these 14 sets of tops and bottoms in navy and white, I see what else I could add into the mix. I pull out 3 jackets and one cardigan and I'm quickly up to 70 combinations. I'm now staggered at the variety of outfits which have been hiding while I've just been thinking about how to work my wardrobe. 

I change the jacket to red (at least 15 years old) and have 14 more outfits
I change the jacket to ivory (10 years old) and find 14 more outfits
I change the jacket to pink (thrifted last year) and add 14 outfits
I change to a camel cardigan and there are 14 more outfits.

Add in 5 more items, Outfits no. 71 - 105

Now you can't really mix navy and black but I've got both. But because I've got colored jackets already I can easily add in some black - so I add 1 pair black pants, 1 plain t-shirt, a spot blouse, a button through blouse and a print top.

Tan jacket with black top/pants set 7 black pants set = 7 outfits
Red jacket with 7 black pants set = 7 more outfits
Ivory jacket with 7 black pants set = 7 more outfits
Pink jacket with 7 black pants set = 7 more outfits
Camel cardigan with 7 black pants set = 7 more outfits
Add in pants, 2 t-shirts and a jacket, Outfits 106 - 133

Nearly forgot my little casual navy jersey blazer. Because it has striped cuffs it's not pretending to be part of a suit and it works well with both navy pants and jeans. Take outfits 1-14 and substitute this navy jacket = 14 outfits.
I've got a pair of beige pants (donated by a friend and never worn) which I hadn't noticed would go with my ivory jacket. With that I could wear the print top, 2 ivory blouses, white and black t-shirts and look quite smart = 5 outfits. 
Substitute the pink jacket and it works just as well and = another 5 outfits.
Actually it would be nice to add a little color so I pop in 2 more plain t-shirts in jade and pink. So if I put the navy jacket with jeans, and again with pants and use the 2 colored tops that = 4 outfits. 

Add just 2 dresses... Outfits 134 - 136

As you've probably gathered I rarely wear skirts but I could of course substitute a skirt for the pants at any time - or even shorts or cut-offs. 

But I do like dresses in the Summer so I choose to add in my two favorite easy wear dresses, navy/white and black/white which are very versatile. The ivory jacket happily tops both and the navy blazer teams with the navy/white dress = 3 outfits.
I can also see that the pink jacket would look OK with the black and white dress too = another 1 outfit. 

Finding my style

It's amazing what I've discovered!

I know how comfortable I feel in wide leg linen or linen mix pants for the Summer season and I know that I am always drawn towards stripes and spots over florals, but I hadn't realized quite how much I had drifted towards neutrals.
I have other black and navy trousers (same color, different fabric etc.) which is probably 'boring' but it allows me to change textures for different occasions and confirms what makes me feel comfortable. And I've got extra plain t-shirts which helps with the laundry.  

On some days when I don't need a jacket then the number of looks is multiplied.  Although a jacket really works for me I would usually wear a cardigan around the house for comfort.  

I have used only 25 garments here and yet I've created 136 outfits. I was completely unaware of just how versatile my wardrobe could be.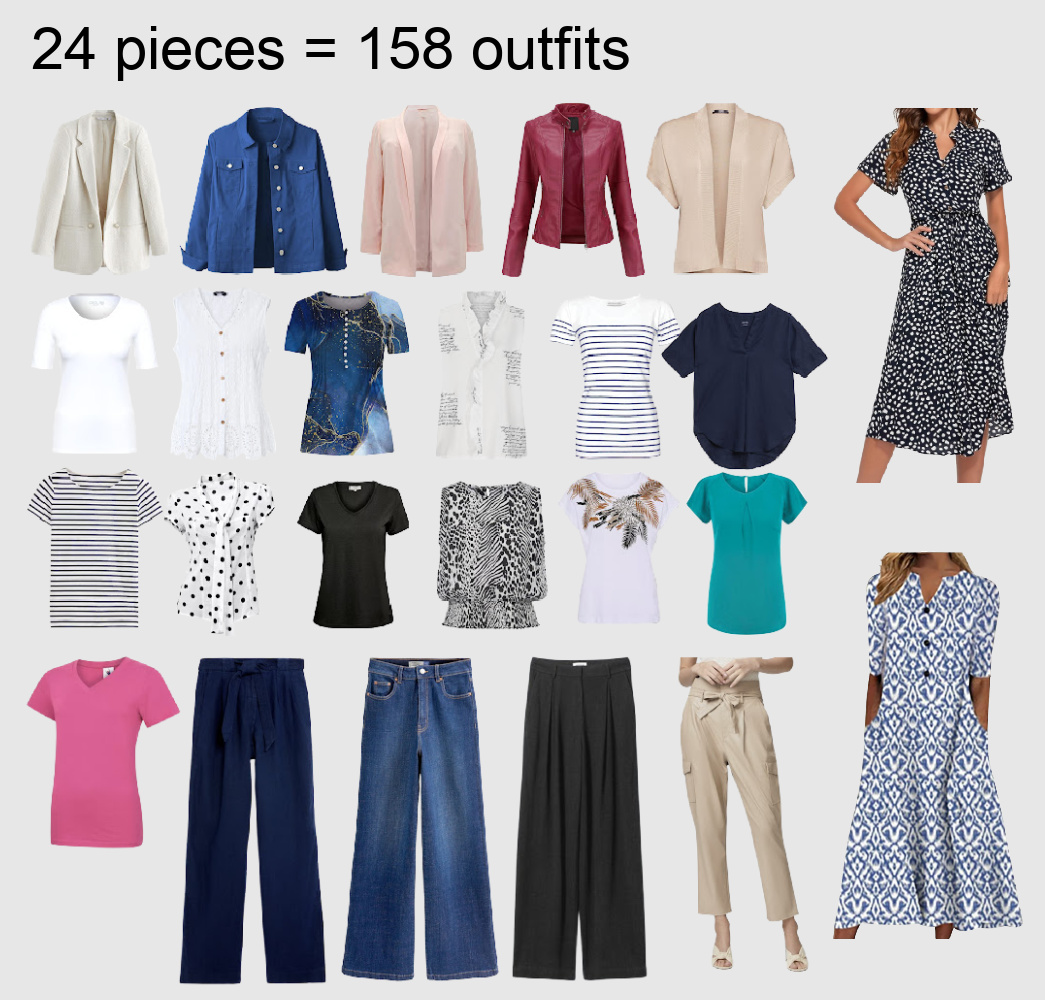 This is only the beginning...

Oh my... now I see that those colored tops look lovely with the black pants too - and I've just found an old black linen jacket that could use new buttons! 

I don't have a huge wardrobe and certainly not an exciting one but I do have other things that I could pull out to see if and where they fit. I could use a pair of white cut offs with the blazer far more often than just on vacation for example.    
This is only the beginning, it's not a plan I have to adhere to but the whole 'work your wardrobe' concept shows me exactly what I have to work with. In fact if my husband sees this I'll never be able to buy another thing!
Tidying up and organizing your wardrobe is easy when it's done one item at a time. Pull a garment out and see if you can find where it might fit. If it's something you don't like, doesn't fit you or is past it's sell-by-date, then don't include it. 
This allows me to immediately spot where there's a gap in the mix or where an outfit needs brightening up.

Whether your wardrobe is wild or skinny...
you can do this too.
As you begin to work your wardrobe you may find that it's not as simplistic or neutral as mine. If you favor lots of color, more dresses and less separates then you probably won't have as many easy to assemble outfits. But on the other hand your mix could be far more exciting than mine. 
So whether it's wildly out of control or missing lots of the basic items, you can do this!  
Remember, that your wardrobe doesn't have to be the archetypal collection that includes a white shirt, a little black dress and a trench coat. It only has to be a few items that work for you and your lifestyle.
Take it steady and approach your garments one at a time, see if you can find a fit. Every single item does not have to work with every other one to earn it's place in your wardrobe.
If you're buying new then it's advisable to try and ensure that you get your money's worth by trying to fit it in with at least a couple of other things you already have. But that won't always work because you may need to breathe new life into the scheme of things.
And as you work your wardrobe, you are allowed to just fall in LOVE with something really special that doesn't have to justify itself!

Click
HERE
to see all 129 outfits in more detail
Homepage >> Wardrobe Makeover >> Work Your Wardrobe