Your Style Gallery

What do you like to wear? What makes you feel good?

'Your Style Magazine' is delivered to over 80 different countries. Let's get to know more about each other, our opinions and tastes.
What clothes work for you and your lifestyle? Is it climate or culture? Is it comfort, color or style? Perhaps it's your occupation or your role as wife and mother. 
Whether you've had Color Analysis or not, everyone's look is inspiring!   
Will you upload a photo for Your Style Gallery? 
(Scroll to bottom of the page to enter)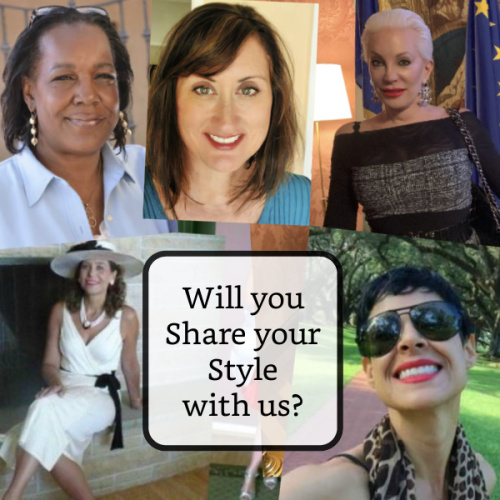 Ready for a garden wedding!
I asked for your favorite Summer outfits and, I'm sure you'll agree that Mary has made a brilliant choice for both color and style. Beautiful!
She says:
"You analyzed me as True Spring last year. A few weeks ago we attended our niece's wedding, I bought this dress a day or two beforehand on a whim and received so many compliments as soon as I walked in the door! 
The dress was very comfortable and, as it was a garden wedding, I wore wedge-style sandals so my feet were equally at ease.  
I certainly 'Styled Myself Confident' and felt very pretty, thoroughly enjoying the outfit and the occasion."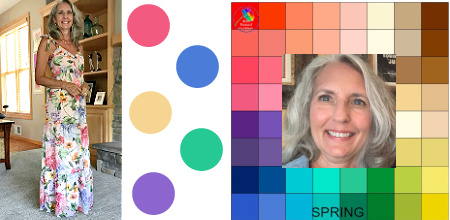 How you feel is the most important!
I analyzed Darragh as Soft/Muted a few years ago now and she was beginning to doubt that it still served her purpose - in actual fact her instincts are spot-on! 
"This colour journey has been decades long and I agree that the feeling part is the most important. I am nurtured when viewing tones of nature such as an autumn mixed hedge of shrubbery with branch tones of soft mulberry, beige, copper and warm beiges and greens; these shades resonate with me. Just looking at them triggers a feeling of belonging and happiness. I am fortunate these shades look good on me as well.
I look at a soft, beigey navy and say "Yes", and a sharp bright navy and cringe "No"! Right now it is dawn. All the sky shades of pale apricot, steel grey blue and muted greenish turquoise are "Yes". Instincts are very important in this journey."
Summer and a relaxed boho style! 
"I was analysed as a Summer by Pamela and I like to wear the brighter and darker shades in that palette, particularly red and violet. I'm 72, love to paint and tend to dress in a relaxed, sometimes boho style".
And a follow-up - "I had a face to face HoC colour consultation last year and bought their Summer swatches, but the newbie lady got it wrong. I then had another session with the area rep who reckoned I am 'Soft Summer'. I actually prefer the swatches I bought from you, and think you were more accurate!" Jo, UK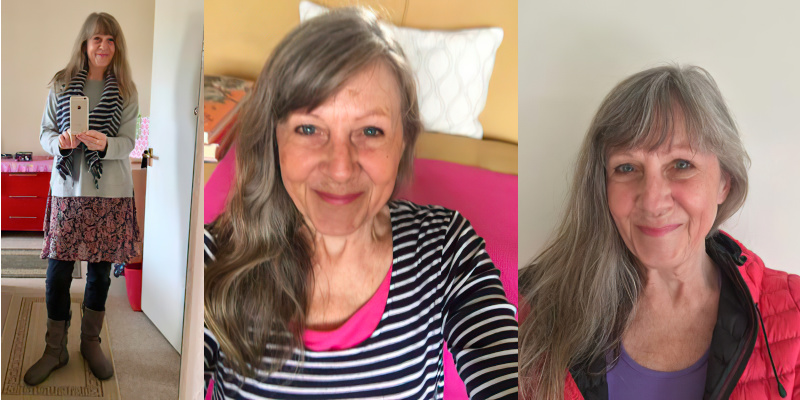 I'm Winter and my style has always been Dramatic!

Pamela has brilliantly and accurately analyzed me as a True Winter. My season was always elusive as over the years I have been told that Clear Winter, Light Spring, Light Summer and Clear Spring! Pamela's very fine reasoning, superbly demonstrated by placing my photos against all the different palettes, creates the definitive analysis, so all I have to do is refer to those pictures, and what used to be a mystery is now clear as day!
The classic Winter colors were always my "go-to" (wonder why!) even when I was confused as to my correct season. So now I'm thrilled to be absolutely certain of my seasonal "home base" which also perfectly supports my style personality, which is Dramatic.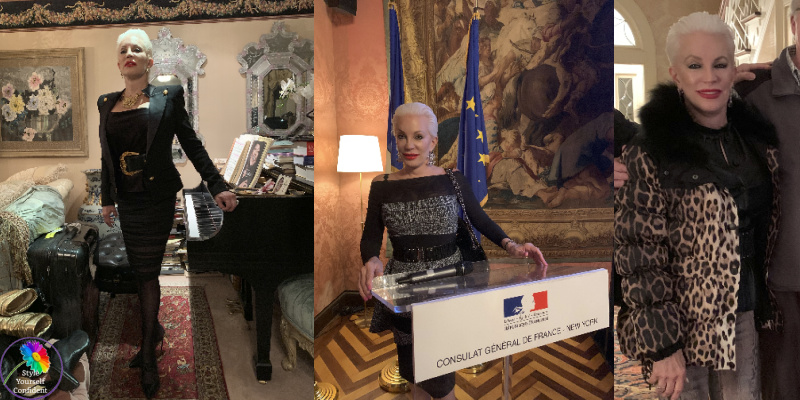 My style has always been Dramatic to harmonize with my angular bone structure and also reflect my artistic personality. Usually I'm wearing skinny jeans, stilettos and perhaps a statement jacket when not dressing for an occasion. As an inverted triangle/V-shape, I like to add width to my narrow hips via a peplum or corset belt to balance my broad shoulders. Sometimes I do a very severe simple look, other times rather ornate, but always striking. I wear a lot of black and white and pops of jewel tones which suit my platinum blonde hair (natural) and blue eyes. Warm colors make my skin look sallow and wash me out as do muted colors, so I try to stay with the Cool undertones in deep, bright and icy tones always in the high contrast typical of the Winter palette. Thank you so much Pamela. Nancy USA
Click through to see some of our website visitors with Autumn coloring.  
It's always inspirational to see how different people choose to put together the Autumn color palette to suit their own taste and lifestyle. 
I'm retro-glam and dramatic!

My style is retro-Glam and Dramatic. The best examples of my style can be seen in re-runs of "Mad Men." I've been wearing this look since my 20s. I love hats, gloves and heels, Diane Von Furstenberg wrap dresses, skirted suits and dresses on my job in Medical Sales.
I was a happy Spring from 1985 to 2009 with comments of 'vivid and bright' and lots of compliments until gray hair crept in at 40. The Spring neutrals suddenly seemed a bit weak but after good color matching my color became richer and it was crucial that I switch to a Bright tonal palette to balance the contrast.
So glad I found this website, Pamela is the only one who gets it! The Bright chart is pure color with a balance of warm/cool. I combine warm and cool neutrals with bright colors, unusual combinations! Mary USA

I teach High School
I'm in my mid-fifties and teach high school in a hot, humid climate.
My challenge is to find clothes that are professional and on-trend, cool, and comfortable. I wear a lot of ankle pants and loose tops, which takes care of my problem areas. Add some cute shoes and statement jewelry, and I am good to go.
At home, though, it's ultra-casual!
Tish, USA

I'm creative and spiritual...
I was told previously that I'm a true Winter but wearing those bright clothes gives me migraine, just too intense. I'm just DEEP.
My personality feels best as a natural, I love nature and animals, it brings me peace, but when I go out I'm the life of the party and like to look striking. I'm also very creative and spiritual.
Pamela says: This shows how an animal print can work well for Cool skins - no gingery shades the browns are almost 'greige'.

I'm a gym junkie!
She writes: "Since I retired I've become a 'gym junkie' and having lost weight now mainly buy active wear.
I have a few tailored trousers and blouses when I need to be a little more dressy but just one dress in my wardrobe bought for a wedding a couple of years ago - worn just the once!
Here I'm wearing pink and appearing with 'Wonder Woman' for a breast cancer fund raising event.
I'm an interior designer

Barbara is an interior designer in the USA
As a business woman with a creative and demanding occupation, it clearly shows how occupation and lifestyle influence her choice of clothes. When meeting clients they buy the person as well as the talent. 
"My style is a classy sophisticated look. I like designers like Chanel and St. John"
And this is me!
You submit to Your Style Gallery so it's only fair that I do the same!
This is a photo that makes me feel good - I feel elegant, slim and much younger than usual!
This Phase Eight dress was bought for an occasion but I never dreamed it would be a success year round. I like versatile clothes and this works for Summer holiday dinners through to Winter parties. 
I don't really do fussy shapes/prints because, at 5ft 2", too much detail swamps me. I'm most comfortable in trousers which allow me to create a longer line with my short legs, but I do enjoy wearing dresses in the warmer weather. 
I have very 'difficult' feet and, for a long time, have been unable to find court shoes to wear with a dress. But this pair was the start of my collection from Sole Bliss. Take a look at this unique range!
Will you Share your Style?
Please share your Style and/or Color choices. No personal details are revealed.
Allow 'Your Style' to visit you!
The latest features on Color Analysis, Body Shape and Style to your Inbox, twice monthly.
Plus a Free copy of my book 'Shortcut to Style', it works for you, whatever your age shape or size! 
Pamela x
Sitemap or locate all features relating to...
Homepage >> Your Style Gallery