Are you Color Analysis DEEP?
Could you be Color Analysis DEEP?
Looking your best starts with understanding your natural coloring and echoing it with the colors you wear.
Translate it further still into the colors you use for your hair and makeup.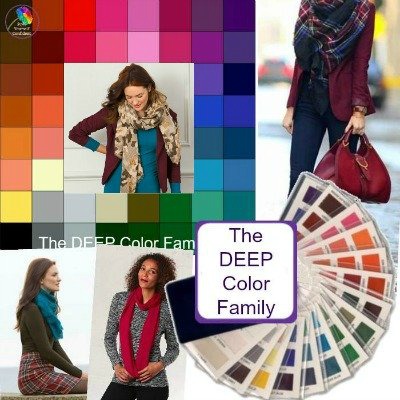 How to make a connection!
If you are Color Analysis DEEP, you will always look your best when you anchor your outfit on a DEEP shade - that is a deep or intense pigment. 
This makes a strong connection with your dark coloring - whereas colors with a Light pigment will make you look washed out. 
You have elements of both WARM and COOL

You have elements of both WARM and COOL in your natural coloring just like the DEEP color palette. Each of the colors will complement your natural coloring creating harmony!
DEEP is your primary characteristic which means that a STRONG INTENSITY of color i.e. heavy pigment, is the most important factor when you choose colors. 

Match your coloring...
Your overall look is dark - almost exotic!

Your Hair: could be anywhere from brunette to black, or even a very deep auburn.
Your Eyes: will be dark brown, black or sometimes deep hazel.

Your Skin tone: could be from beige through to deep brown and, at times, can appear sallow.
Seasonal Analysis wouldn't work as you would be wrongly determined as AUTUMN or WINTER
Your color family includes a whole spectrum of colors because colors that have a heavy pigment (DEEP) can be Warm, Cool, Dramatic and even Soft. 
There are 45 fabulous colors in the Deep color swatch and each one echoes your own natural coloring. 

There's no need to ever feel limited with colors because whether you're looking for red, blue, green or purple - you'll find the most flattering version for YOU in the DEEP palette.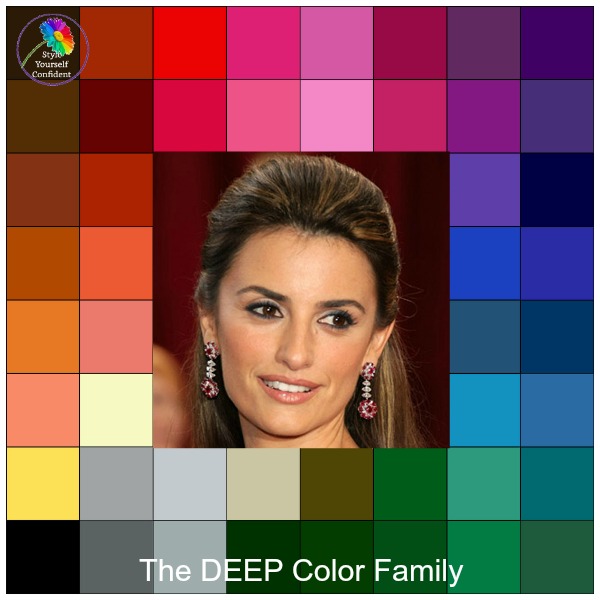 DEEP shades create balance with YOU!..
Dark hair and brows help to create the strong contrast and, even without makeup you invariably look good. The strength of your coloring may not have been obvious until you're introduced to the bold and beautiful shades of your COLOR FAMILY.
The DEEP colors support and balance your own coloring - your complexion will bloom, your eyes look brighter and your hair color more intense. Less intense colors can wash you out (see right). 
When your colors balance and echo your natural coloring, they allow YOU to shine!
Your most flattering Deep Neutrals

Deep neutrals are the deepest and strongest to create the backbone of your wardrobe - black, charcoal grey, chocolate brown and deep navy
Your most flattering Accent colors

are all heavy in pigment and intensity but not necessarily dark in tone
are all strong colors even if they are softer
will create contrast with neutrals or other accent colors
How to wear your DEEP colors
It can be difficult to visualize how the colors from your swatch come together in an outfit so for real visual inspiration take a look at the range from Kettlewell Colors whose fabulous colors bring your color swatch to life!
It would be easy to say that you are halfway between AUTUMN and WINTER but this is not strictly true. Although Deep is an element of both it is only the TRUE DEEP shades from each that are included in the DEEP color palette.
The Deepest of Autumn
With elements of both Warm and Cool you will find many of your colors in the AUTUMN collection. 
and the Deepest of Winter
If your coloring is more intense and more defined then the brighter and bolder shades will add to the vitality of your natural coloring - you'll find many of these colors in the WINTER palette.  

But of primary importance is always the DEPTH/INTENSITY of the shade. 
Women of Color
Colors to avoid and how to cope with them

Avoid colors that will drain your natural color:
Anything that is wishy-washy or pastel will make you look pale too
sludgy or dull colors will flatten your dramatic look
If you have pastels or paler colors in your wardrobe already team them with something deeper or brighter from your new color palette. There are always ways to make things work; a vivid scarf near to your face, a collar over a jacket, even a bold pair of earrings will heighten the contrast.
All you need to enjoy your DEEP colors...

The DEEP Color Brief £3.00
Ready to download and print with all the information you need to wear and enjoy your Color Family - colors, makeup hair etc.
15 pages of information includes FREE DIGITAL COLOR SWATCH that can be on your Iphone or Ipad for shopping. Or you can make it into a mirror image of the fabric color swatch.
The TONAL Color Brief   £9.00

6 Tonal color families + swatches for the price of 3
You'll discover an easy wasy to identify your colors along with a concise and comprehensive reference to Tonal Color Analysis. 
A starting point into the magical world of Color!
There are 60 pages in all with 45 colors for each Color Family - ready to download and print.
In the UK? Please use this button to purchase, post & packing £1.95
Outside the UK? Please use this button to purchase, p & p £5.45
Homepage >> Color Analysis >> Color Analysis Deep