You are SPRING
With a mix of 3 color characteristics
you're WARM LIGHT and BRIGHT

Everyone has a Season that's closest to their coloring!
BUT if you don't fit easily into this color palette, try the Tonal Color Quiz as you may be closer to one of the Tonal Color Families with just ONE color characteristic. 
SPRING is...
Spring is the most delicate of all the Seasons but the colors are alive, fresh and vibrant! 
The best colors for YOU are WARM with a golden yellow undertone, CLEAR (bright) never soft and muted, and LIGHT avoid all dark heavy shades.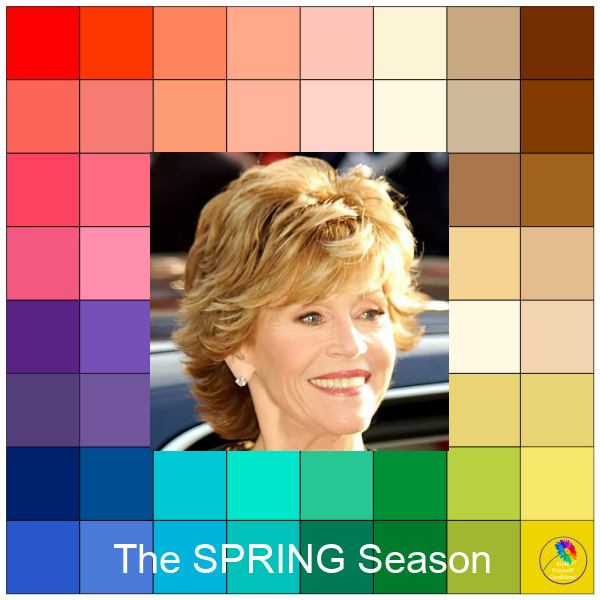 Your natural coloring
Your complexion is fair through to golden beige often with a sprinkling of freckles but always with golden/yellow WARM undertones.  
You are likely to feel an instinctive affinity with this fresh bright palette. 
You have clear bright eyes - blue, turquoise/light teal, perhaps green or topaz and often flecked with yellow. There is often a darker rim around the iris.   

Your hair is light with golden warm tones or elements of red.
You will invariably have been a golden haired child and even as you age you're likely to carry that 'golden glow'. All the shades in this palette have the same characteristics as your own and will harmonize with and complement your coloring and complexion.
Your best colors

You will probably feel an affinity with your new Color Family or, at least, with some of the colors because your natural coloring and your instincts are connected.
Wearing these colors will allow you to look your best and avoid wasting money on clothes that don't do you justice. 

Carrying colors in your head is difficult and a Color Swatch makes organizing a breeze and shopping a pleasure. Your choice won't be limited, on the contrary, between each color there are literally hundreds of shades and tones just like an artist's palette.
Why you should wear SPRING colors

The SPRING color palette is a glorious mix of LIGHT WARM and BRIGHT shades and really will bring you to LIFE! 
You can use this color palette to create a a co-ordinated wardrobe and streamline your life!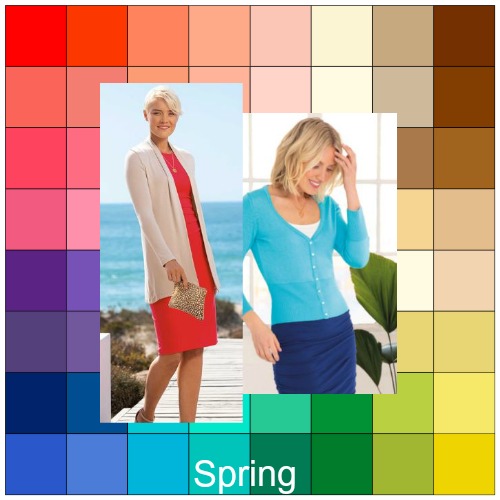 And how to recognize SPRING shades
They are LIGHT and fresh, and also BRIGHT and vibrant.




Choose light or bright ivory rather than a clinical pure white.
Clear shades of peach and apricot, periwinkle and light true blue.
Clear bright aqua and clear bright red.
All these clear shades echo the brightness of your eyes.
Your Neutrals
Neutrals form the backbone of your wardrobe - the investment pieces such as coats, jackets, trousers, a good dress, accessories etc. which take you from season to season
Neutrals create the perfect foil for your vivid accent colors
Your best neutrals have a Warm undertone with light and clarity - light warm beige, golden tan, camel, medium golden brown, a light clear navy
The best light neutral to wear close to your face is bright ivory - pure white is too clinical against your warm skin

Black is not part of the Spring palette, it's actually a 'Bright' so there is a connection! As you love to dress in 'snappy' colors you might like to use it in small splashes, perhaps a print, to offset the brightness of the Spring colors. 
SPRING garments and outfits from Kettlewell Colours

How to wear your SPRING colors
You have the brightest of the Seasonal palettes, and initially it may look difficult. But before you panic, slow down and have a thorough look at the colors.
Rather than looking at the whole palette at once, look at one color at a time and I'll bet you find a few favourites in there - perhaps the color of a t-shirt or a jumper which always gets you compliments. This is reassuring - these are your colors!
So how to begin putting them together for an outfit? When you look at the images below you'll see that there is probably nothing different to the way you would normally wear your clothes. Over thinking can complicate - just enjoy!

Makeup Hair and Jewelry
LIPSTICK: Natural peachy pinks or copper, brilliant coral, shiny bronze or terracotta. Your pinks are always peachy, avoid harsh blue toned pink.


EYES: Natural tones of taupe, beige or warm brown for shaping and creamy highlighter for the lid. For added color choose shades from the Spring palette:  light gold, apricot, teal, periwinkle, amethyst.
BLUSH: Choose blusher with a peach (warm) undertone, not too dark.
JEWELRY: Light shiny gold jewelry is flattering to you skin tone or wear beautiful creamy pearls.



All you need to understand SPRING colors
The SPRING Color Brief £4
The SPRING Color Brief is ready to download and print out with all the concise information you need to start wearing and enjoying the SPRING Color Family.
With 30 colors, advice for makeup, hair, jewelry and glasses frames. It also comes with a printable color swatch so you can make it up into an mirror image of the fabric swatch.    
This is a digital product.
The Seasonal Color Brief £12 

(4 books and 4 swatches for the price of 3)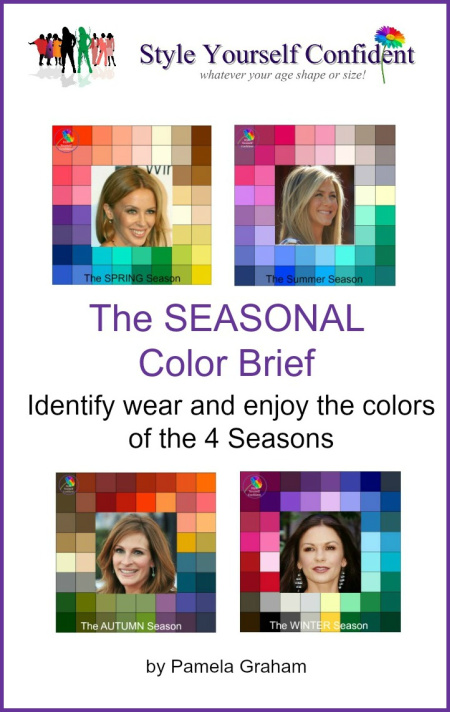 How to identify and discover your own 'best' Season - with all 4 Seasonal Color Briefs and 4 color swatches.
Spring Summer Autumn and Winter Seasons - 4 for the price of 3. 
For each Season you will discover how to wear and enjoy the colors, advice for makeup, hair, jewelry and glasses frames.
PLUS a 30 shade color swatch (33 for Autumn) ready to download and makeup into a mirror image of the fabric swatch.
This is a DIGITAL PRODUCT. 
SPRING color swatch £28.00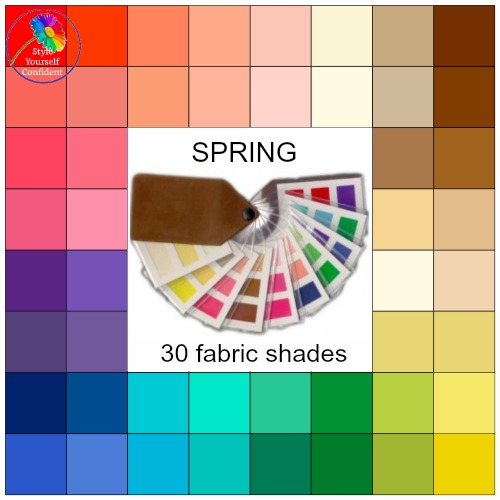 The Spring color fan holds 30 precision dyed fabric color swatches which fan out to show the whole range of harmonizing shades (shown in the square).

The fan is practical and easy to use, 12.5cm x 6.5cm, finished in a suede style cover and comes with a wealth of information about co-ordination, cosmetics, accessories etc.
Don't think that your choice is now limited, between these colors there are literally hundreds of shades and tones just like an artist's palette.

All deliveries are now tracked to ensure safe delivery which means postage costs have risen. Too offset this, I am happy to include a FREE Color Brief (worth £4) with every swatch order! 
Select SPRING from the drop down menu
UK
Select your Color Family in the drop-down menu
P and p is £2.50
EUROPE
Select your Color Family in the drop-down menu
Postage and packing for Tracked safety is £9.75
REST OF WORLD
Select your Color Family in the drop-down menu
Postage and packing for Tracked safety is £11.45
Allow 'Your Style' to visit you!
The latest features on Color Analysis, Body Shape and Style to your Inbox, twice monthly.
Plus a Free copy of my book 'Shortcut to Style', it works for you, whatever your age shape or size! 
Pamela x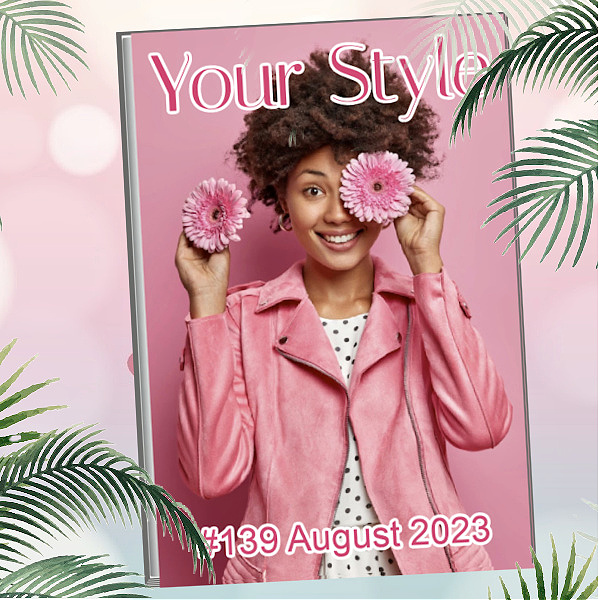 Sitemap or locate all features relating to...
Homepage >> Free Color Analysis >> You are SPRING