Streamline your Summer Chic
with outfit formulas!
Streamline your Summer Chic!
Do you find yourself frequently reaching in the wardrobe for the same outfits like I do? This isn't because you have no imagination - on the contrary, it's because you have perfect taste and know the shapes and styles that help you to feel and look your best.
When I buy something new I usually choose similar colors and shapes, or I'm replacing basics, because I know what suits me and what feels comfortable. No, I'll never be a trend-setter but I'd rather feel like me!  
Pick out the outfits you wear most and discover the basic formulas that will help you to streamline your Summer Chic!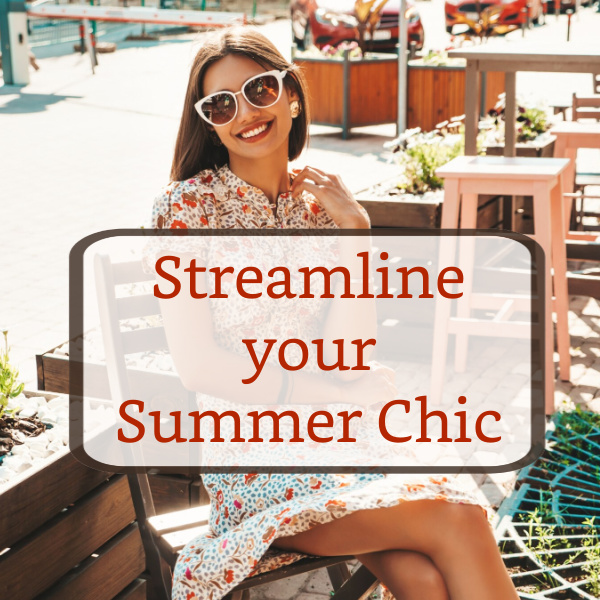 Select your most worn outfits
The outfits you choose to wear most frequently will be suited to your lifestyle and in a fabric and fit that feels comfortable. You choose them because they are versatile and probably take you anywhere. Note why you like it!    
I will wear jeans or jog pants round the house but if I'm out for lunch or shopping I choose smart casual. A pair of linen type wide pants (because the shape suits me) and a top, a jacket unless it's very hot.  
Dinner on a Summer evening would usually find me in a slightly more dressy top or perhaps a dress if we were going out. A more special dinner might find me in a jumpsuit or longer dress. That really is my lot! 
Your choices could be more casual, more tailored, or more feminine majoring on skirts and dresses. Once you have your basic outfits sorted you always have something to wear. 
My outfit formulas are very basic which means I can accessorize at will: 

How I streamline my Summer Chic! 
1  A column of color with jacket
My basic outfit is a pair of linen mix pants in either navy or black. I have other pairs in different lightweight fabrics.  
I also have them in white but know that white pants make me feel fat so I never wear them. So no point using them in an outfit formula! 
Dark pants worn with matching top creates a column of color which is slimming and makes me look taller.
I have jackets in ivory, blue and pink which provide contrast and brihten them up. This outfit formula streamlines my Summer chic and makes me look taller.
2 Wide leg dark pants with a light top
I always wear dark pants of some description so black and navy pants (sometimes slightly patterned) form the basis of many of my outfits for the Summer. I also have some mid toned taupe pants.
I like light colored tops and have quite a selection in white or ivory so there's always something clean. Some are t-shirt casual with a few silky blouses which are prettier and a bit dressier. I love white and ivory because it brings the eye up and I feel taller! I also choose a v-neck or scoop neck. 
As long as my pants are dark and my top light I can wear any colored jacket. I've got a navy one with white spots which looks great with navy pants and as you see even a red one. 
As long as the 2 other pieces are plain I occasionally wear a slightly patterned top. Any of these outfits can be dressed up with different bags, jewelry and a scarf.
So from a basic outfit formula it's very easy to make changes. 
3 Patterned pants and plain top
I'm very fond of patterned wide leg pants too and this also makes a slightly different outfit formula. They are fun, more dressy than a plain color, and they often receive compliments.   
Choosing tops means I'm limited to colors within the pattern but it makes it very easy to co-ordinate.
This particular pair of pants looks and feels good with either white/ivory or a navy top. It can be t-shirt casual or a silky blouse.  
3 Dress
I don't wear a dress very often but I know the shape that suits me. So you'll see that two of these dresses are very similar. 
The difference being that one is Ralph Lauren the other Roman. Quite a difference in price!!! But once you know the shape that suits you, the price point is your choice!
I love spots, stripes and geometric patterns but never feel right in flowers so I avoid them. A plain colored dress will take you anywhere and is very flattering.  
Of course I have a few sundresses for holidays but the weather in the UK doesn't demand them very often!
4 Smart dress
We don't socialise a great deal so it's usually for holidays that I will have something a bit more special in the closet. 
If I'm travelling, everything has to be machine washable and crease resistant. 
I always choose a plain or small pattern as a large pattern overwhelms me. And, always, a jersey type fabric that flows with my curved figure. 
Look at hip shapes to see what I mean! 
Your streamlined Summer Chic is complete! 
Once you have sorted out a few basic outfit formulas you will never again worry that you have nothing to wear! Unless a very special occasion crops up you have an outfit to streamline every Summer event.    
Your outfits don't have to be as basic as mine. But an outfit that flatters your face and figure will always enable you to receive compliments. Not the outfit YOU! 
Allow 'Your Style' to visit you!
The latest features on Color Analysis, Body Shape and Style to your Inbox, twice monthly.
Plus a Free copy of my book 'Shortcut to Style', it works for you, whatever your age shape or size! 
Pamela x
Sitemap or locate all features relating to...
Homepage >> Be More Stylish >> Streamlined Summer Chic