Roman Originals Separates

I rarely do styling posts but the separates from Roman Originals are something else!

I'm a sucker for separates that span the seasons. Anything that packs for vacation and also doubles up for Holiday and party time is a sure winner for me.
Such is this amazing pair of wide leg pants from Roman Originals that I've been wearing since early last year.

This range is a great choice for women of a 'certain age' because every aspect is generous - size, fit, quality and styling.
They ship to most countries in the world and all International orders over £50 are delivered FREE!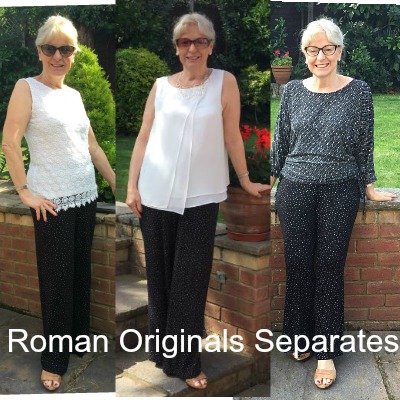 They work every season...
Wide legged pants are a favorite of mine and they're flattering for so many figures.
These are far more stylish than a standard black as they feature a tiny ivory polka dot print on a soft jersey fabric.  Snappy with a bright color top or super stylish with monochrome hues. 
Casually elegant, they manage to make my legs look longer and, most importantly, they're darned comfortable.  I was happy to pay full price for these but now at only £15.00 they're an absolute steal!
Check out the current SALES and offers from
ROMAN ORIGINALS.
I bought the three tops (you see above) from Roman Originals at the same time and, again, I wear them throughout the year.  
The pretty daisy patterned lace top and the double layer silky wrap top both come in several colors and a version of each are perennial favorites. 

This is how I styled the black 'dotty' pants over the Christmas period (right) and you can take advantage of similar sparkly tops at different times of the year. 
Recently you'll have seen me in the ivory double wrap top as part of the Mini Chanel Capsule (pictured near right). 
You'll find a consistent quality. The fabrics are always beautiful and weighty enough to hang well and skim the body. The cut is generous and never skimpy.
Nothing is gifted here, these are items from my wardrobe and my choice!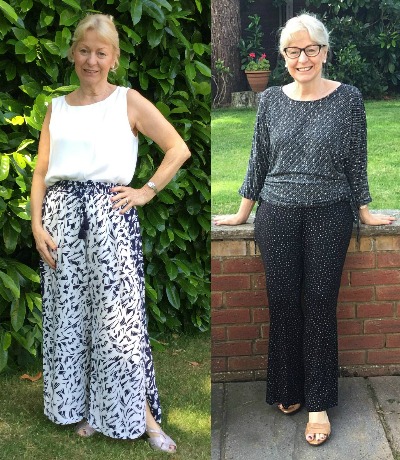 See what's NEW and take advantage of current SALE OFFERS at
ROMAN ORIGINALS
at any time of the year. Along with separates you'll find dresses and outerwear too.
Roman Originals on SALE delivery & shipping

They offer FREE delivery in the UK orders on orders over £25. 
And FREE International delivery on orders over £50 and for orders under £50 it's only £4.00.
As with all online shopping, please do check the size guide - but you won't be disappointed with the fit!