My Christmas dress is an anytime number!

My Christmas dress has to be a go-anywhere, do-anything dress that makes me feel confident as well as comfortable.
It has to strike the right note; a bit special but not over the top!

It's something I hope to but rarely find. This year I've found that phenomenon.
A dress I can wear to cook the Christmas dinner; comfortable enough to play with the grandchildren or curl up on the sofa; and striking enough to take me anywhere for drinks or dinner.
Not much to ask!

My Christmas dress is an all-season dress...

If you've got curves of any description the invention of JERSEY was a miracle.
But not any old lightweight jersey - a good weighty jersey will skim over your curves and minimise the bumps, slimming as it goes. This dress hangs like a dream - I'm not even wearing an underskirt.
Animal print dress from Roman Originals
I always look for styles that make me look taller and slimmer - because (haha) that's what I'd like to be!!
The high ruched waist provides additional fullness over the tummy for both comfort and good looks and, of course, a high waist always gives the effect of lengthening the legs.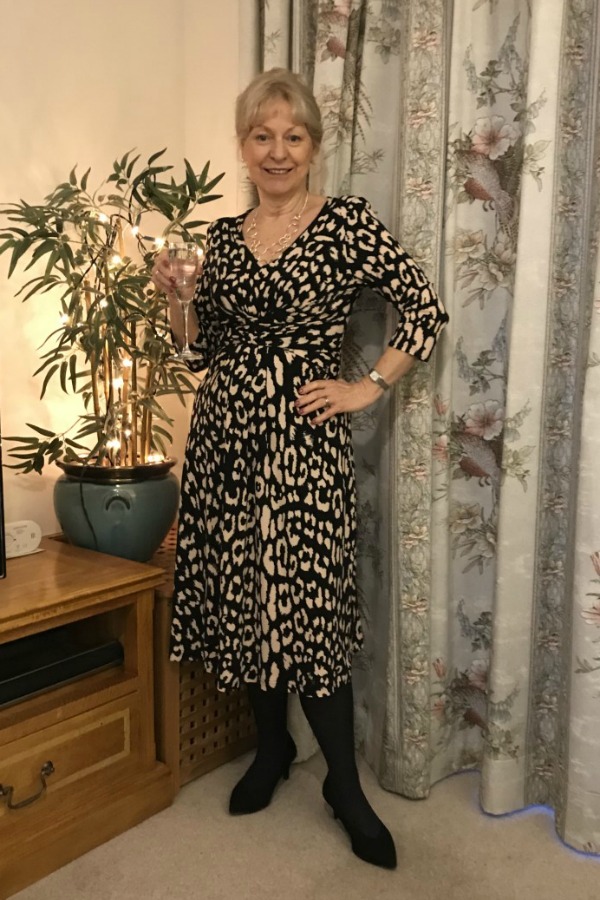 Shoes from Sole Bliss

A V neckline is my go-to for comfort.  It keeps interest high on the body, slims the figure overall and lengthens the top of the body.
I naturally gravitate towards plain fabrics or spots/stripes and this animal print strikes just the right balance with a softened geometric design. 
The black and nude colorway is a delight and gives a good contrast. A touch of black is  always festive but the flesh tone adds a touch of daytime normality. It also comes in blue/black.
I'm a cold creature so I love to put on a pair of warm winter tights but this would look great in the Springtime with natural colored tights and nude shoes. In fact I've got a nude colored jacket that will look just right! 
This kind of versatility is important to me. 
Necklace from a selection at Mia Tui
My Christmas dress from Roman Originals sells at just £38, incredible value. Sizing is generous and, for the record, I'm wearing it in a size 10 after adjusting the length of both sleeves and hem. If you're larger than me or much taller, you won't be disappointed.