Impossible Quiche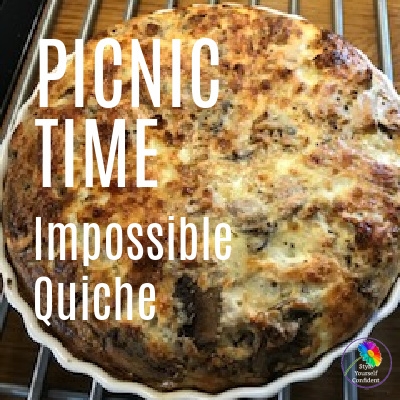 Style Yourself Confident is about how to FEEL GOOD and LOOK GOOD - healthy eating is part of looking after yourself.
Keeping fat content to a minimum and adding in additional fibre is the basis of all recipes I share with you - but they have to be tasty and enjoyable too!
All are quick, easy on the purse, and need no particular skills! If you've got a recipe that would fit into this section and you'd care to contribute please Contact Me.
Impossible Quiche
A little bit of magic with this one! Impossible because it's so quick and easy with no pastry case to make. The little amount of added flour somehow creates a thin crust!
This recipe came via a work colleague years ago, so thanks to Sheryl's Mum in S. Africa x 
1 small onion thinly sliced
4 ozs sliced mushrooms
4 ozs chopped ham
1 cup grated cheese
1/2 cup self raising flour
1 1/2 cups milk
4 eggs beaten 
1 tsp mustard
salt and pepper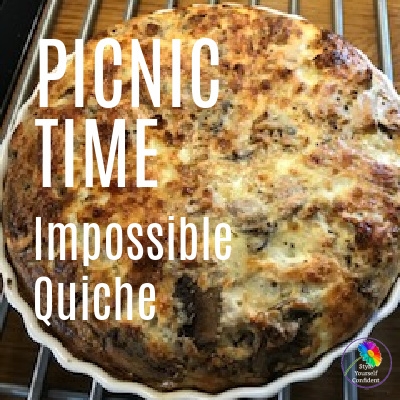 Grease a 9.5/10 inch quiche dish. Cook the onions slowly in either low fat spray or butter to soften. In a big bowl combine the onions, mushrooms, ham, cheese and flour and spread evenly in quiche dish. Whisk together the eggs, milk, mustard and seasoning and pour over. Bake for 30-40 minutes 200 deg C. 
And... now you're here it would be great if you'd like to look around at the COLORS, SHAPES, and STYLES that help you to Style Yourself Confident.
Allow 'Your Style' to visit you!
The latest features on Color Analysis, Body Shape and Style to your Inbox, twice monthly.
Plus a Free copy of my book 'Shortcut to Style', it works for you, whatever your age shape or size! 
Pamela x
Sitemap or locate all features relating to...
Homepage - Low Fat High Fibre - Impossible Quiche