Change your Body Shape?

Can you change your Body Shape?
You can lose weight and build up muscle to change your body shape but you can never change your body structure. That is why your Body Type always remains the same whatever your size. 
But you can VISUALLY change your body shape by the way you dress. 

With a clever use of COLOR, DESIGN and STYLE you can create an optical illustion to correct, camouflage or disguise pretty much any figure problems that worry you.
Look how a quick change of color changes the way you look at these girls (right). 
You can visually create ...

Dark colors RECEDE and will make you look smaller while light colors always come FORWARD and make you look larger.  
Enhance your best features with light or bright colors and hide a problem area with darker shades. 
Large bust and slim hips? Light bright colors and shiny fabrics will draw the eye - keep your darker colors to the top and allow the eye to be drawn to slim hips. 
Small bust and larger hips? Keep darker colors to the bottom half of your body and bring the eye upwards with a brighter or lighter shade.
Use Light and Dark

Don't get caught out like this ladies!
If you have a big bottom wear your lightest color on your top half to draw the eye. It immediately makes you look taller and your hips look slimmer.
The cut of your pants also influences the eye. Excess fabric make the hips look bigger and cut off legs make you look wider and shorter.   

The lighter top (right) draws the eye and the loose fabric creates a larger top half which balances the width of the hips. Adding heels, even a small wedge, will lengthen the legs. 
You're in control with the way you use color. If you have a large bust and like to play it down avoid shiny or sparkly fabrics. If you enjoy the attention go for it!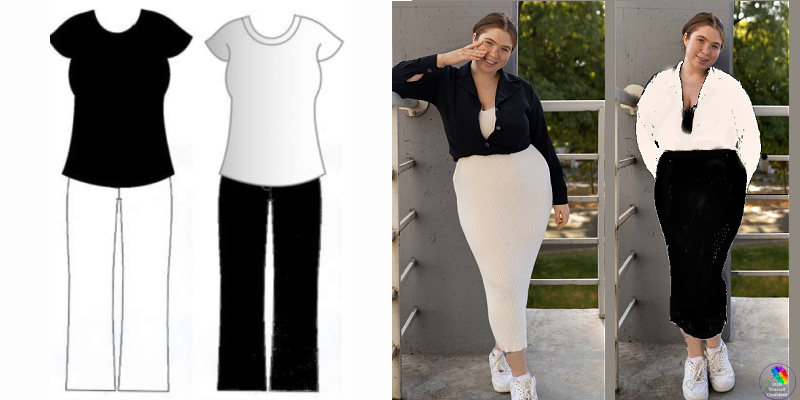 Wide leg pants and top from Chico's
Use Color and Pattern

Color and patterns also draw the eye - so use them creatively. Right and left dresses above - does your eye instinctively go to the color and pattern part of the figure first? In the centre the V design on the bodice and optical illusion skirt creates a narrow silhouette - instant slim.
Whatever your Body Type you can influence your shape by the way you use color and pattern. Discover on your own Body Type then consult the relevant section and see how to dress to flatter your own figure. 
If you want to specifically disguise a problem area, see how to dress your own body shape and you'll find easy answers to most of your problems.
Use Style

Hardly anyone has a perfect figure but there are easy ways to balance every Body Type.
Check out the styling tips for each:
And if you have a particular 'figure challenge' - wide hips, worried about your arms etc. - there are lots of ways you can dress your Body Shape to disguise or camouflage your concern.

Please share your COMMENTS
Homepage >> Fit my Body Shape >> Change your body shape