Discover Color Analysis - it's MAGIC!

STYLE YOURSELF CONFIDENT is all about how to
LOOK GOOD and FEEL GOOD
Is there a difference? Perhaps you're wondering which to choose - or perhaps you've already had your colors done and wonder whether you've made the best choice.

There are 6 Tonal color families - LIGHT, DEEP, WARM, COOL, BRIGHT and MUTED. That's just the way we describe colors - they are called color characteristics. 
You will begin to see how natural color characteristics fit into the Color Family.

These are what I call 'complex' Color Families, they are a mix of the Tonals, but actually quite easy to identify. 
Wow! you've got a fabulous new Swatch fan in your hot little hand but what next? How do you transform your stunning colors into a wardrobe of clothes? Don't panic because I'll show you how!
Who decides my best colors?

Why can't I wear any color?
The Seasons are glorious if they work for you! Trying to make 12 Seasons just shows that it doesn't work for everyone.
If you're not a true Season you must be something else and you could be missing out on lots of other colors to wear and enjoy.
If you need to 'flow' from one Season to another then you're probably not a Season at all. You may belong to one of the Tonal Families and missing out on a full color palette. 
Can you recognize your Color Family from these celebrities? Who do you share your natural coloring with?
Nature always gets it right! Color Analysis in Nature shows how everything natural is designed to harmonize and Color Analysis just follows suit...
What Online Color Analysis can do. Satisfied clients who have discovered their Color Family. Color is very connected with your natural coloring and personality and you're likely to feel completely at home with your new 'family.'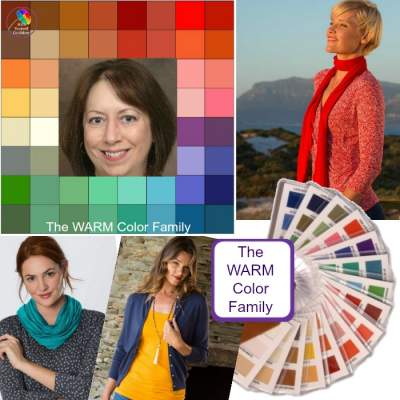 Find all articles relating to

Please share your COMMENTS
Homepage >> Color Analysis...