How Color Analysis works!

How Color Analysis works and what it can do for YOU?

1  Want to look / feel your best?

There are 6 main Color Families - which one will enhance your natural coloring? There are also 4 Seasons which are a bit more complex.




A real family is linked by blood, Color Families are linked by Color Characteristics
Find your Color Family and your own color palette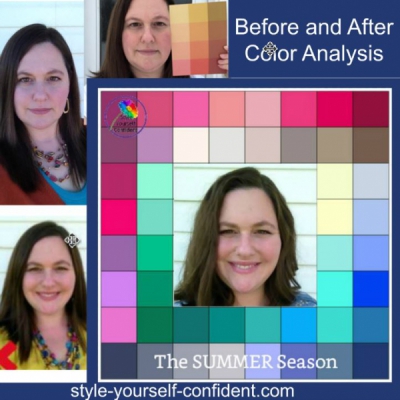 2  How to look for your colors...

Look for the natural coloring that Nature has given you

3  It works very simply...

4  Putting colors into groups = 6 Color Families

Ask yourself just 3 questions to identify your primary color characteristic.
Of course this isn't the same as an indepth Online Color Analysis but it will help you to look objectively at your own natural coloring.     
The natural colorings in our EYES, HAIR and SKIN can be described in exactly the same way as we describe colors - we call them color characteristics. 
5 Now look for your closest coloring...

The LIGHT Color Family
If your overall natural coloring is very fair you may look your best is colors with less Intensity. LIGHT does notmean pastel, just there is less color pigment in these shades.

The DEEP Color Family
If the first thing you notice is that your overall coloring is very dark, whether it's skin or hair tone, you will probably need DEEP tones to balance. They're not all dark, it just means that they have a heavy intensity of color pigment.

The BRIGHT Color Family
If there is a high contrast of tone between skin and hair color, bright eyes and a fair skin, you could be BRIGHT and will need the brightest clearest tones to balance this brilliance. These shades have complete CLARITY with little to no undertone (warm or cool). Bright tones include black and white.

If your coloring is very gentle without makeup and bright tones overpower you, the MUTED tones may be best for you. They are not dull shades, many are fresh and pretty, but they are all gentle in tone.

The WARM Color Family
If you have any red in your natural colorings, hair, golden skin, you may need the WARM shades to complement your skin. Each of these shades has a yellow undertone (is mixed with yellow) and has a golden glow.

The COOL Color Family
If your natural coloring is primarily ash (blonde through to mid brown) with pink toned skin, it could mean you're COOL. Each of these shades has a blue undertone (is influenced of blue) giving a cool crisp tone. 

6  Because this is what it can do for YOU!

and you can choose your fabric Color Swatch...
45 beautiful shades which will all harmonize and enhance your natural coloring.

7  Now ask yourself just 3 questions...

Now you know a little about how Color Analysis works, look at the natural colorings in your own HAIR, EYES and SKIN. Ask yourself just 3 questions and look for a definitive answer.  If it's a don't-know, move onto the next.


1  Are you LIGHT or DEEP? Are you very fair or very dark? If you're in the middle move to the next question
2  Are you WARM or COOL? Does your hair have red tones with golden skin (warm?) Or do you have a pink tinge to your complexion with mousey to ash brown hair (cool?) If it's not obvious, move on
3  Are you BRIGHT or MUTED? Without makeup do you have strong color contrast between your hair, eyes and skin tone or is there little contrast?

Just look for the most obvious answer - you only need ONE. Check out the relevant Color Families for descriptions of your coloring, see if the colors feel right for you. Check out all 6 if necessary and fine it down.

Seasonal Color Analysis

I've shown you how Color Analysis works using Tonal Color Characteristics (which is the easiest method) and everyone should be able to find the Color Family they are closest to. Of course, professional Color Analysis goes into far deeper detail than I have shown you here. 
You might like to check out the Seasons - they are a combination of the Tonal Color Families that I use above. There are beautiful colors but it's more complex and everyone doesn't 'fit' into one of the Seasonal 'boxes'.

Need more help?

I don't want my color choice to be limited...

Some people still think that COLOR ANALYSIS will limit their choice of colors. They couldn't be more wrong - you can wear any color you like.
How Color Analysis works is that every COLOR FAMILY includes every color you might want to wear - BUT - it will show you the best and most flattering shade for YOU!  What could be better?   

You can buy your own 45 shade fabric Color Swatch which guides you to the best shades of each color for you but, just like an artist's palette, there are literally hundreds of shades and tones between each one that you can enjoy wearing.

Well, now you understand a little about COLOR CHARACTERISTICS you'll soon be able to determine your own COLOR FAMILY and find the colors to make you look healthier and more attractive.
Like this Website?
Please share your Comments...
Homepage >> Color Analysis >> How Color Analysis works