How Color Analysis works!

How Color Analysis works and what it can do for YOU?

1  Want to look / feel your best?

Color Analysis determines the natural coloring in your eyes hair and skin tone

Echo your coloring in the colors you wear to create HARMONY

There are 6 Tonal Color Families and 4 Seasons



Every color in a Color Family is linked by a common characteristic, rather like blood in a human family

Ready to find your Color Family and your own color palette?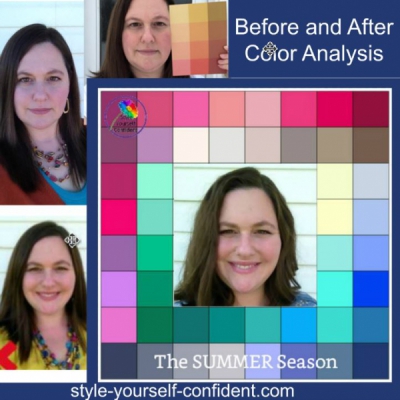 2  How to look for your colors...

What colors has Nature given you?

This is your COLOR FAMILY, a whole spectrum of the perfect shades for you

3  The Tonal families work very simply...

Choose the most obvious word to describe, this is the primary characteristic

4  Putting colors into groups = 6 Color Families

5  Look at your colors in the same way

In the same way we looked at colors, how would you describe your coloring?
Q1  Are you fair or dark
Q2  Is your coloring clear or soft?
Q3  Do you have pink or golden skin?

Your could be LIGHT or DEEP
You may be BRIGHT or MUTED
Your might be COOL or WARM

Let's practice Color Analysis
Homepage >> Color Analysis >> How Color Analysis works